Our guide to everything Vivid Food
22 May 2023
Vivid Sydney 2023 is just around the corner and this year, we're proud to be adding Vivid Food to our program of Light, Music and Ideas, celebrating Sydney as our culinary capital.
From 26 May to 17 June, world-class hatted chefs, restaurants, producers and venues take centre-stage alongside esteemed international chefs and guests, across more than 20 innovative events.
Whether you're a verified gourmand or just like a good time, Vivid Food has something for all palates and all budgets - you can even feel the heat with free fire pit demonstrations at Vivid Fire Kitchen.
World-Class Collaborations & Dinners
NSW's produce, cutting-edge global chefs, local chefs and iconic Sydney restaurants? That's a recipe for an unforgettable dining experience – welcome to the Vivid Chef Series, where international names team up with local favourites for a series of unique collaborative dinners. Featuring: Kiln x Jeremy Fox, Yellow x Rishi Naleendra,  Fred's x Jackson Boxer, Nel x Prateek Sadhu and Bar Morris x Mmabatho Molefe. These world-exclusive dinners are selling fast – grab one of the final tables while you can!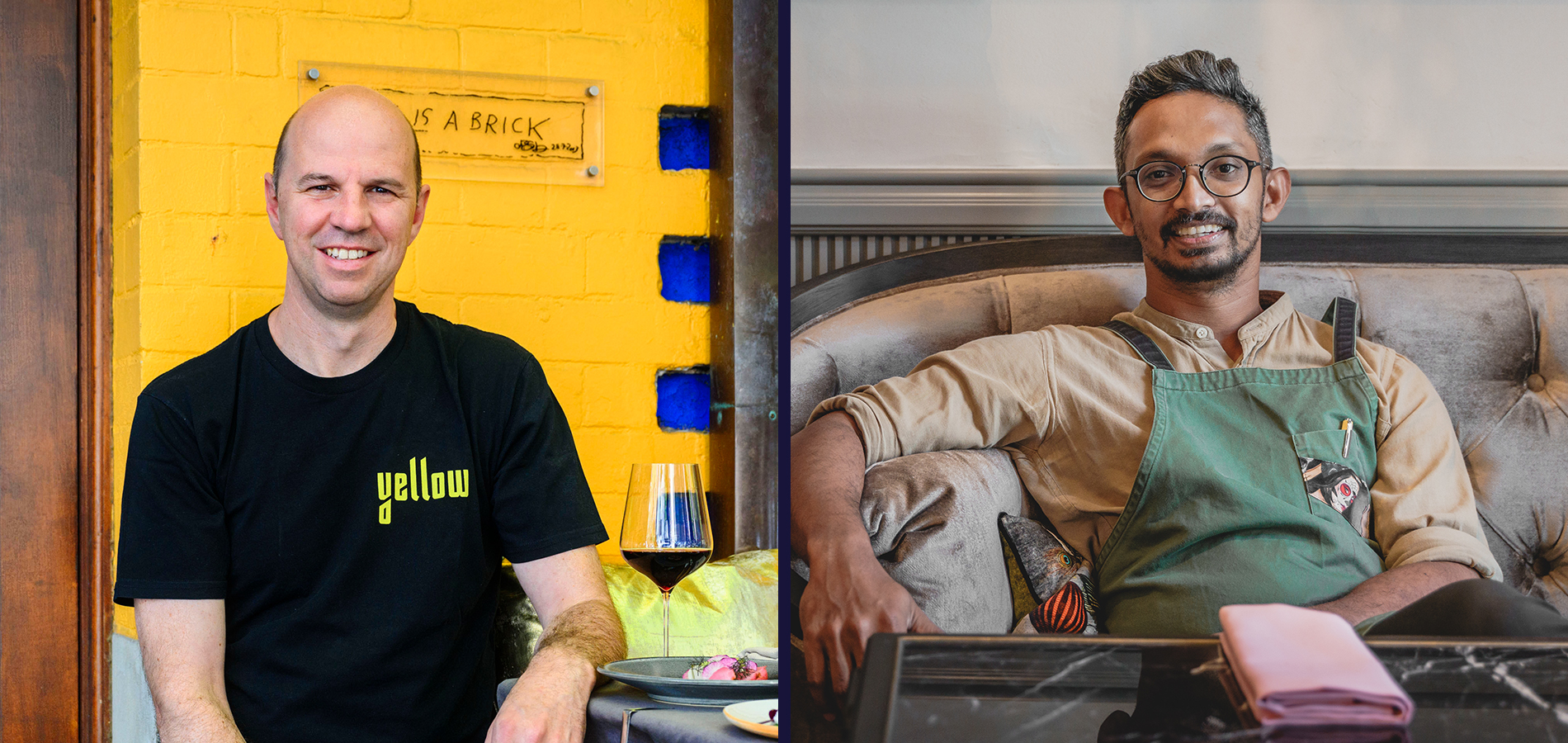 With Vivid Residence, one of Manhattan's best restaurants takes over Aria Sydney for a two-week residency. Daniel Humm – the chef/owner behind 3 Michelin-starred and 2017 World's 50 Best Restaurant Awards winner Eleven Madison Park – will bring his team over to work with Aria Sydney's Matt Moran and Thomas Gorringe. This one's already sold out, but if you've missed out on tickets, sign up to our waitlist, and be the first to know about any new spots!
And First Nations food, knowledge and ingredients take the spotlight with Carriageworks Presents: The Warakirri Dining Experience, a culinary event showcasing 60,000 years of culture through a guided dining experience with entertainment, music and storytelling. Renowned chef and Ngemba Weilwan woman Sharon Winsor shares her knowledge of Aboriginal culture and food across five courses, paired with Australian wines. Plus, guests will also have exclusive after-hours access to The National 4 exhibition.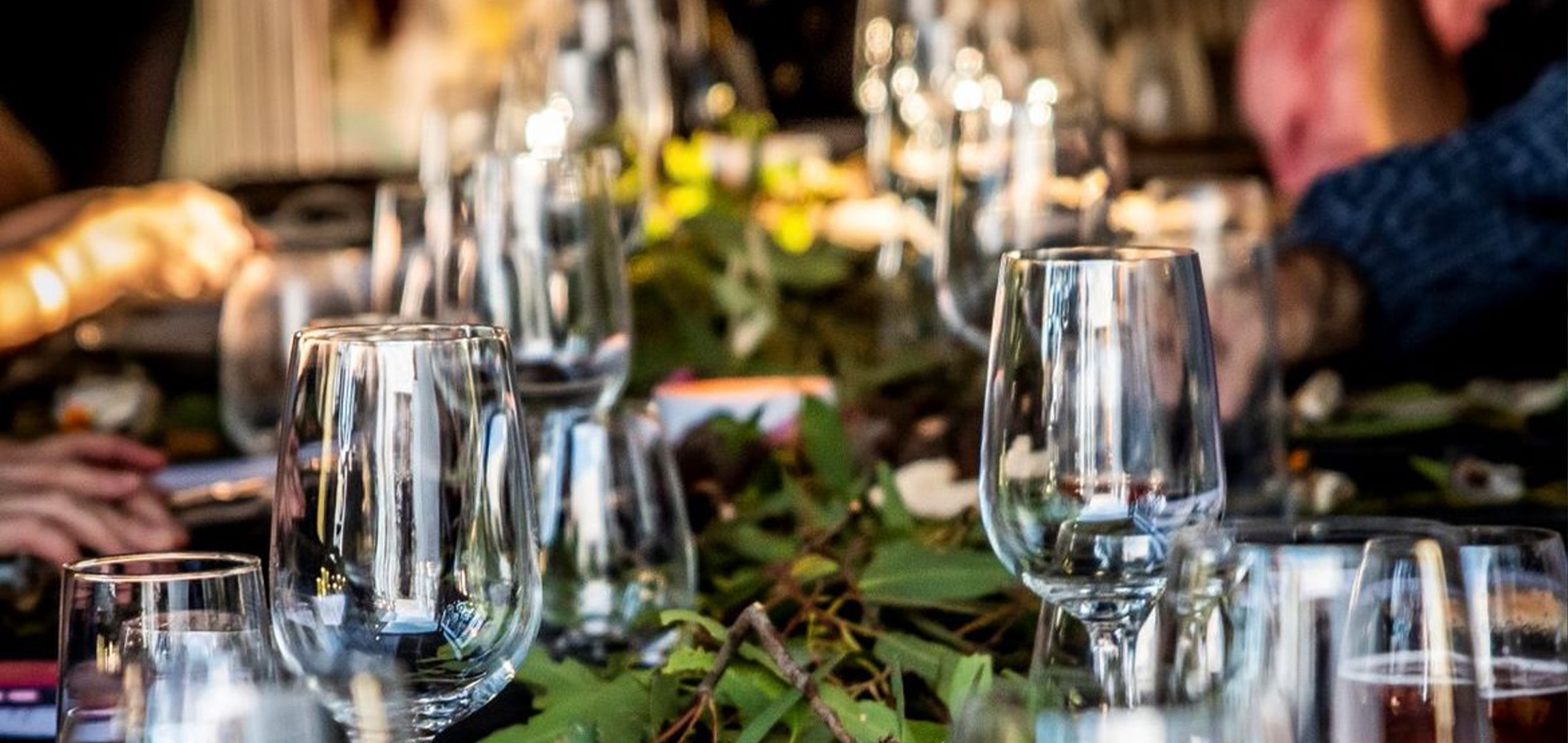 Markets And Festivals
For the entirety of Vivid Sydney, head down to The Cutaway for Vivid Fire Kitchen – our free-to-enter hub for flame-fuelled festivities, bringing together some of Sydney's hottest dining concepts, local and internationally-acclaimed pitmasters, a collection of NSW's finest producers, curated drinks and fire-inspired cocktails. Catch cooking demonstrations from the likes of Lennox Hastie, Pete Campbell, Dave Pynt and more!
Or how about a day-to-night of abundance? From the connoisseurs at Mary's, HERE NOW smashes food and wine with music and art to celebrate some of our most exciting voices, artists and makers with a block party taking over Macquarie Place Park.
Plus, Carriageworks welcomes back its popular Night Market during Vivid Sydney. Curated by Australia's leading sustainable chef Matt Stone, this one-night-only event will celebrate sustainable food practices, embrace authenticity and focus on using the best produce from across NSW.
Unique Dining Experiences
Don't miss the quintessential Vivid Food event, the Vivid Sydney Dinner – a fusion of light, music, ideas and cuisine into a very special feast for the senses hosted by Eddie Perfect. Under the theme of 'rewilding', the ivy Ballroom will be transformed into nature's playhouse with a menu from Danielle Alvarez and Ben Greeno, and performances from Montaigne, Christine Anu, Julian Belbachir and Eddie himself. Plus, Kate Monroe on the decks to keep things moving.
At Play With Your Dinner at Chin Chin Sydney, everything is art and (almost) everything is edible. Executive Chef Matt MacLeod pairs a four-course menu with a 'watercolour' painting session using chilli oil, beetroot sauce and more ingredients from your dishes, perfect on your palette and plate. Just as Chin Chin's dishes highlight the finest NSW produce, so too will your masterpieces. With an artwork maestro offering guidance, you'll create a painting inspired by our state's beautiful natural abundance.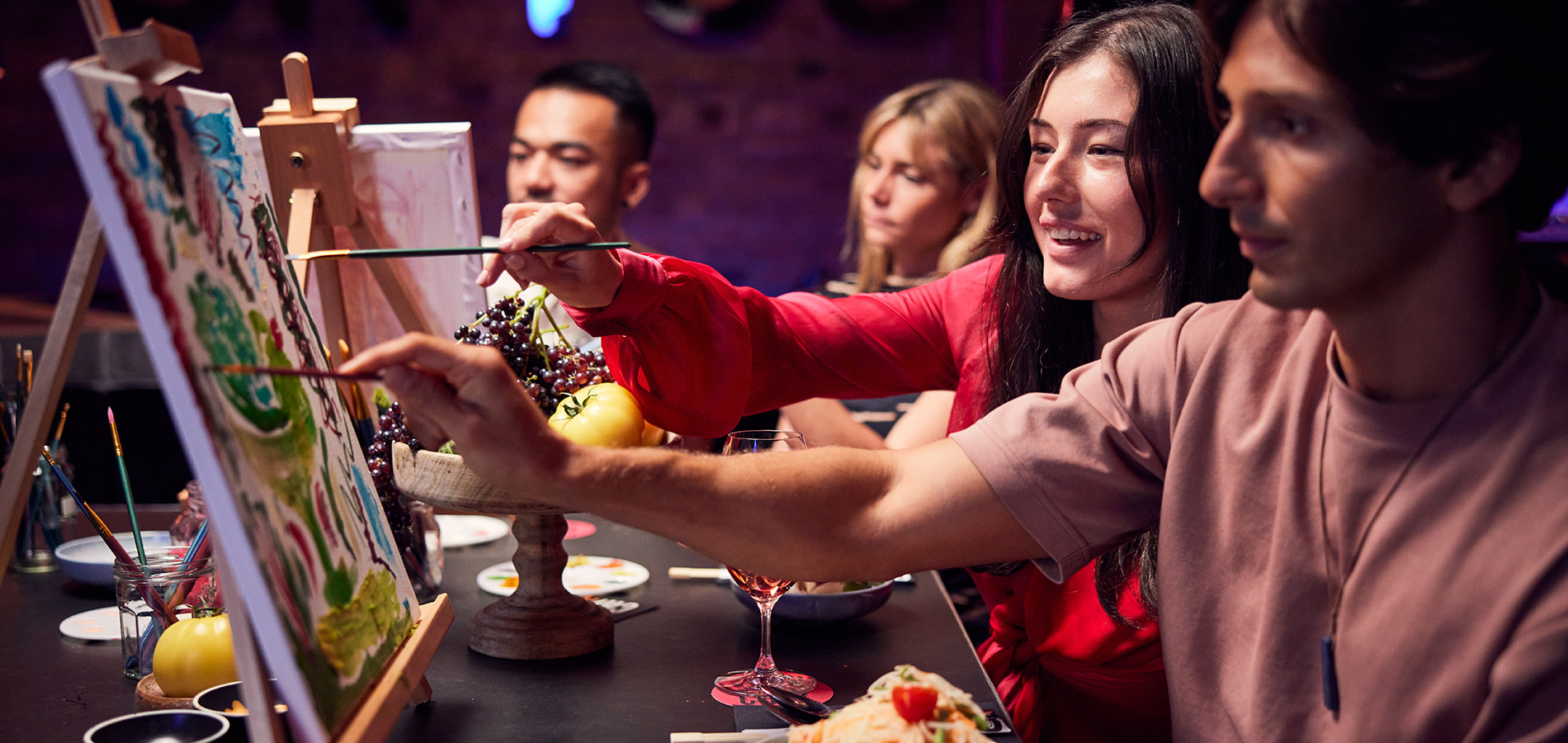 Or how about an astronomical three-course menu with cocktails to match 32 floors above Sydney Harbour, complete with an immersive AR experience? Boasting breathtaking 270° views of Vivid Sydney, the Vivid Rooftop Experience in Aster Bar is all about elevating dining to new heights – overseen by InterContinental Sydney's Executive Chef Matt Hart, the multi-sensory (and AR) menu will take you to Saturn, Mars, Pluto and back home.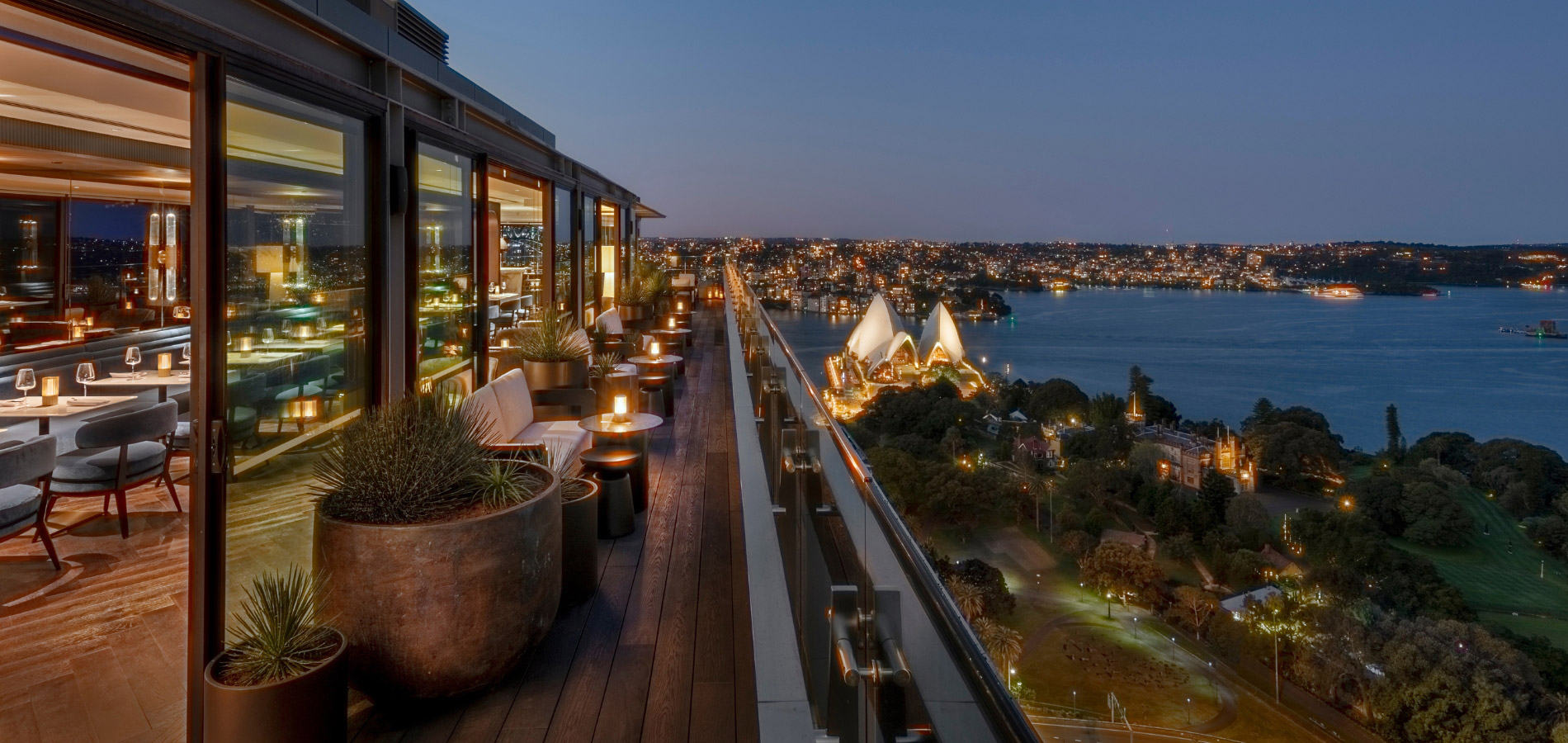 Following their foray into multi-sensory dining at Vivid Sydney 2022, premium modern Australian restaurant 6HEAD returns with a one-of-a-kind culinary experience overlooking the illuminated, sparkling Sydney Harbour. Curated by Head of Culinary, Chef Sean Hall, 6HEAD will transform with two immersive light and sound-scapes over two of the restaurant's dining rooms – one dedicated to our coast and blue seas, and the other to our verdant bushlands and forests.
Over at Barangaroo, all three floors of Barangaroo House transform into the 'House of Naturalia'. Expect sustainable cocktails, a custom menu by Head Chef Tara Chua centred on the natural world, and projections that highlight rewilding conservation efforts. 
Vivid Food With A View
Pairing fine food with views of our spectacular Vivid Light Walk, these dining experiences are classic Vivid Sydney – a multi-sensory feast.
While the festival edition of Luke Mangan's Table at the Pylon Lookout is sold out, the veteran chef has also curated Light Up Your Senses, a chance to enjoy a delightful wine and cheese box on top of the Sydney Harbour Bridge's South-East Pylon. Providing one of the most unparalleled vantage points of Vivid Sydney, the Pylon Lookout lets you take in the sheer scope, size and beauty of the Vivid Light Walk in style.
On the other side of Circular Quay is The Taste and Sound of Sydney at Opera Bar – another perfect spot to take in the illuminated harbour. Inspired by this year's 'Naturally' festival theme, Executive Chef Fernando Sanchez has created a menu inspired by the city's natural beauties, styled to represent the sparkling Harbour and the lush Royal Botanic Garden Sydney.
Or set sail on Sydney Harbour to take in the cityscape on-board new luxury superyacht The Jackson for their Chefs on the Harbour series. Each Saturday night of the festival, enjoy entertainment and a five-course dégustation with paired drinks from Nelly Robinson, Khanh Ong or Mark Olive.
Plus Deals!
As part of our Local Business Program, a heap of Sydney restaurants and bars are getting into the Vivid Sydney spirit with custom menus and special offers during Vivid Sydney. Don't miss out – head to our Deals page to see them all!