Spectacular Views: Where to Stay to Make the Most of Vivid Sydney
18 Oct 2023
Vivid Sydney is a spectacular annual festival of lights and culture. Every year visitors from across Australia and around the world converge on Sydney for the 23 days and nights of illuminations, art, music and events.
Whether you're planning a holiday in Sydney or you're a local seeking a front-row staycation, here's our guide to some of the best hotels to experience Vivid Sydney and where to stay for Vivid Sydney to make the most of the festival.
Hotels with the best views of Vivid Sydney
For an iconic view of the Sydney Opera House and the Sydney Harbour Bridge, be sure to book your stay in Circular Quay. There are approximately a dozen hotels surrounding the quay, each offering stunning views over Sydney Harbour, allowing you to choose the perfect view for you.   
 
If you're treating yourself
If you are looking to splurge, consider the Park Hyatt which is located directly under the Sydney Harbour Bridge and situated on the Vivid Sydney Light Walk. From your room, or any of the three bars and dining rooms, you'll enjoy an incredible view of the Sydney Opera House, as well as all the lights along Circular Quay.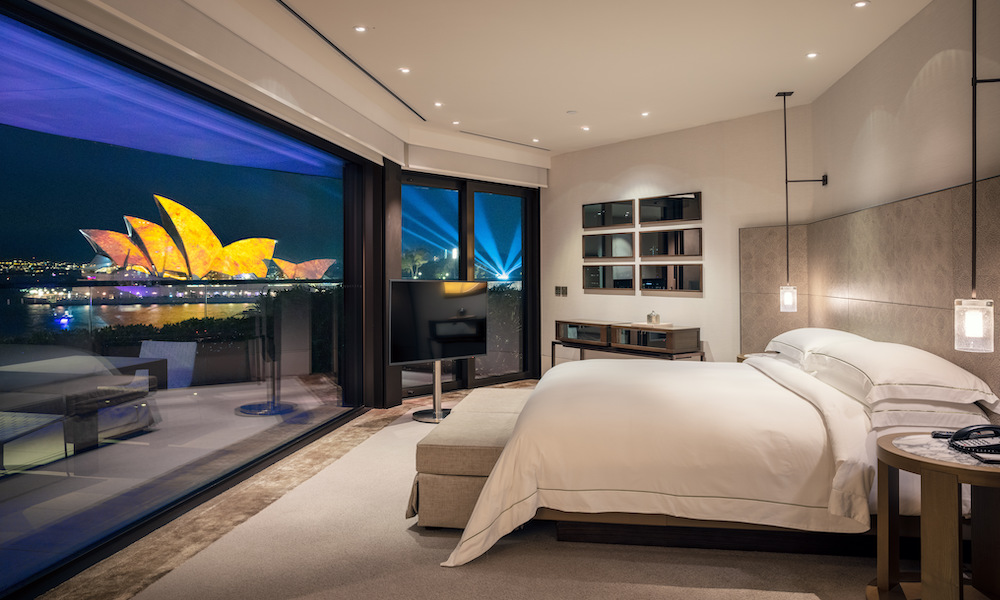 Further around the quay, both the Four Seasons and Shangri-La, each towering over 30 floors, provide breathtaking harbour views from above, making it the ideal sight to wake up to or say goodnight to.
Set just back from the wharves, the higher floors of the Marriott Circular Quay also offer excellent views of the Sydney Opera House and the city lights, as well as being surrounded by some of Sydney's best bars and restaurants which offer special Vivid Sydney dining experiences during the festival.
View from Four Seasons Hotel room.
(Destination NSW)

 

View from Shangri-La Hotel suite.
(Destination NSW)
Step right into the Light Walk
The Vivid Sydney Light Walk spans about 8 kilometers, so you don't have to be directly on the quay to experience the lights. Consider accommodation in The Rocks and Walsh Bay, such as the Harbour Rocks Hotel or Pier One so you can step straight on the path of the Vivid Lights.
Other great locations along the way include Barangaroo, where you can stay in the tallest building in Sydney - The Crown Sydney. Even if you don't stay there, you can visit their Sky Deck on the 83rd floor for incredible panoramic views of the city skyline. Alternatively, book an Adina Apartment along King Street Wharf, allowing you to step out onto a whole strip of waterfront bars and restaurants.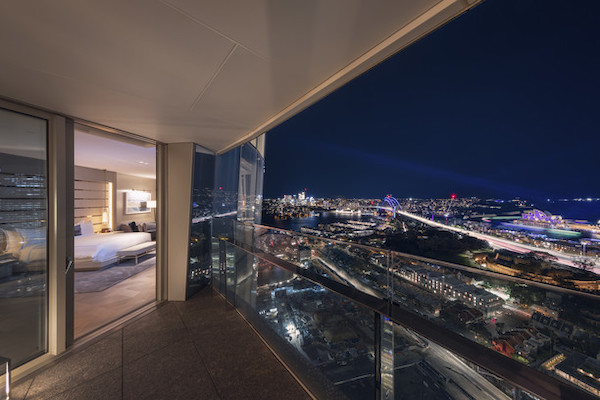 Every year Tumbalong Park is a hub of Vivid Sydney events with installations and live music. Many hotels line the park, including the Novotel Sydney Darling Square and Vibe Sydney Darling Harbour to name a few. Staying here also gives you quick access to Darling Harbour and Darling Quarter which play host to a myriad of Vivid Sydney events and installations each year.
The best views for backpackers
You don't need to stay in a Penthouse to catch the views. For a more budget-friendly stay during Vivid Sydney, The Sydney Harbour YHA rooftop has a stunning panoramic view of Sydney Harbour so you can still get the 5-star experience for under $100 a night.
Alternatively, Wake Up! Sydney or the Space Q Capsule Hotel (yes, you can stay in a futuristic sleep pod!) are both conveniently close to Central Station, situated at the end of the Light Walk and within walking distance of other Vivid Sydney event locations such as Carriageworks and Powerhouse.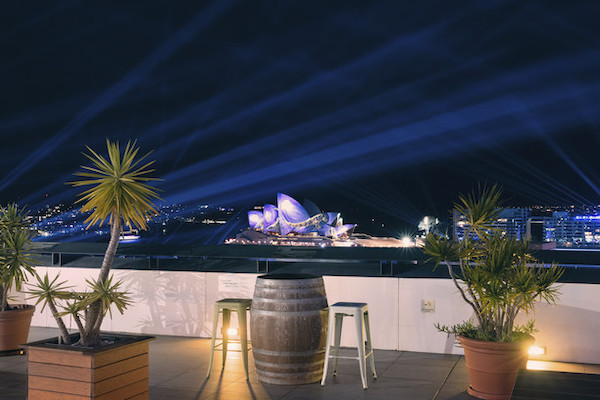 Dinner with a view
If you're a Sydney local and would prefer to sleep in your own bed, or you're staying a little bit further out of the city. You can always book yourself a table at one of the many hotels bars and restaurants with a view of the lights.
Enjoy a cocktail or two at Aster Bar in the InterContinental Sydney, set right on Circular Quay with expansive harbour views and views across the Royal Botanic Garden Sydney - it's a prime position.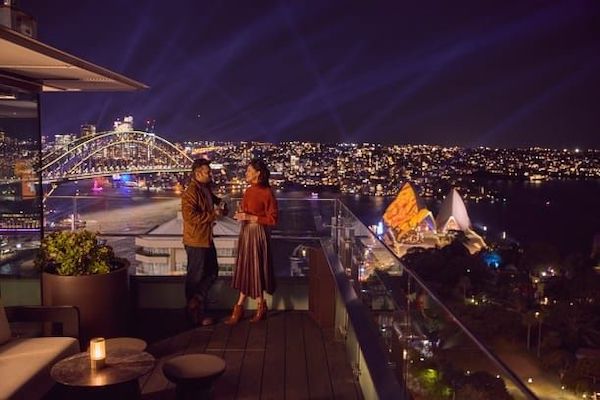 The Hotel Palisade atop Barangaroo Reserve isn't as well known for its boutique accommodation, but it is famous for the sophisticated rooftop cocktail lounge with breathtaking views over the Sydney Harbour.
For a view of the lights on Darling Harbour, try Atelier Bar and Restaurant in the 5-star Sofitel Sydney Darling Harbour. Enjoy a modern twist on classic French cuisine, while taking in the ambiance of Vivid Sydney below.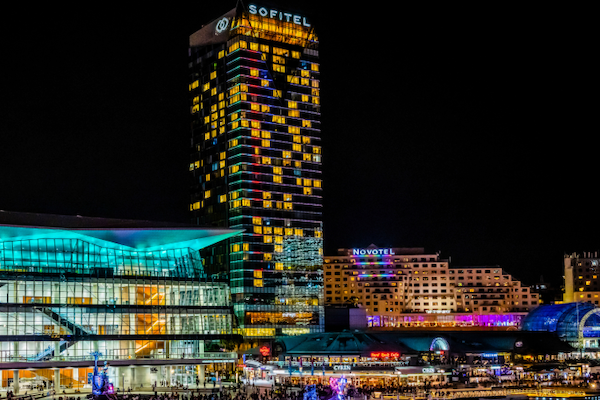 Lights on at 6pm, every night
Remember, the lights go on every night at 6pm, and stay on until 11pm, so be sure to secure your prime spot in time to enjoy the show. If you're looking for more inspiration, check our list of deals and experiences, for Hotel deals during Vivid Sydney and Vivid Sydney hotel packages.