A guide to Vivid Sydney 2023 at Barangaroo
Barangaroo was once the working heart of the city, the site of a busy maritime port, wharves, and industrial warehouses. Today, it's the place Sydney comes to play, home to the glittering Crown Sydney, dozens of waterfront restaurants, like Barangaroo House, swish boutiques and busy bars.
And when it comes to Vivid Sydney 2023, Barangaroo shines extra bright. From 26 May - 17 June, this harbour location offers plenty to see, do, eat and marvel at.
How To Get There
Barangaroo is just a five-minute walk from Wynyard Station through an underground tunnel. If you're arriving from Wynyard, you could start your Vivid Sydney adventure there with Dark Spectrum, an electronic labyrinth awaiting in the abandoned railway tunnels below the station.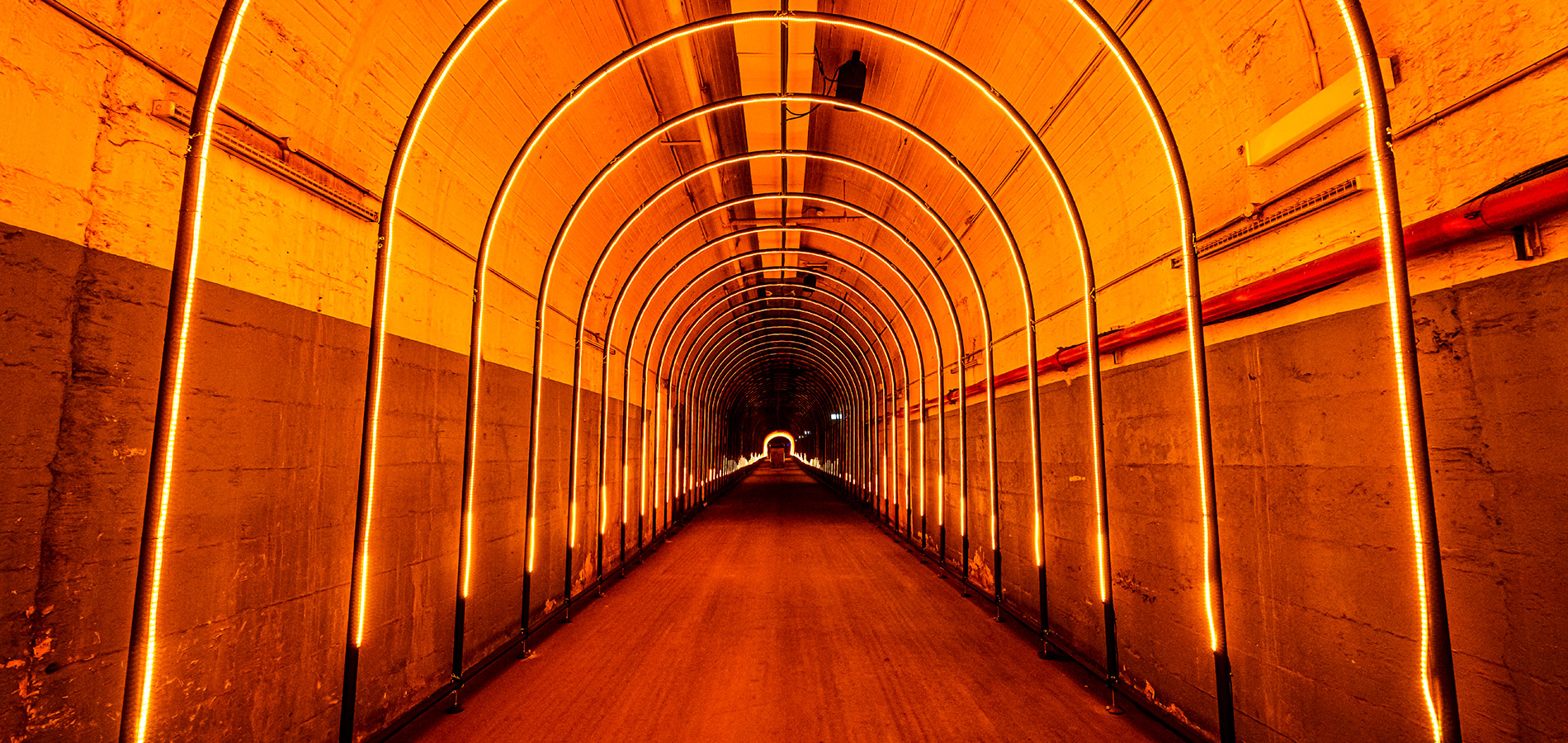 Otherwise, you can catch a bus to King Street Wharf, or arrive via ferry to Barangaroo Wharf from Parramatta or Circular Quay – arriving via the water is a great way to take in the Vivid Sydney lights. Of course, you can always arrive on foot along the Vivid Light Walk, which spans from Central Station to Circular Quay.
Iconic Barangaroo Sites Transformed
Two of Barangaroo's most iconic buildings are transforming inside-out this Vivid Sydney: Barangaroo House and Crown Sydney.
Inspired by Vivid Sydney's 'Naturally' theme, the stunning three-story Barangaroo House becomes the House of Naturalia. Think sustainable cocktails, a custom zero-waste menu and beautiful projections that highlight rewilding efforts.
At Rekodo Restaurant & Vinyl Bar on the first floor, you'll find Head Chef Tara Chua's dishes curated specifically for Vivid Sydney, while renowned DJs Frank Booker and DJ Jnett hold down the decks. Upstairs at Smoke Rooftop Bar, a custom cocktail menu will see would-be discarded ingredients transform into the heroes of delicious drinks, perfect for sipping while taking in the view. Reservations are recommended.
Continue the walk up to Crown Sydney, lit up for Inflorescence. Named after a cluster of flowers on a stem, this enchanting work is a colourful journey through our city's seasons. Take in the impressive projection on the North West exterior, reaching towards the skies, then head inside Crown Sydney's Oculus area for an immersive sound and light experience. Shown on the hour each night, it's best enjoyed from the level two and level three staircase landings. Watch and feel the seasons change.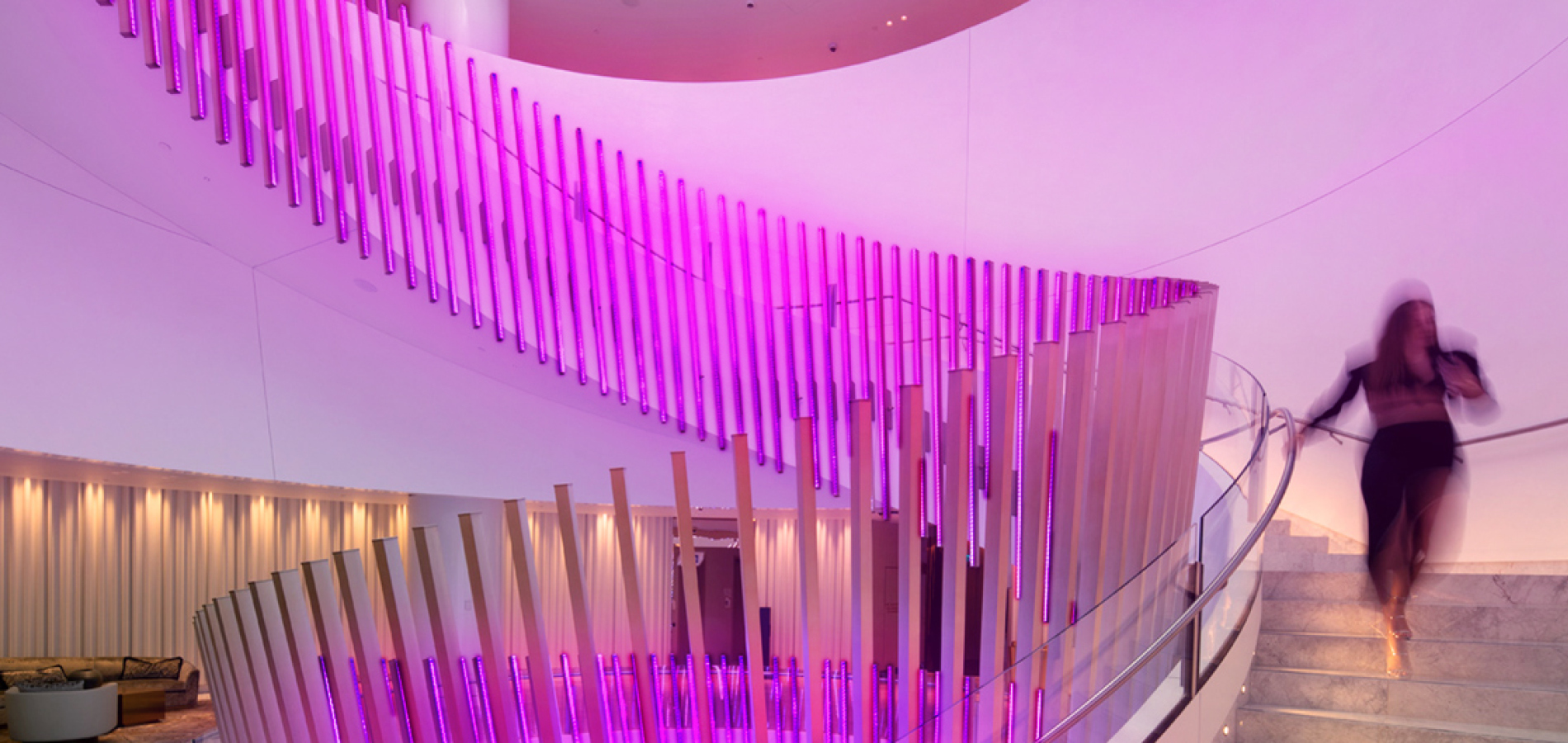 Afterwards, catch the elevator to Crown Sydney's luxurious rooftop terrace bar Cirq, with spectacular views of the Vivid Light Walk and illuminated city. Enjoy a custom cocktail, and sit back in style.
Wulugul Walk
Named after the local indigenous word for kingfish (a prize catch past and present), Wulugul Walk is the foreshore promenade that stretches from Barangaroo House to the northern end of Barangaroo Reserve. And it's transforming head to toe this Vivid Sydney.
Walking north from Crown Sydney, our Vivid Light Walk offers plenty of wonders. Catch two installations at Waterman's Cove, Lilies and Fish Are Jumping.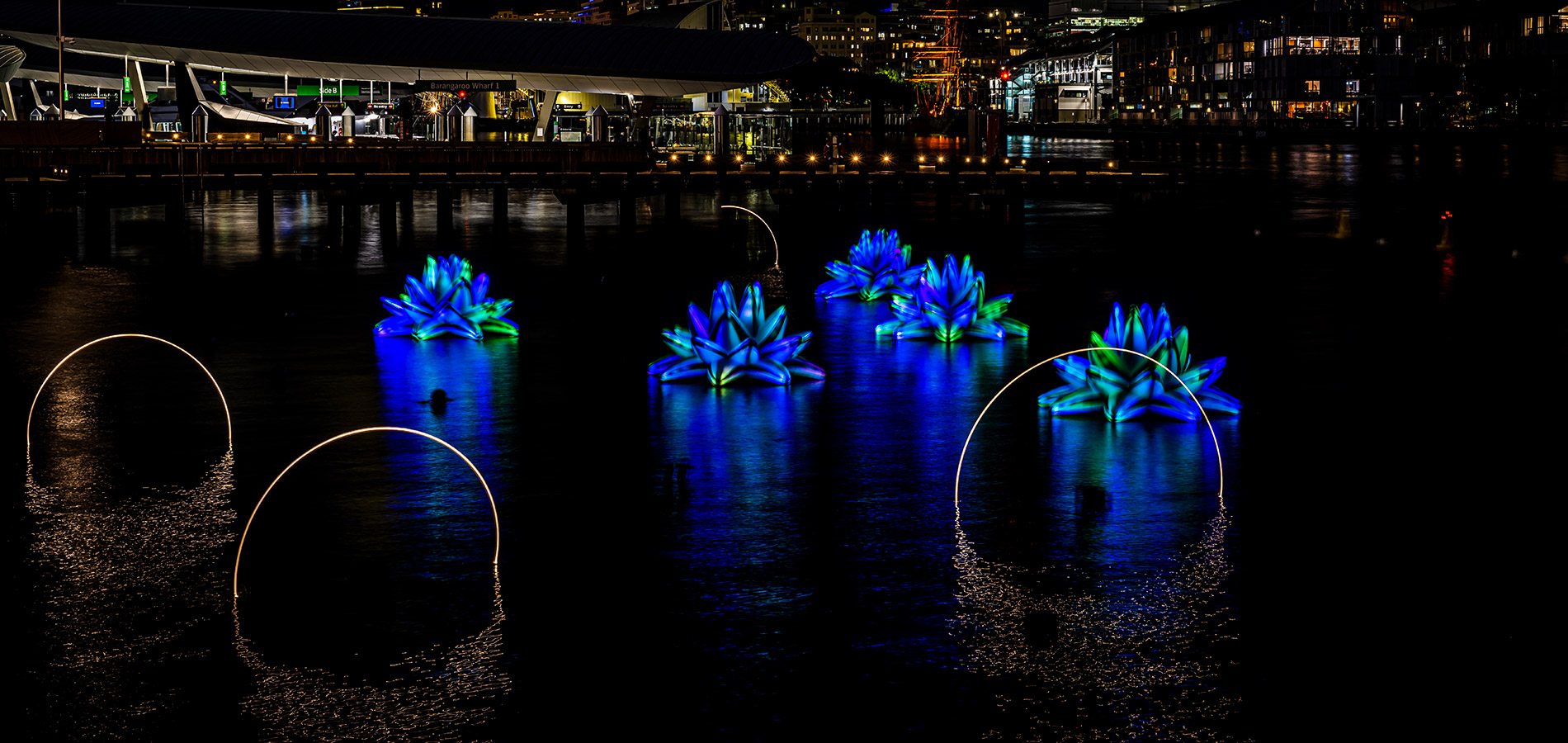 A little further along, discover The Tunnel – a trip in itself, steered by fellow Vivid Sydney spectators. Travel through an open hallway made of 16 otherworldly, space-age structures, controlled by 'Pilots' - those watching from a nearby console. Each journey is unique, as each Pilot has complete control over The Tunnel's soundscape and 8,000+ LEDs, creating a one-of-a-kind experience.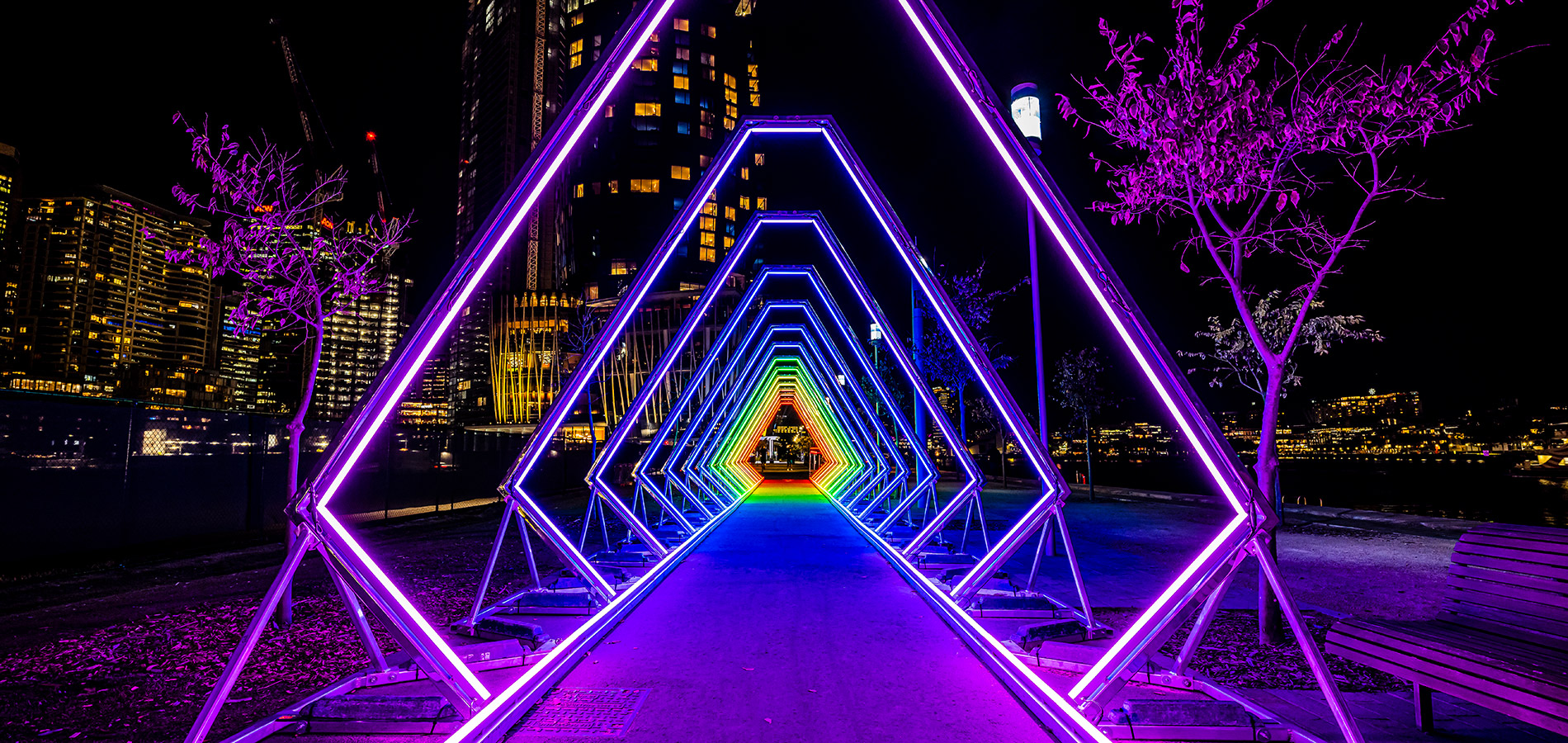 And be sure to stop at Nawi Cove for What Lies Beneath, a beautiful projection of coral reefs 3D-mapped onto the cove's curved rocks. Using data from ocean currents, it's a window into an otherworldly ecosystem – no wetsuit required.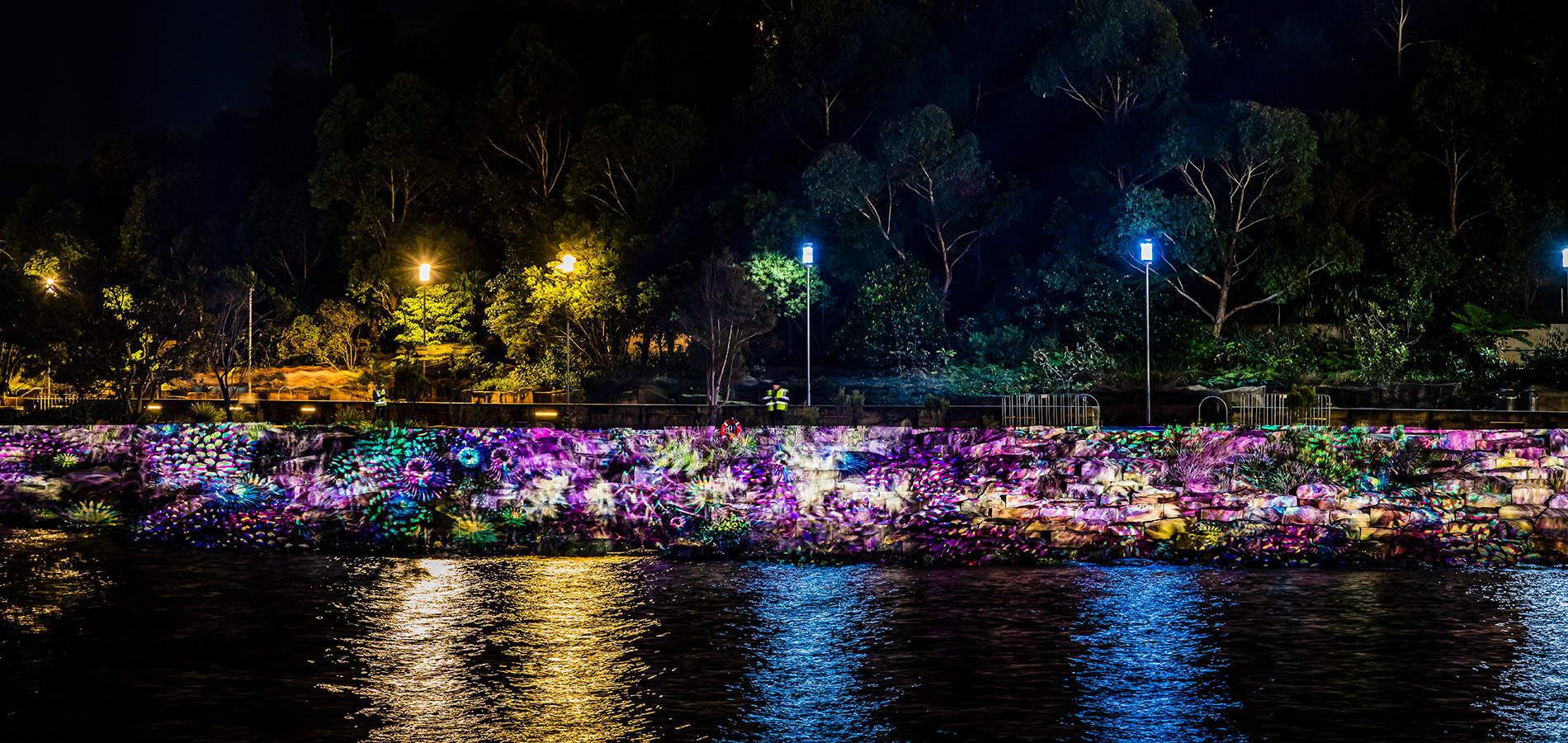 The Cutaway
Two Vivid Sydney highlights await in The Cutaway – Vivid Fire Kitchen and Vivid House, an immersive 360° experience through four awe-inspiring artworks. At Vivid House, head on a hyper-real journey across Australia's mountain peaks, verdant valleys and more. Marvel at the beautiful resilience of corals. Experience oceanic photography like never before. Take a psychedelic trip through Sydney's hidden coves.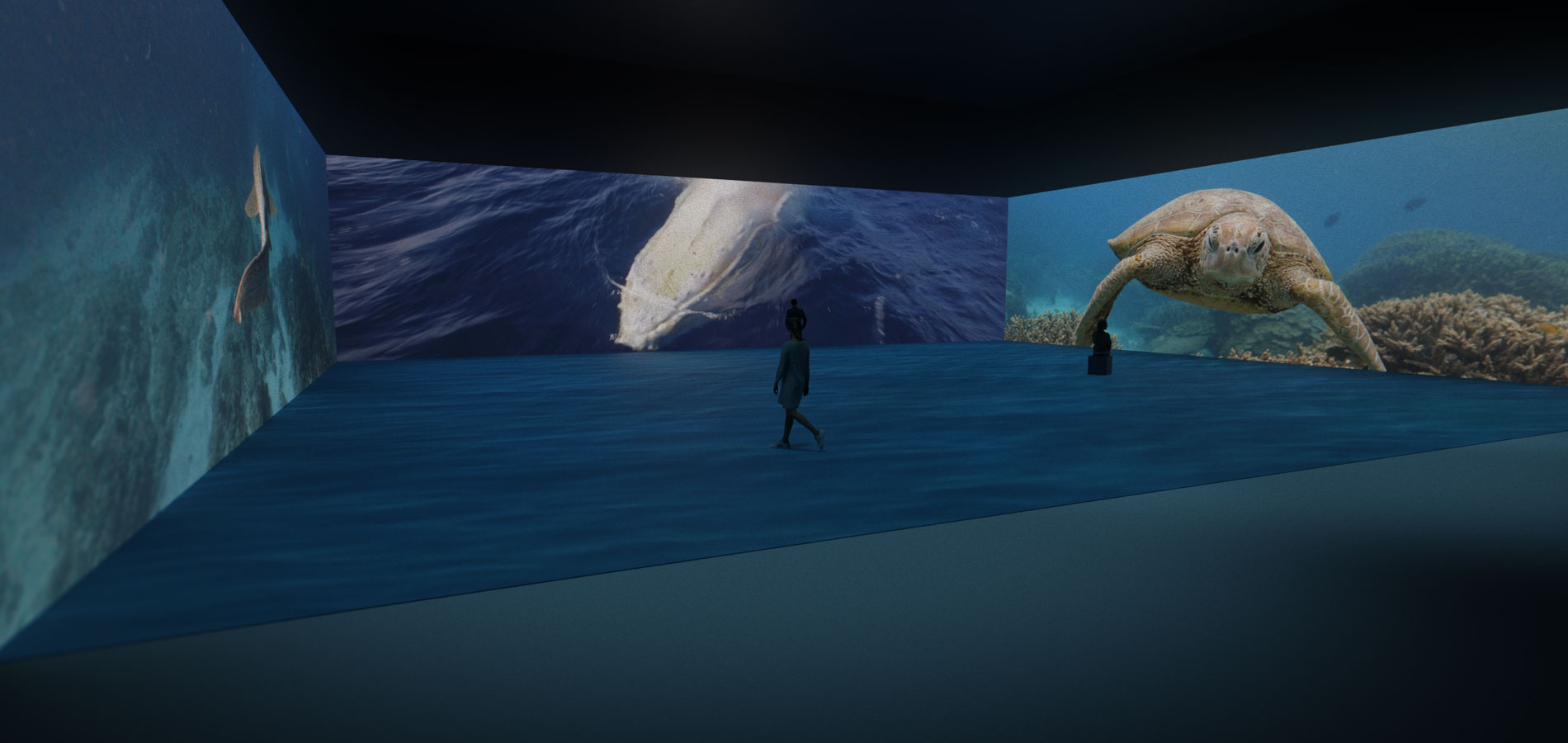 After all that adventure, you've probably worked up an appetite: enter Vivid Fire Kitchen, bringing together Sydney's hottest dining concepts with local and internationally-acclaimed pitmasters for flame-fuelled festivities every night of Vivid Sydney.
Grab a spot by the firepit to catch free cooking demonstrations from global pitmasters like Dave Pynt (SIN), Daniel Lee (BRA), Lennox Hastie (AUS), Jess Pryles (USA) and plenty more. Plus, a stacked line-up of street food heroes, trailblazing restaurants and dining concepts - including NOLA Smokehouse & Bar and plant-based Alibi Bar & Dining - will fire up innovative dishes. And stay toasty with custom cocktails, hot chocolate, S'mores and more fire-side treats.
Before you head out, have a look at the full Vivid Fire Kitchen program for a taste of which vendors and pitmasters to expect – and you could even head back another night for a completely new line-up.
Barangaroo Reserve
Sitting above The Cutaway is Barangaroo Reserve, where five illuminating Light installations await. Either continue along Wulugul Walk and then make your way up the hill with the stair-free ramp at the Reserve's north or cut through to Stargazer's Lawn via the stairs or lift at The Cutaway.
The Lawn is home to The Last Ocean by American artist Jen Lewin, one of Vivid Sydney's biggest works to date. A massive tessellated 'ice sheet' made of reclaimed ocean plastic, this artwork responds to your movements as you traverse across its expanse. Each step stirs the seas, causing them to splash up and shift the ice's shape and colour under your feet. Capturing the sublime beauty of Antarctica even as it melts and shifts due to warming waters, The Last Ocean is an ode to what we risk losing if we don't limit our impact on this Earth.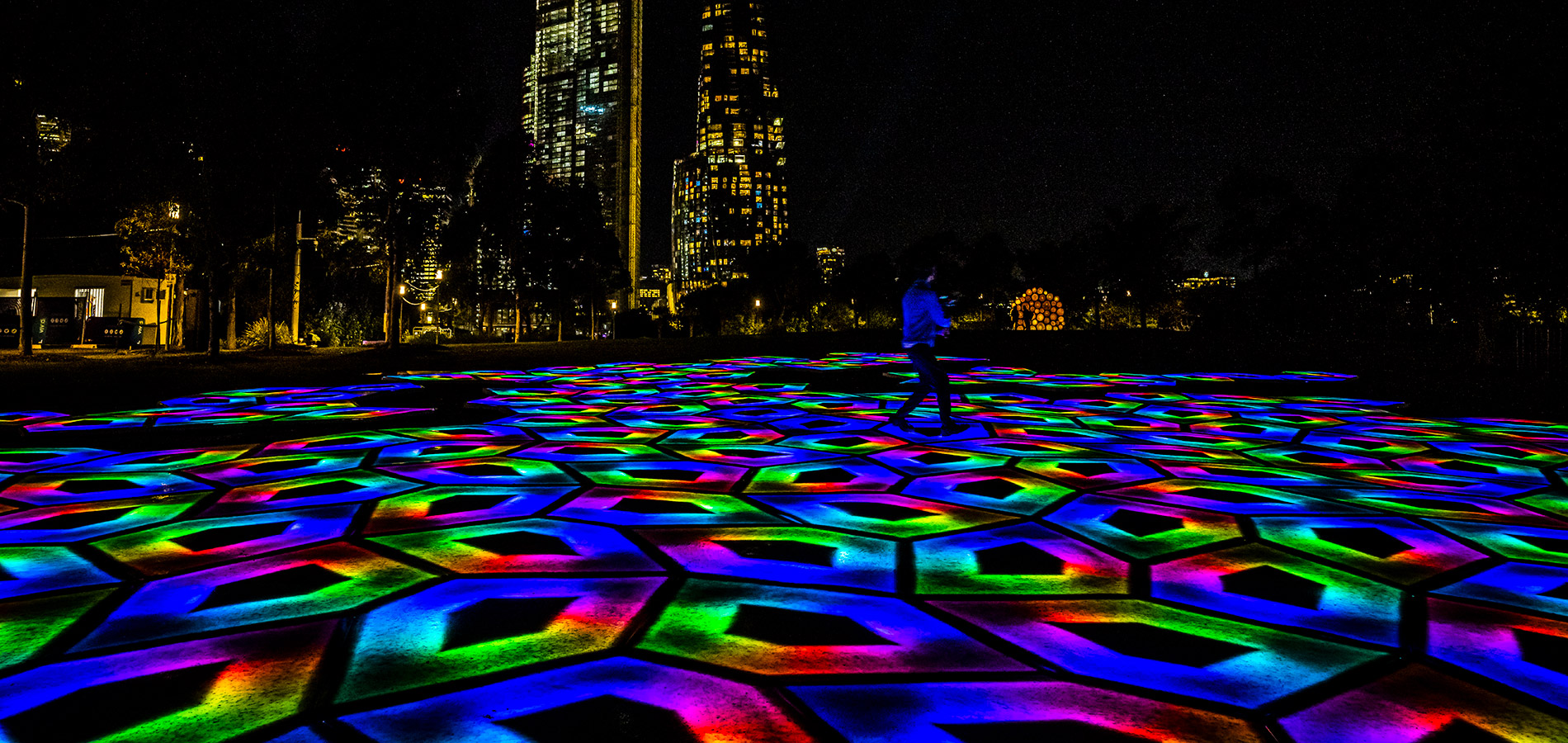 The Reserve is home to three equally contemplative works: Silent Observers, Night Whisper and Light Forest. Each ask us to look closer at the world around us, whether that be the hidden lives of trees or the overlooked beauty of Bogong moths.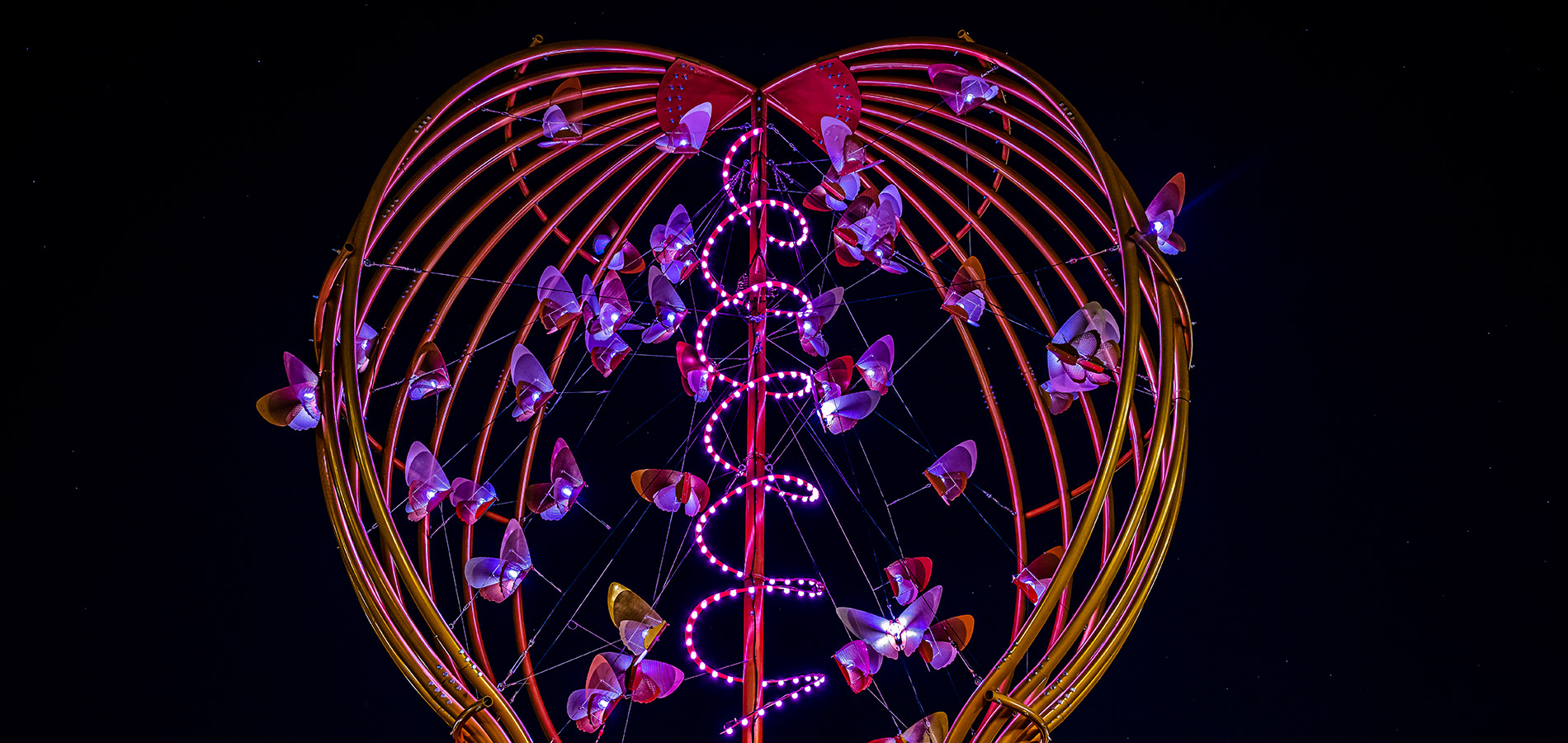 And that's the Barangaroo portion of the Vivid Light Walk! Continue along to Walsh Bay, or double-back to keep exploring everything this harbourside location has to offer. Be sure to check out our Deals and Experiences for offers to restaurants, bars and more local businesses in and around Barangaroo.