The Ultimate 8.5KM Vivid Sydney Light Walk!
Eternal bonfires outside Central Station. Barangaroo Reserve transformed into an ice field. Time travel through our city's last century underneath the Sydney Harbour Bridge. An otherworldly jungle at Circular Quay.
Across 8.5 kilometres, this year's Vivid Sydney Light Walk is a journey of endless adventure and discovery of light, history, art and nature. With 60 attractions, including light installations, 3D-mapped projections, venue takeovers and jaw-dropping spectacles, the Light Walk transforms the city completely – to keep your bearings, we've created an essential itinerary.
No matter your style, we've got you covered! It's up to you whether you tackle the sites all in one blitz of light and glory, decide to take it more leisurely with refreshments and food en route, or even explore the Light Walk over several nights, perhaps between Ideas, Music and Food events spread throughout the city.
And while we've started this itinerary at Circular Quay and finished up at Central Station, there's no reason you can't start at Central and work your way towards the Harbour, following this itinerary in 'reverse'. In fact, if you're eager to celebrate your step-count with a drink, ending at Circular Quay is perfect for you, as a bounty of beautiful bars and restaurants overlook the illuminated Harbour.
Starting at Circular Quay
Lights On! occurs each evening at 6pm: meet your friends and loved ones at Sonder to start things off, a set of beacons at Circular Quay Station's east exit that form a beautiful ceiling of light. Once you're assembled, set off to Inside Out, a celebration of Australian interior design that projects stunning hand-drawn wallpaper and fabrics onto Customs House. Pulling from the Australian Museum of Design's impressive collection of works from the '60s, '70s and '80s, it's an animated journey through three decades of Australian décor and style inspired by Australia's vibrant flora and fauna.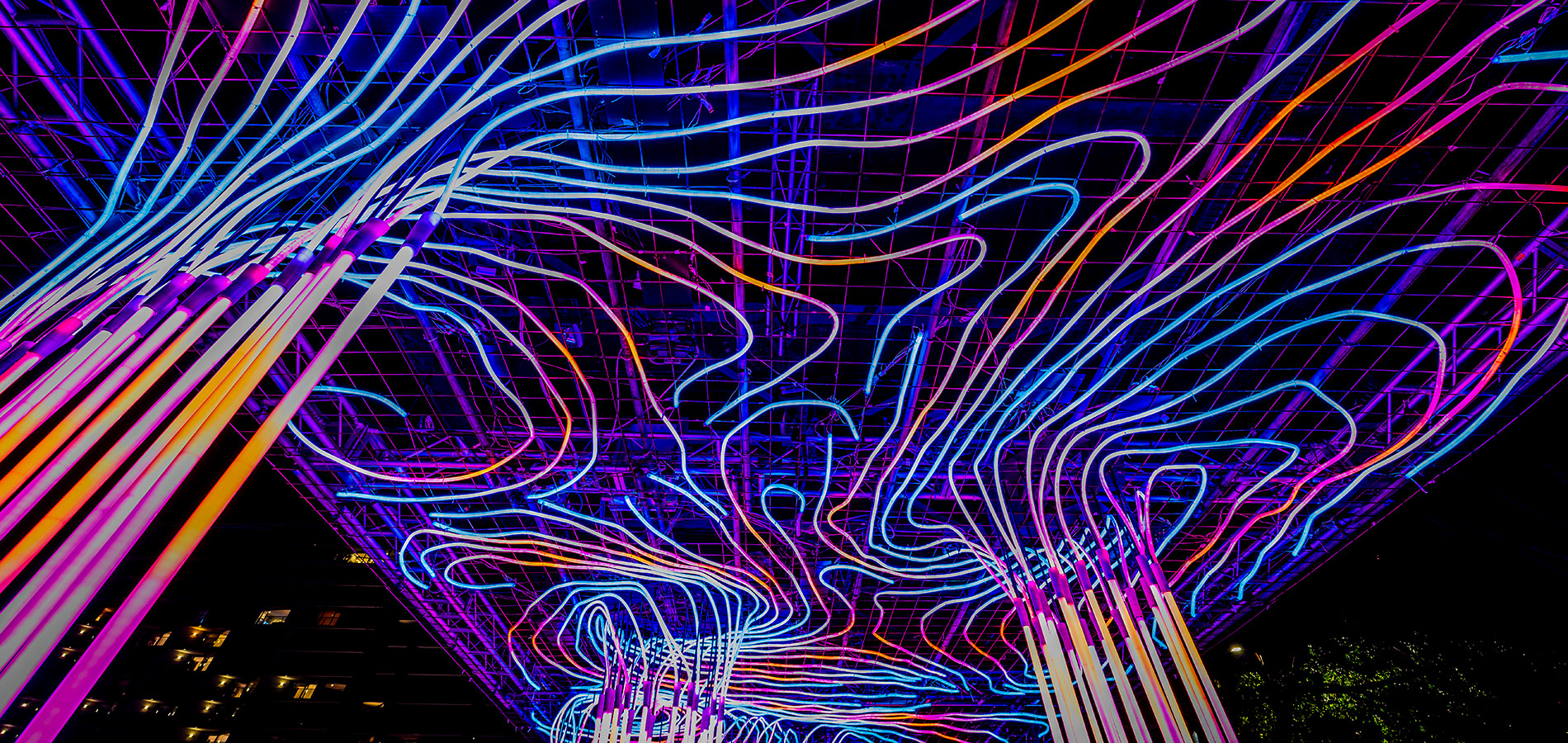 Next, lose yourself in Losting, the latest project by Sydney artist James Dive, who created Vivid Sydney '22 highlight Bump in the Night. A jungle contained in a cube of mirrors that flick between being transparent and reflective, Losting is an ever-changing landscape, a mesmerising mirage and piece of the wild in the middle of the city.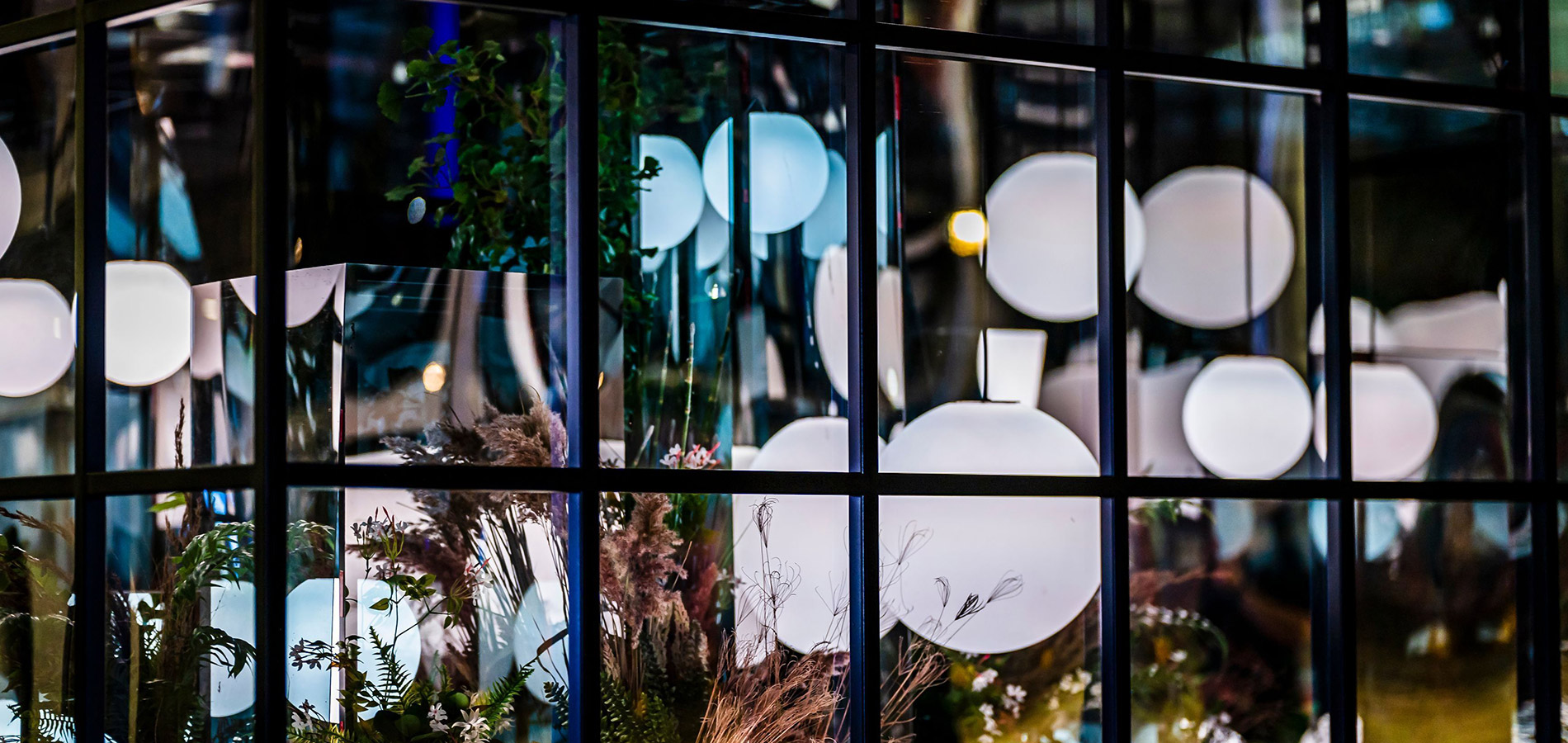 Museum of Contemporary Art Australia
Nearby, on the façade of the Museum of Contemporary Art Australia, is Barerarerungar by artist and designer Maree Clarke, created in collaboration with The Electric Canvas. Taking its title from the Boonwurrung word for 'Country', this projection pays tribute to First Nations cultural and art practices, which Maree has spent her three-decade-long career reclaiming and resurfacing. A central motif is the river reed – a symbol representing safe travels and friendship that Maree uses in her famed oversized necklaces, often created communally on Country with family.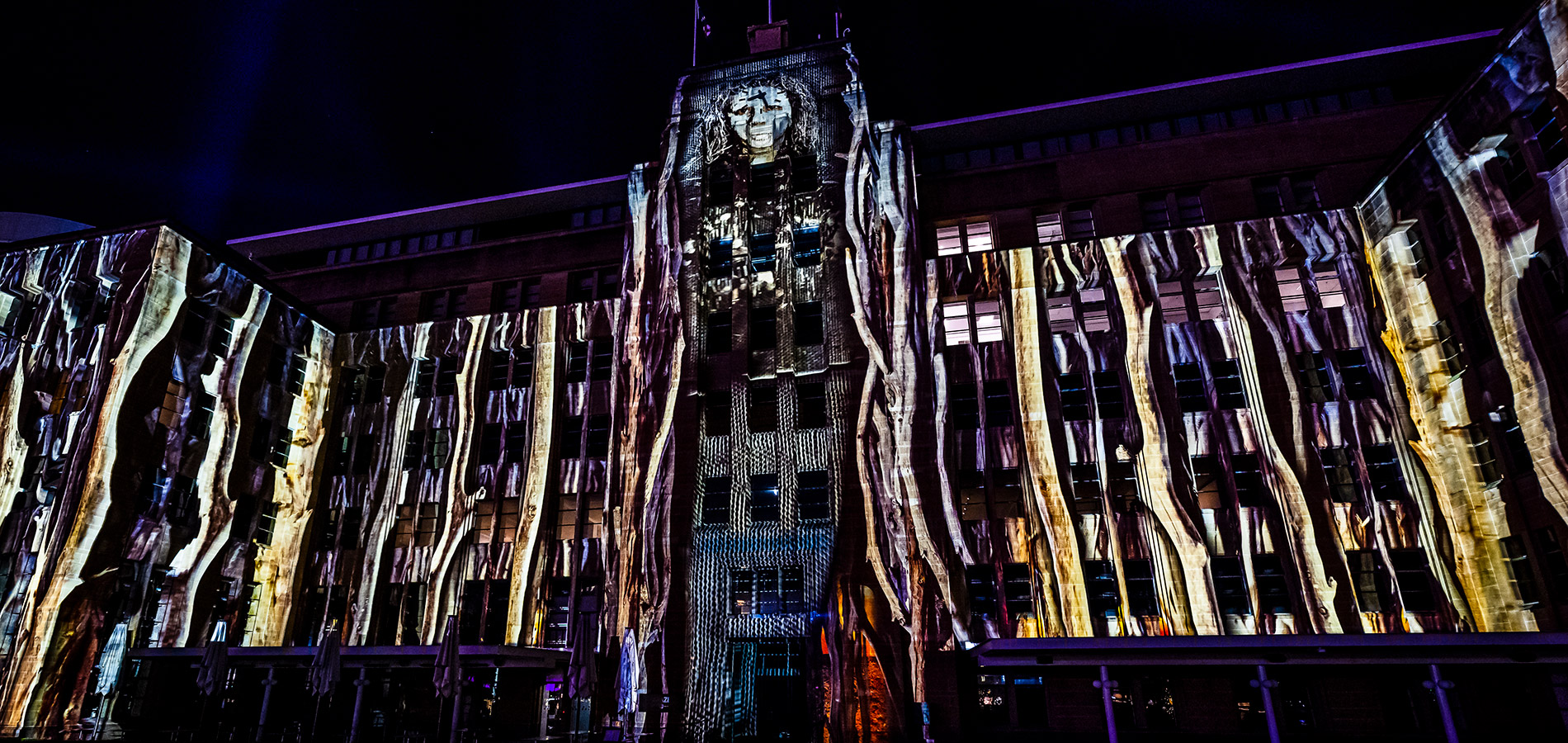 As you venture along to Dawes Point, you're in prime position to take in the Lighting of the Sails – this year's projection on the Sydney Opera House is Life Enlivened (2023), which animates John Olsen's most iconic and vibrant landscapes. And don't miss Biotechture on the ASN Clock Tower, which peels back the building's façade to see the arteries, bones and all of this now-living and breathing building.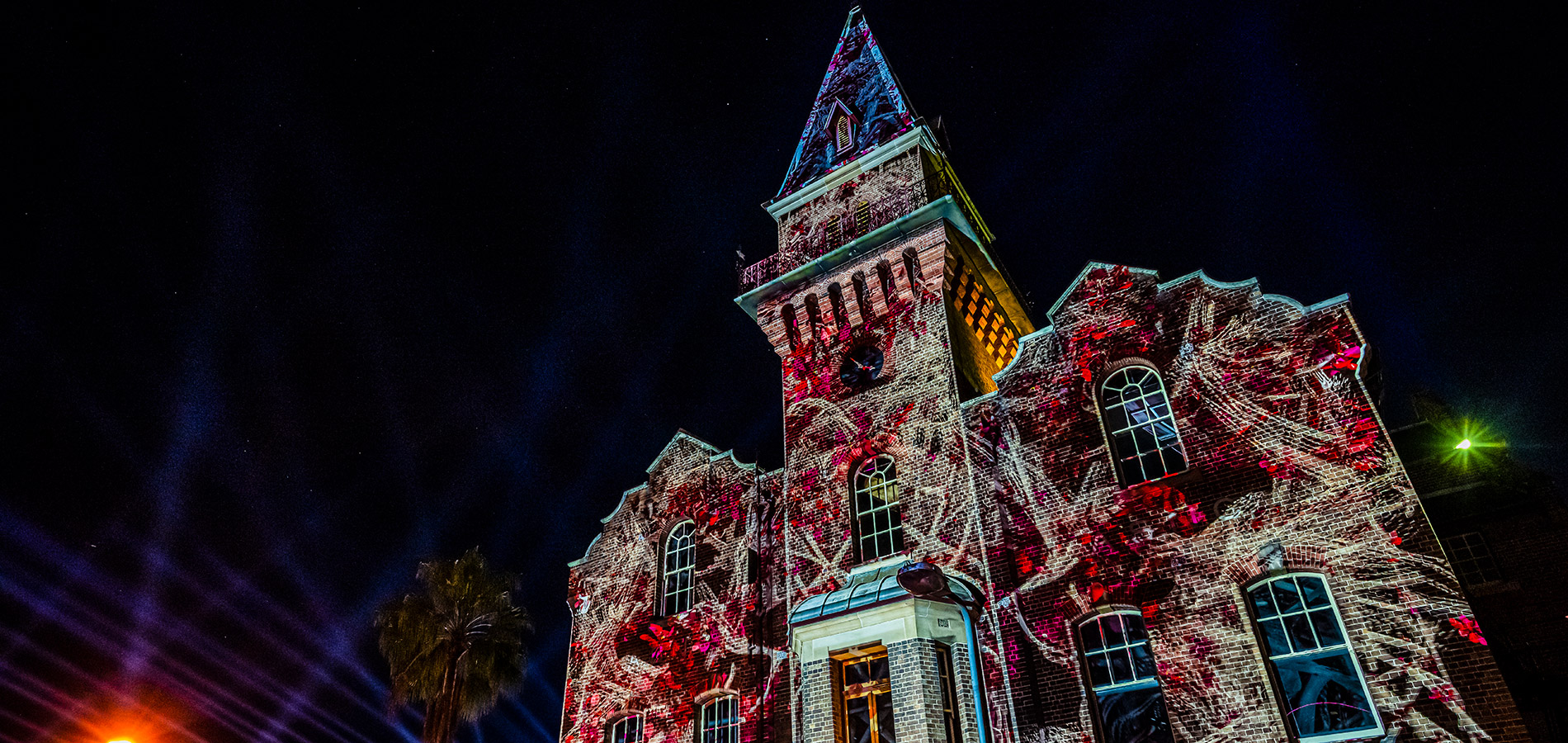 Standing beneath the Sydney Harbour Bridge in Dawes Point Park, our city's recent history comes alive with City Gazing Sydney – an animated map floating above our heads. Part of a global series by Amsterdam design studio VOUW, it charts Sydney's growth across the past century with an accompanying soundscape honing in on some key historic moments.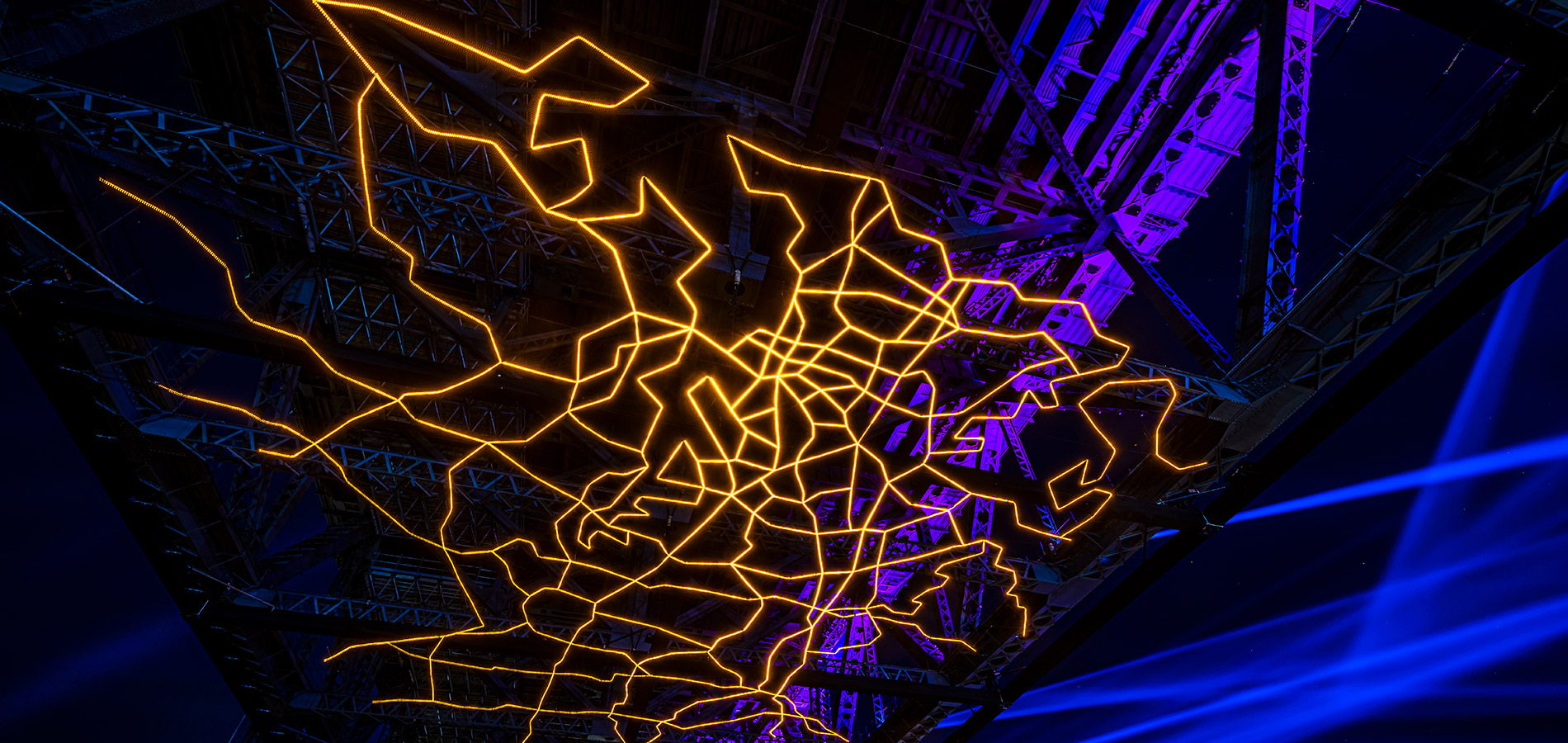 Keep an eye out for some surprising creatures all throughout the Vivid Light Walk, too. Future Natives returns from '22, a flock of birds flying across the city and pointing you in the right direction, while Sydney art collective Amigo & Amigo have planted 8 giant glowing frogs throughout the Light Walk with Night Walkers. Will you find them all?
Wynyard
Underneath Wynard Station, in abandoned railway tunnels open to the public for the very first time, awaits Dark Spectrum. An electronic labyrinth unlike anything seen before seen at Vivid Sydney, think of it as a portal into another world, one that needs your movements and body to come alive.
Lose yourself across eight monochromatic rooms, in a transportive multi-sensory experience inspired by the euphoria found on underground dancefloors. Guided through a progression of colour, each room is also associated with a new mood – begin in the exciting state of construction, before making your way to a sense of reflection and revelation. As a timed event, Dark Spectrum requires tickets to enter – purchase them beforehand, and depending on your entry time, perhaps consider starting the Light Walk here before heading to Circular Quay.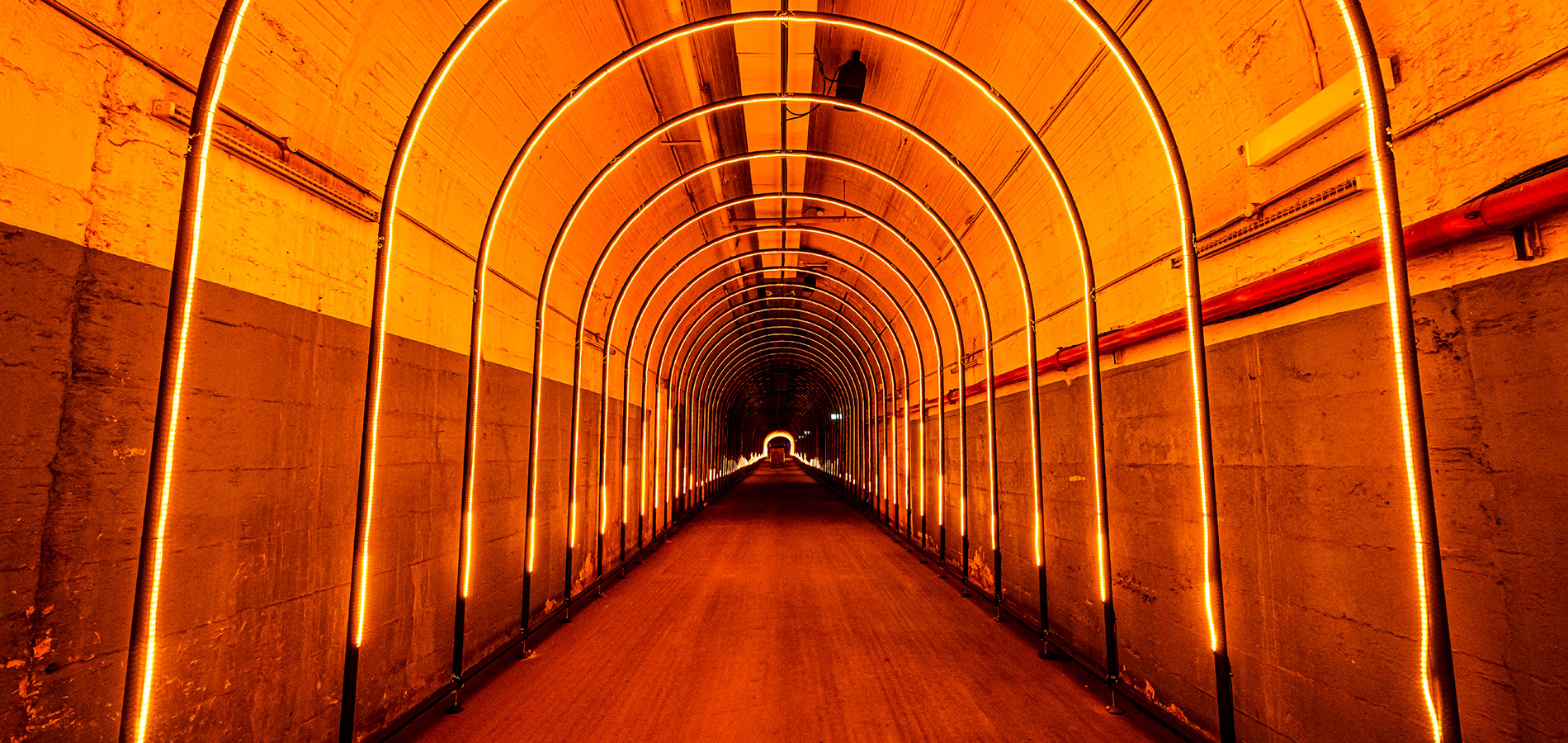 Walsh Bay
The unmissable Monad welcomes you to Walsh Bay, a technical feat that projects its visuals mid-air onto a mist of water created from a series of jets. It's just one of many transfixing installations in the area: as you walk past the piers, catch Bump and Sway, Ghosts and Spirograph before you're drawn to Night Whisper, a giant lightbulb at Barangaroo Headland filled with glowing Bogong 'moths'. Nearby, you'll spot Dune, a hypnotic set of 12 LEDs representing a sand dune moving by unseen and unfelt winds.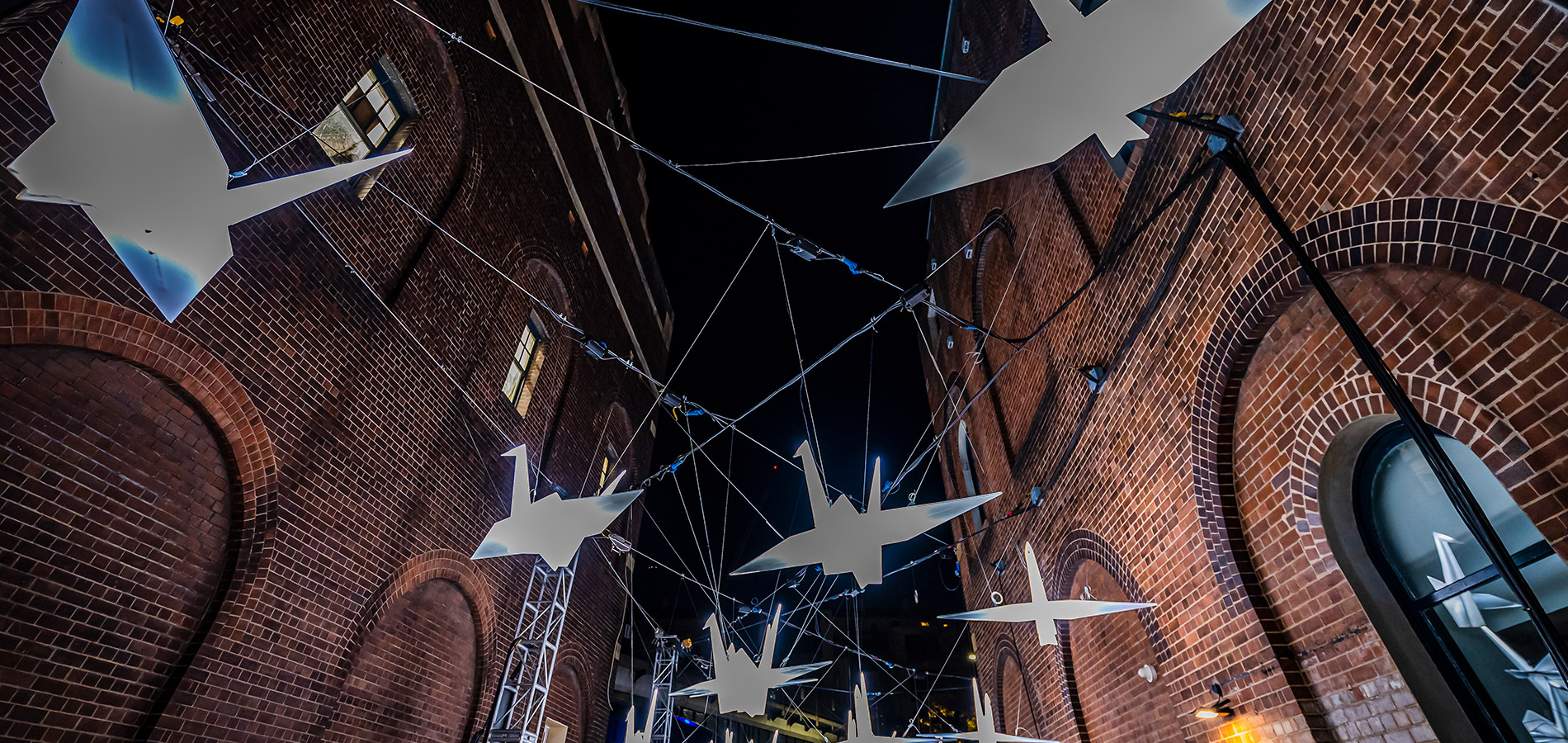 Barangaroo
It's hard to miss The Last Ocean – Jen Lewin's work on Barangaroo Reserve's Stargazer Lawn is the biggest installation in Vivid Sydney history at 588 square metres! A recreation of 3 Antarctic ice shelves you can walk across, the ocean swells up and laps the ice underneath your feet. Changing its shape and colour as you traverse it, it's a poignant reminder of the beauty we risk losing due to climate change.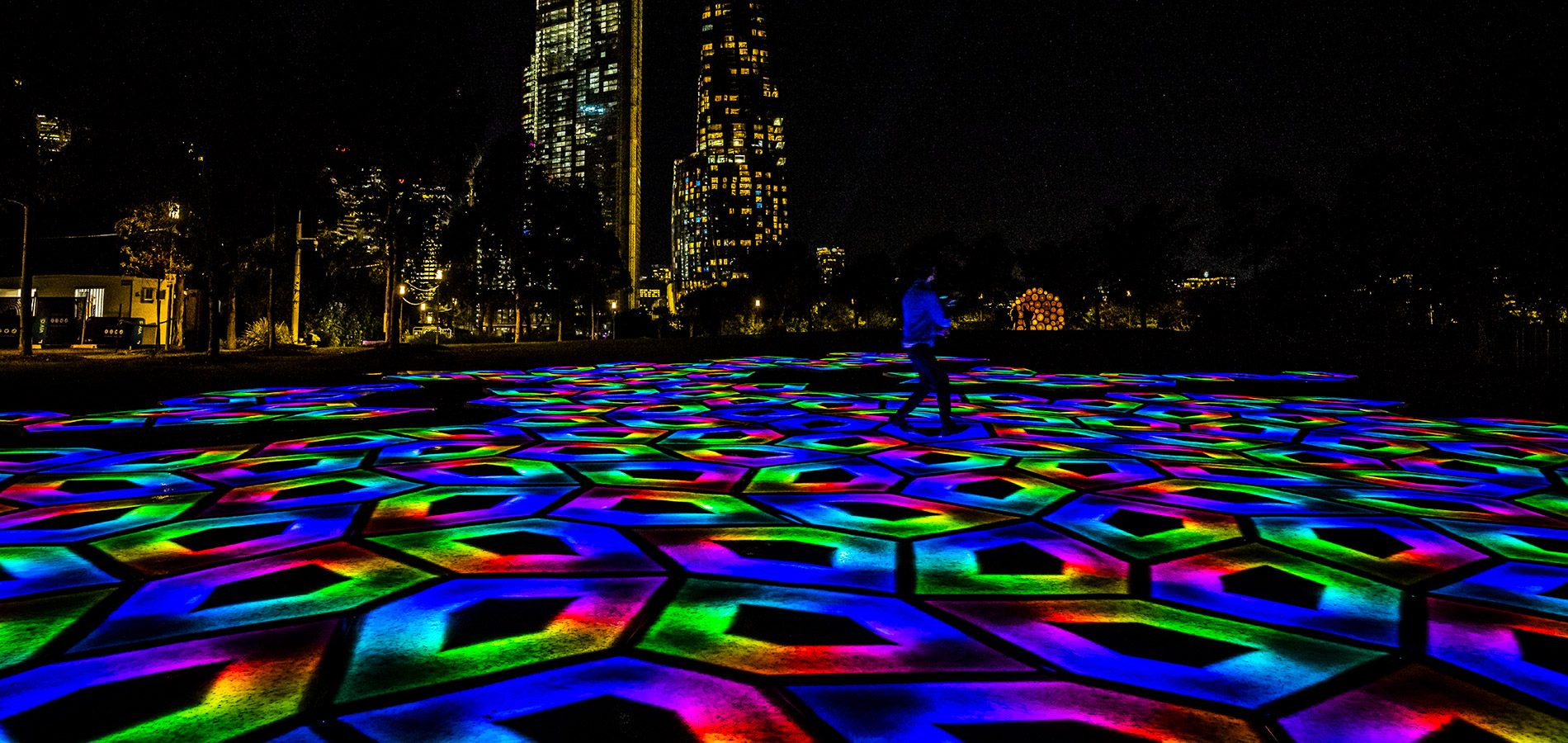 Afterwards, be sure to head downstairs to Vivid House in The Cutaway – an immersive 360° experience of four awe-inspiring artworks, with the Vivid Fire Kitchen outside offering a perfect pit stop (pardon the pun). Or refuel at House of Naturalia, where all three floors (and the menus) of Barangaroo House have been transformed by the festival's 'Naturally' theme.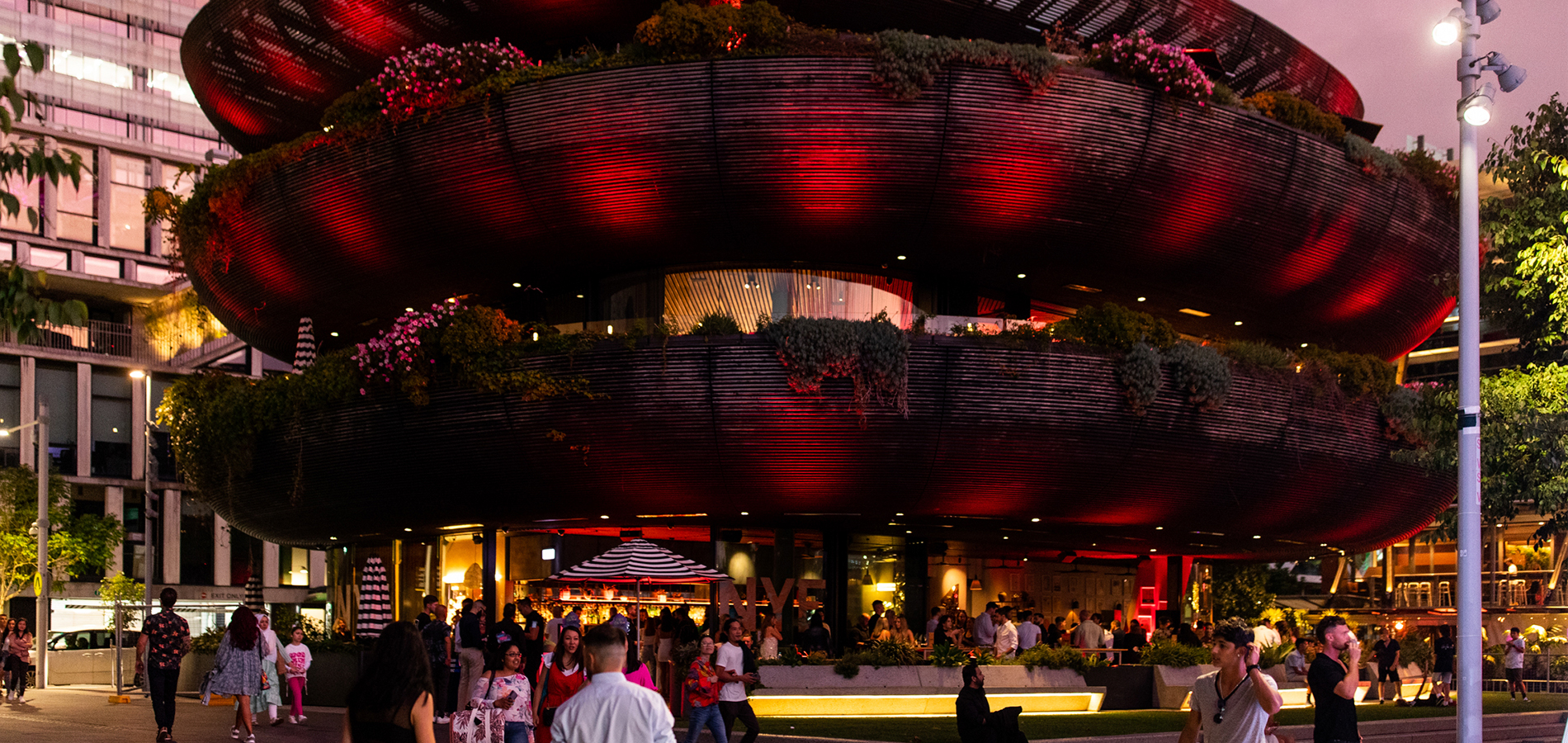 Darling Harbour
On the way to Darling Harbour, be sure to take in What Lies Beneath, bringing our ethereal coral reefs out of the water, 3D-mapped onto Nawi Cove, and head on a trip through The Tunnel, made of 16 space-age structures. Either travel through or control someone's journey from a nearby console, giving you complete control of The Tunnel's soundscape and 8,000+ LED lights.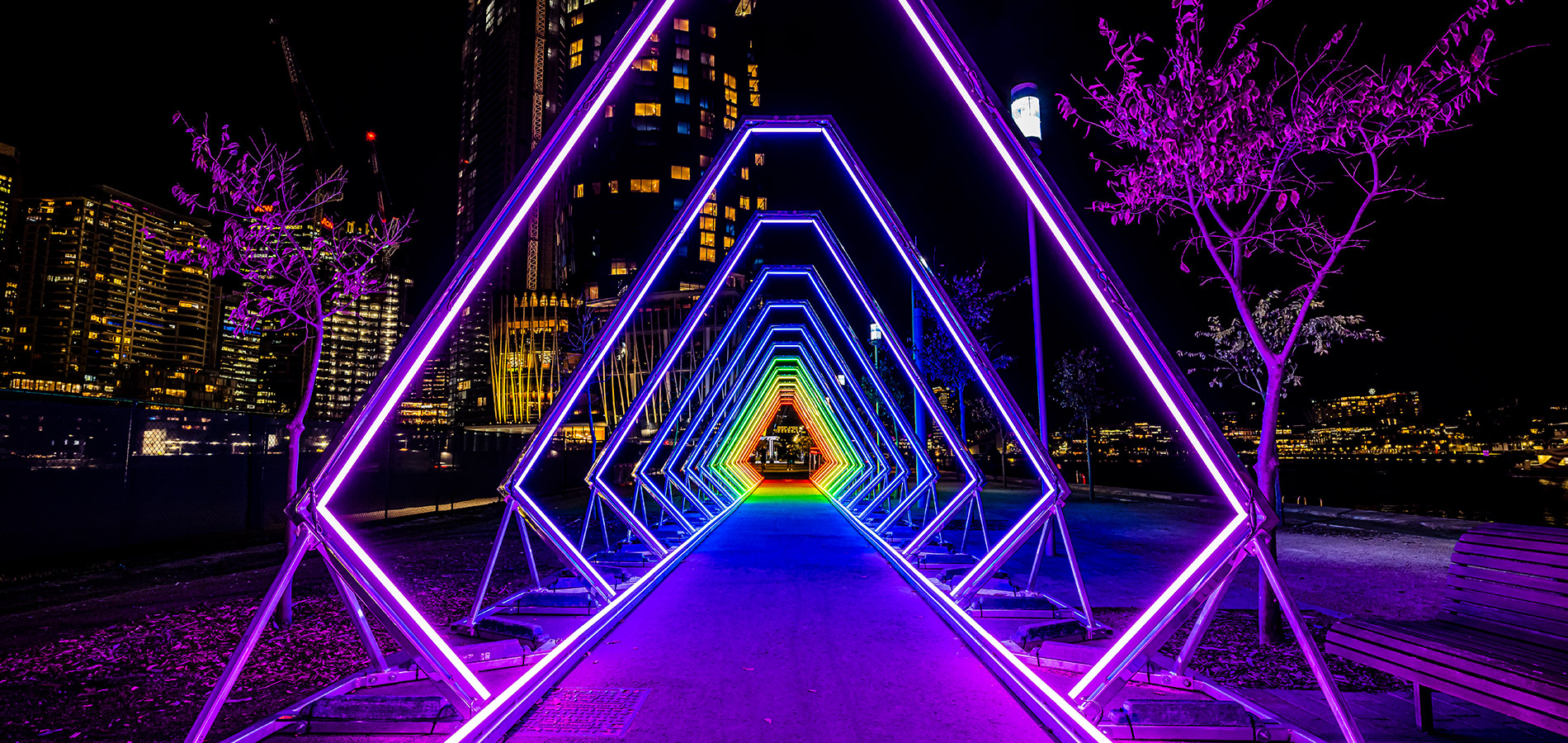 Down at Darling Harbour, catch two spectacular shows: Harbour Life, projected onto the Australian National Maritime Museum's HMAS Vampire, and Elemental, an awe-inspiring show of fire, air, water and earth by Oracle Liquid and conceptualised by our Festival Director Gill Minervini, set to an original soundtrack by Peewee Ferris.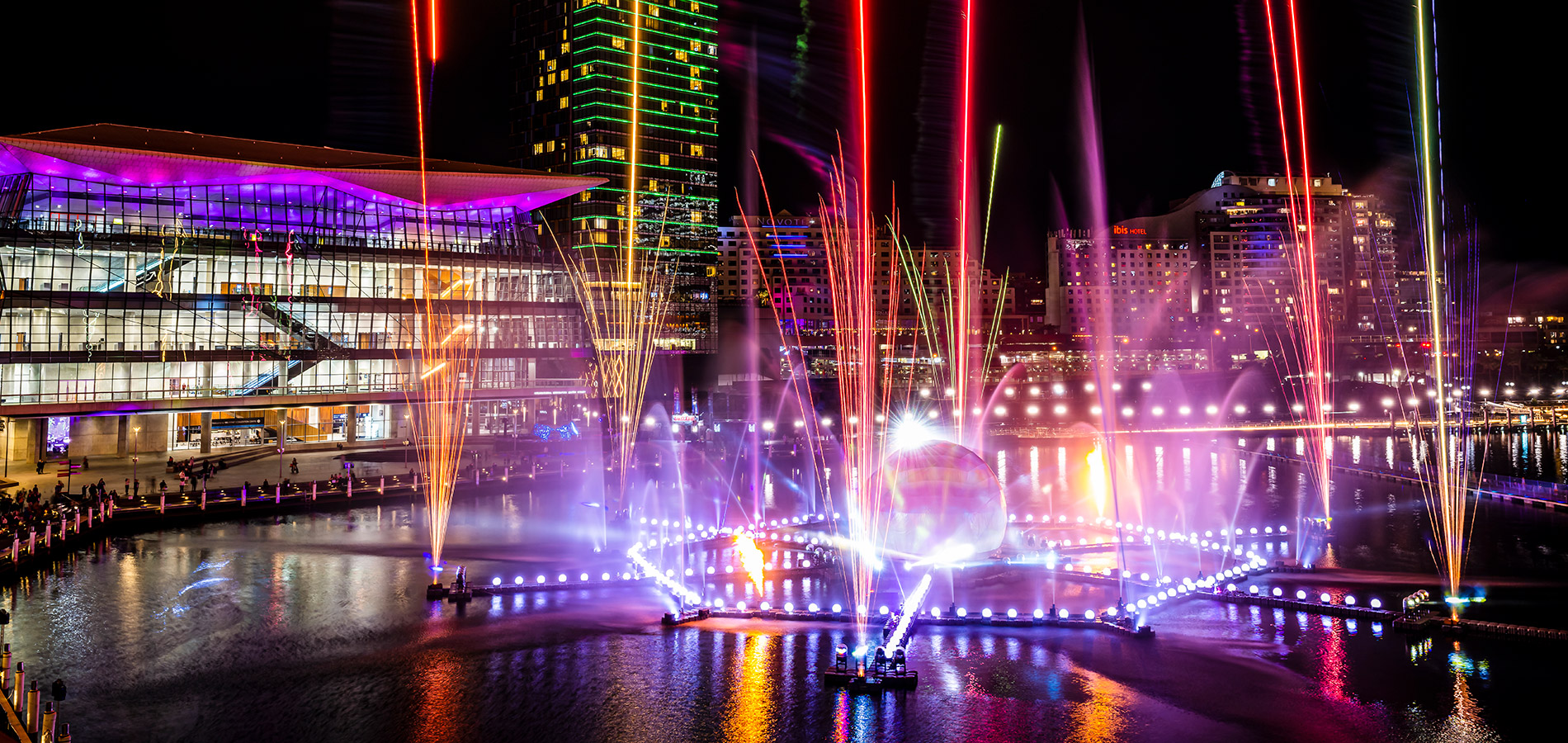 Darling Square and Darling Quarter
Next up is Darling Square and Darling Quarter, home to Spectrum of Happiness, a rainbow-illuminated swing set for all ages, and Aloft, which takes over the Exchange Building. And be sure to check out the FREE live music and DJs at Tumbalong Park, as part of the Tumbalong Nights program. Whether you see Yothu Yindi, Cornelius, Sunshine and Disco Faith Choir or someone else, installation Dance Together inspires you to do just that, haloes of pulsating light overhead.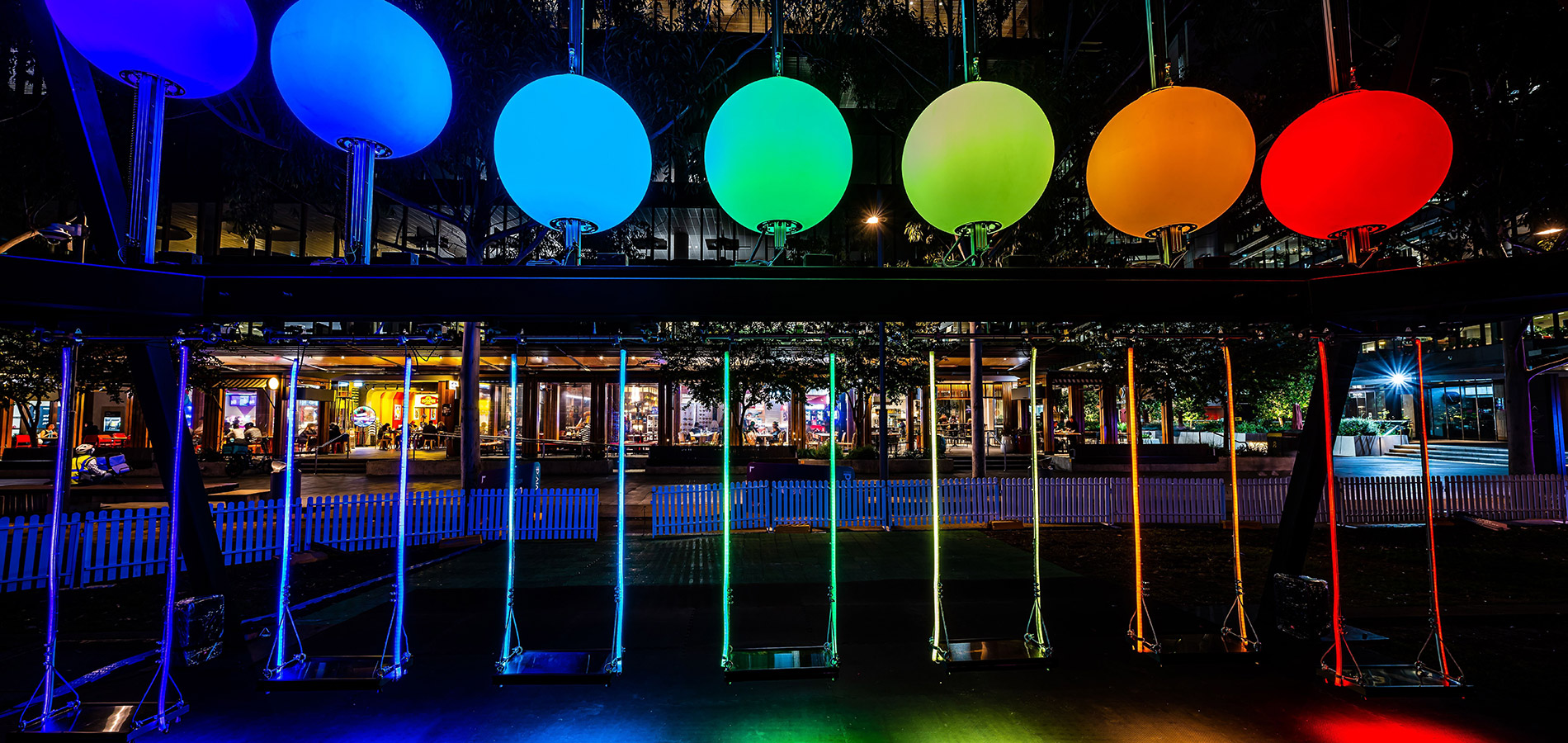 If it's a Friday night, make a pit-stop to the Powerhouse for their Up Late series, a set of three FREE nights of ideas, music, food and performances taking over the museum. Otherwise, make your way to The Goods Line for the final stretch of the Light Walk with four works: Common Ground, Voiture 21, Kinetic Perspective and Waterlight Graffiti. Be sure to try Waterlight for yourself – French artist Antonin Fourneau has created a patented LED board that lights up when 'painted' with water, like a giant Etch A Sketch! After all this art, you'll certainly be inspired to create your own masterpiece.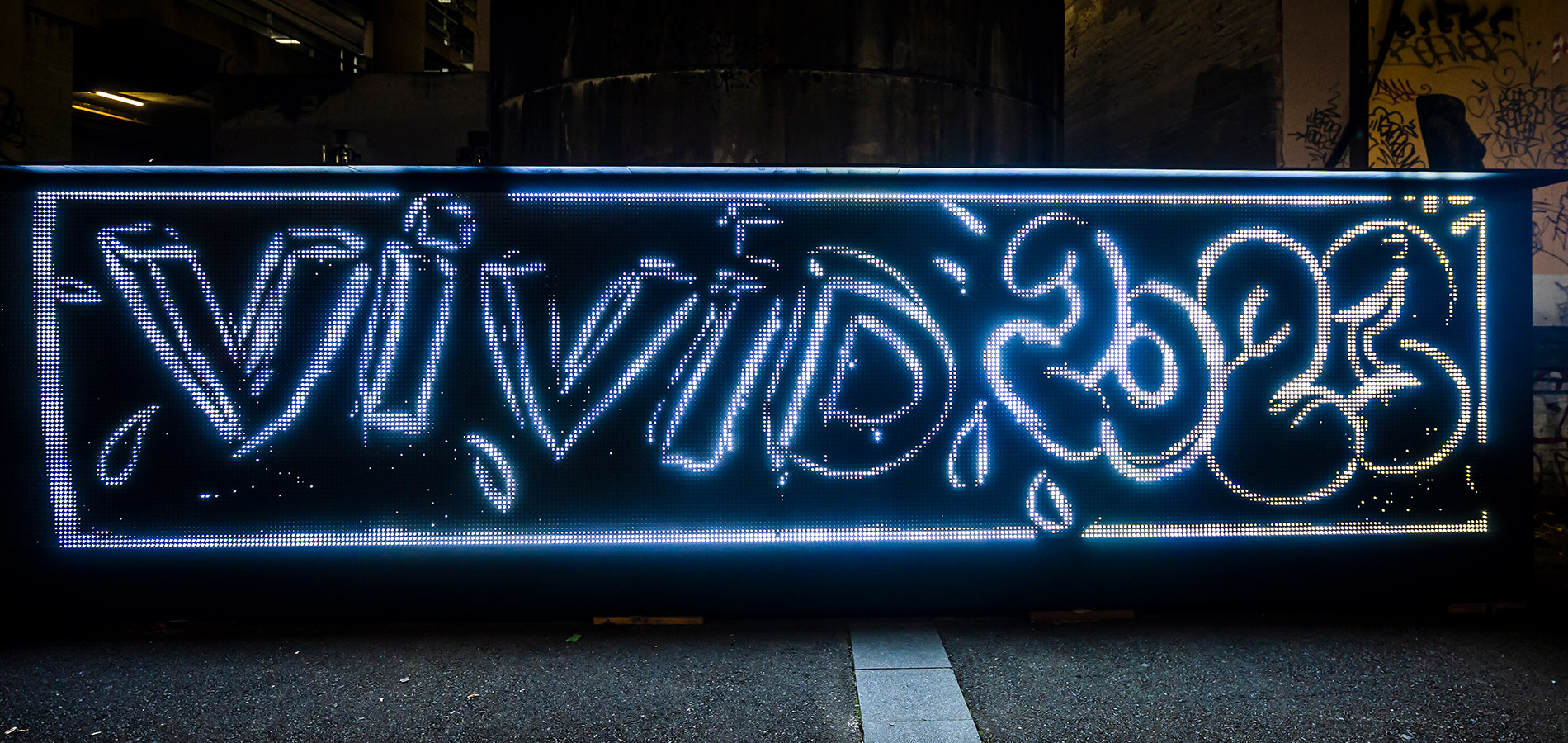 Central Station
Finally, at Central Station, eternal bonfire Fluxit lights the way to Eco, an impressive, monumental projection by The Electric Canvas on the Station's west façade and clock tower. Take in this surreal story through the location's history.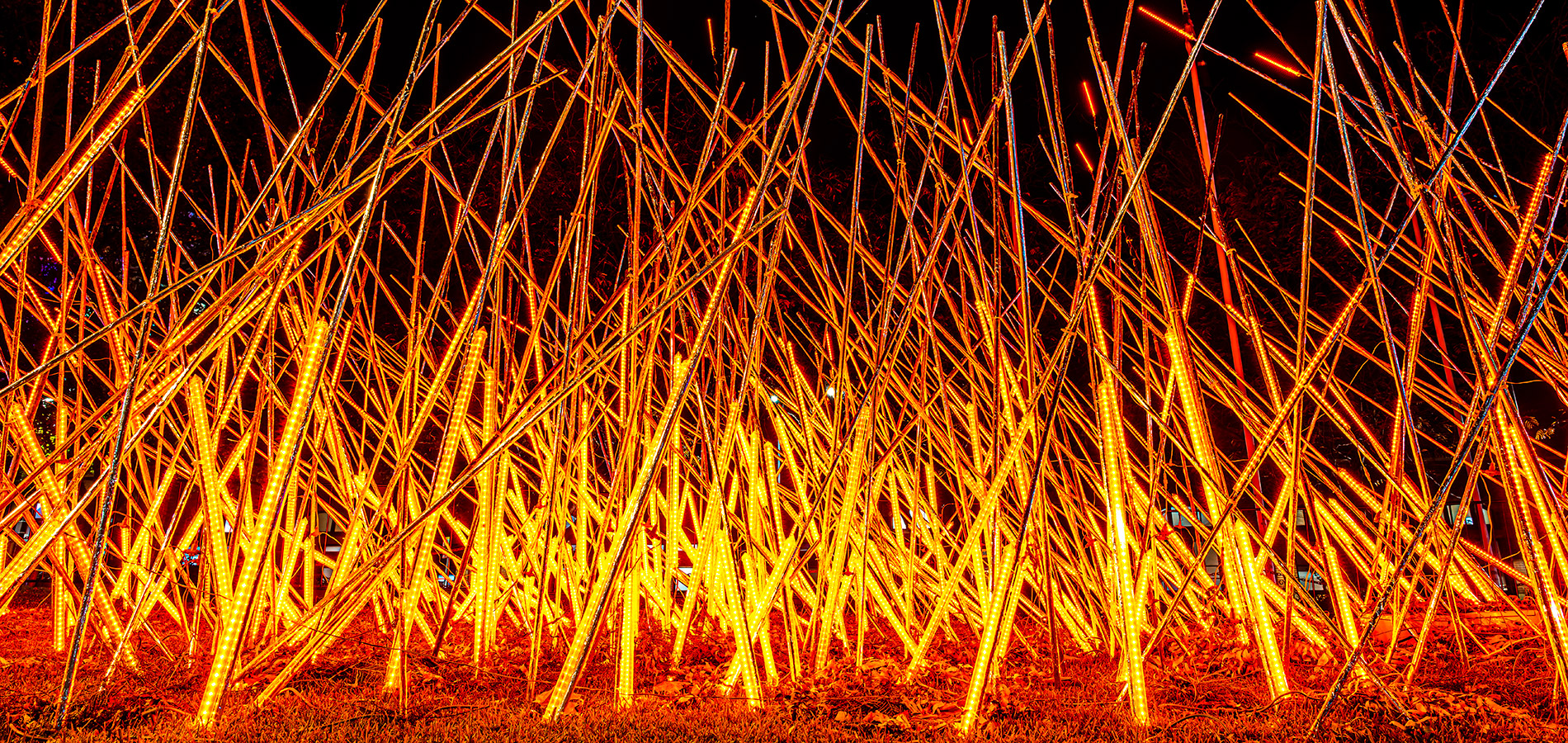 Congrats! You did it – an immense 8.5km adventure through a transformed city. That's just our suggestion though. You can plan out your own itinerary via our interactive map via logging into MyVivid, and adding your must-sees to your favourites.
And if you've worked up an appetite, want a tipple or in the mood for a late-night show and it's a Friday or Saturday, stop in for a nightcap at Vivid Sydney Supper Club at Mary's Underground, a cabaret lounge curated by Trevor Ashley featuring David Campbell, Paulini, Christine Anu and many more artists.