2018: Top 10 Instagrammable Vivid Sydney Light Installations
07 Jun 2018
Vivid Sydney is here to light up the city - and your Instagram feed. Vivid Sydney isn't just impressive in person; it's also one of the most snap-worthy events of the year. 
From a giant puppet to a forest of spiralling trees, we've rounded up the ten light installations that will set your Instagram feed on fire.
1. Lighting of the Sails: Metamathemagical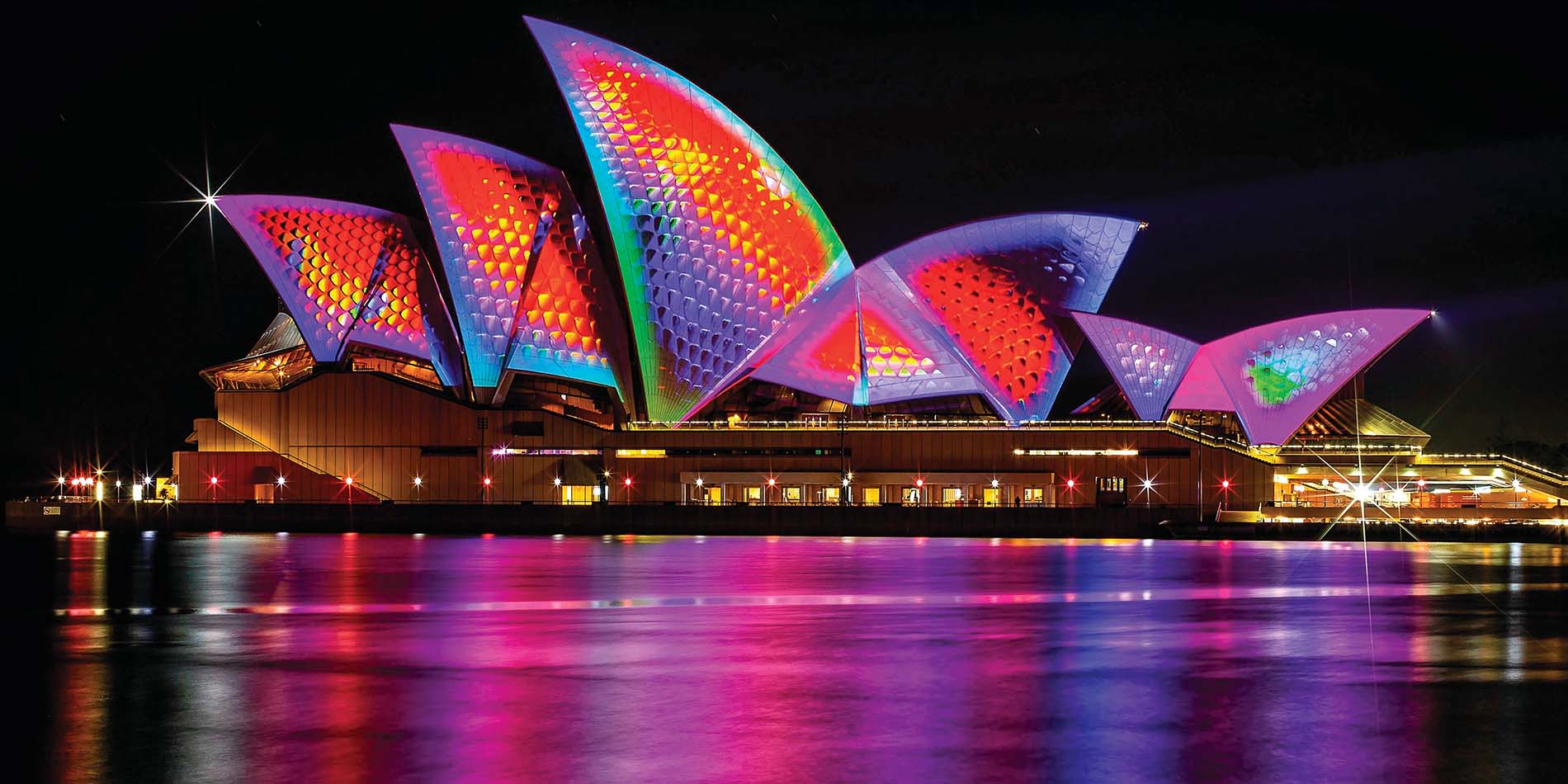 No Instagram feed would be complete without a snap of the iconic Sydney Opera House sails, lit up in kinetic digital sculptures. Artist Jonathan Zawada uses dazzling imagery inspired by the Australian environment that will distort, dissolve, and mutate in a continuous motion. As one of the most iconic installations for the 10th anniversary of Vivid Sydney, the Sydney Opera House sails are one snap you don't want to miss.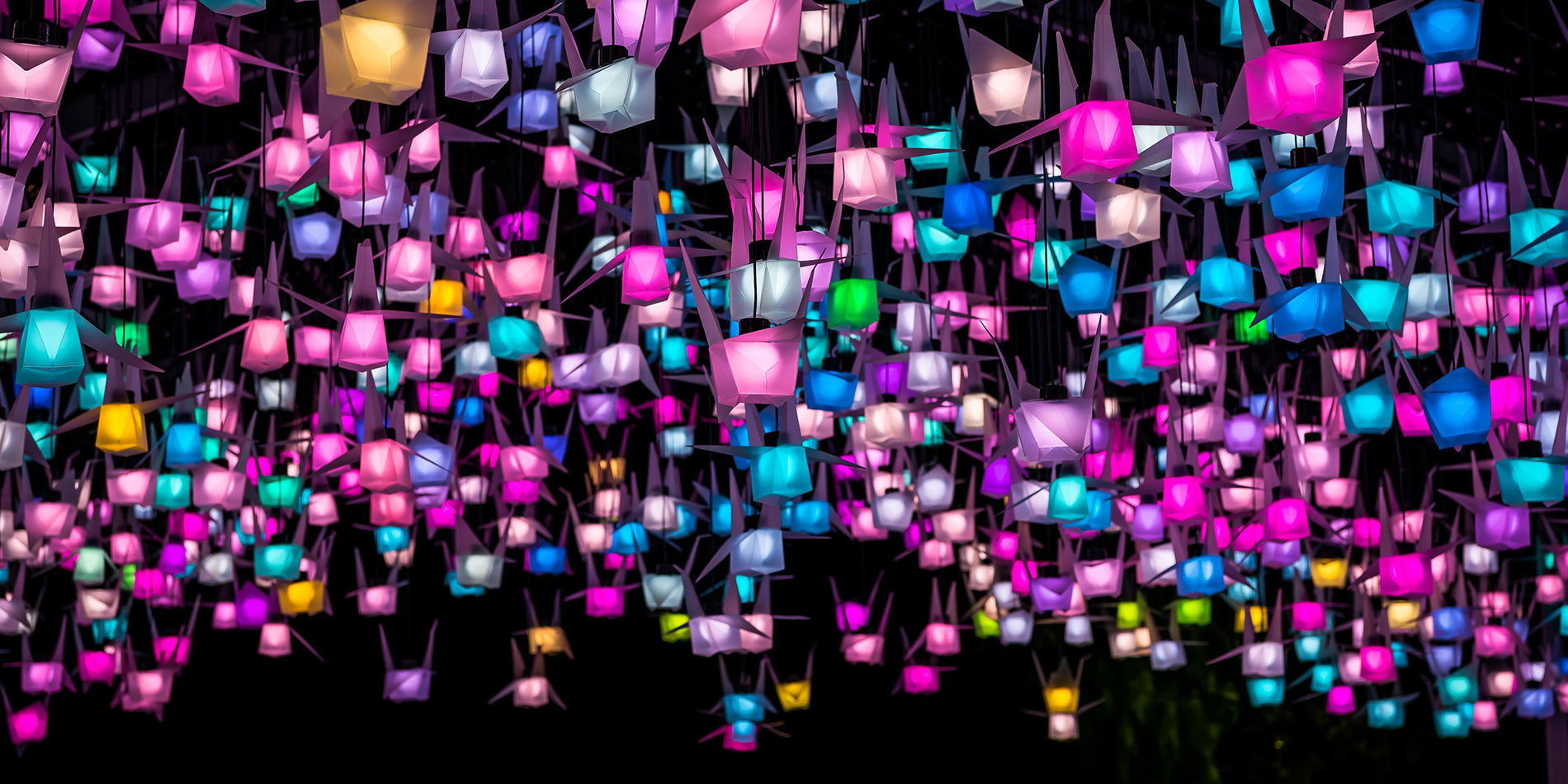 Japanese legend says if a group of 1000 origami cranes are hung in one's home it will act as powerful and benevolent charm and bring good luck.
Artists from Ambient & Co bring the charm and good fortune with a light installation just begging to be 'grammed. In this Vivid Sydney display, visitors walk under a magical canopy of origami cranes that light up as they move through the space. As more people stroll below the birds, more cranes light up until 1000 cranes are shining as a beacon of joy and hope.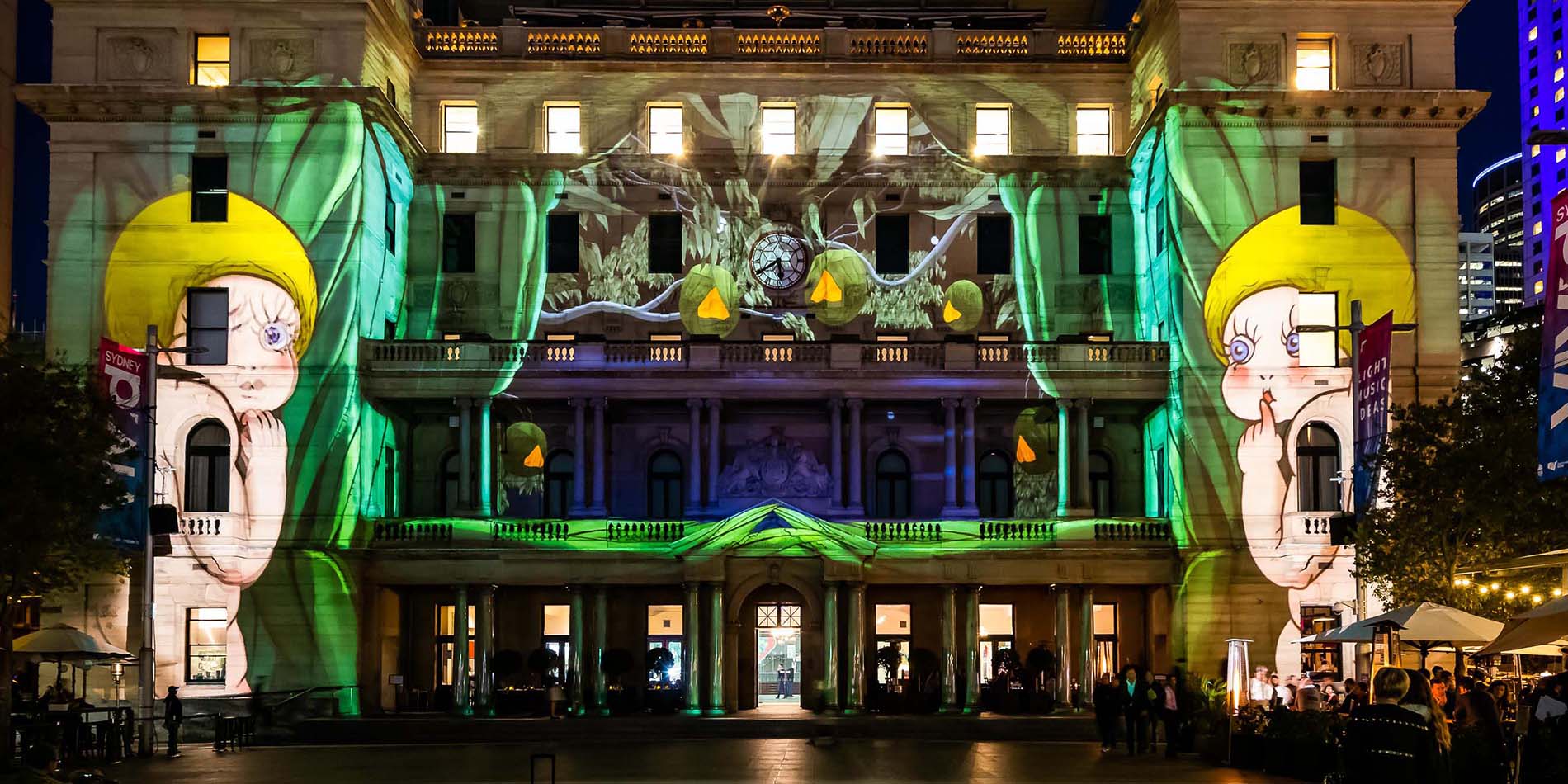 Take your followers on a trip down memory lane at the Snugglepot and Cuddlepie projection on the façade of Sydney's 1845 Customs House. Exactly 100 years ago, author May Gibbs created two of Australia's most beloved children's characters – the audacious Snugglepot and the demure Cuddlepie. Join them and their companions as they journey through the Aussie bush – and don't forget to snap a photo as they dance across the façade.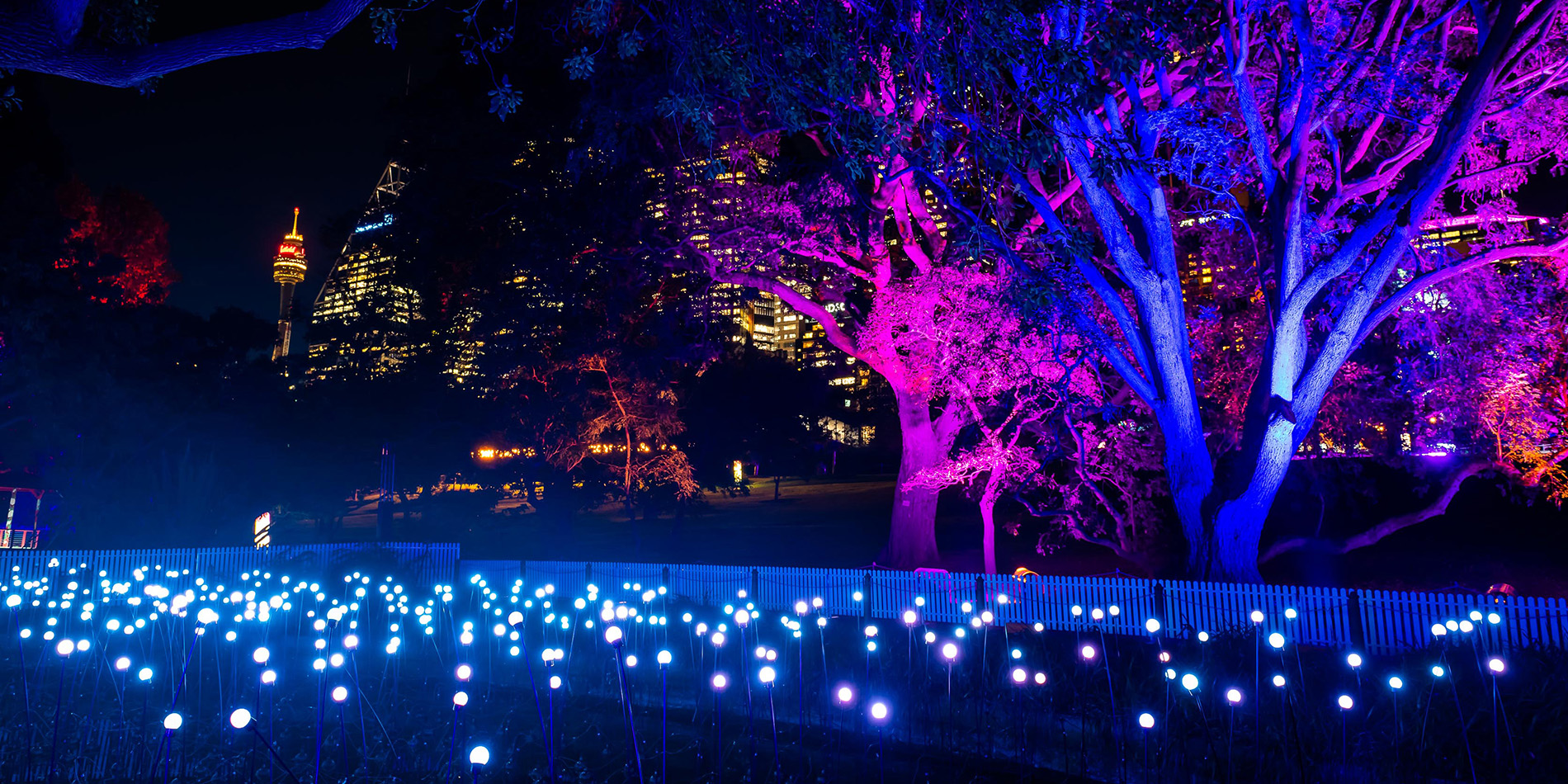 Oasis is an installation so spellbinding, you just may forget to snap a photo. Artist James Feng and collaborator Minh Au pay homage to the memory of Australian children who grew up in orphanages, children's homes, foster care, and institutions. The stunning light display awakens images of the sea, fireflies, and fields of flowers as individually lit fragments shimmer and dance on and near water. The illuminated floating lights move with the waves, but always return to stand tall above the water.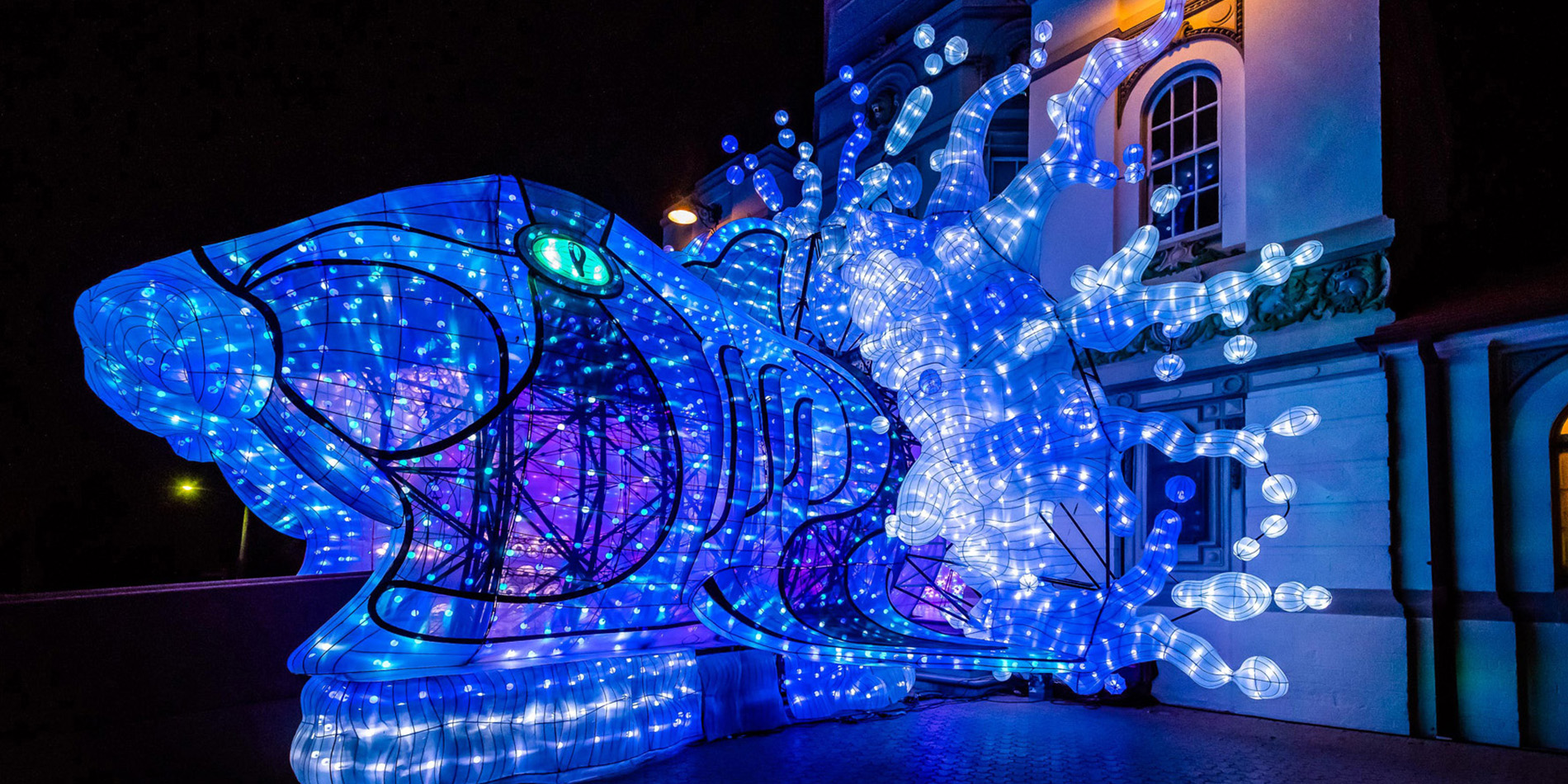 The wildest installation of the year resides in Taronga Zoo in Sydney's north. Bolder and more beautiful than ever before, Lights for the Wild will introduce you to some of Australia's most endangered aquatic species. Explore an enchanting marine world before emerging from the mouth of a Port Jackson shark as it splashes through the facade of Taronga's heritage entrance. Move from water to land as you meander through a jungle full of ferociously illuminated creatures.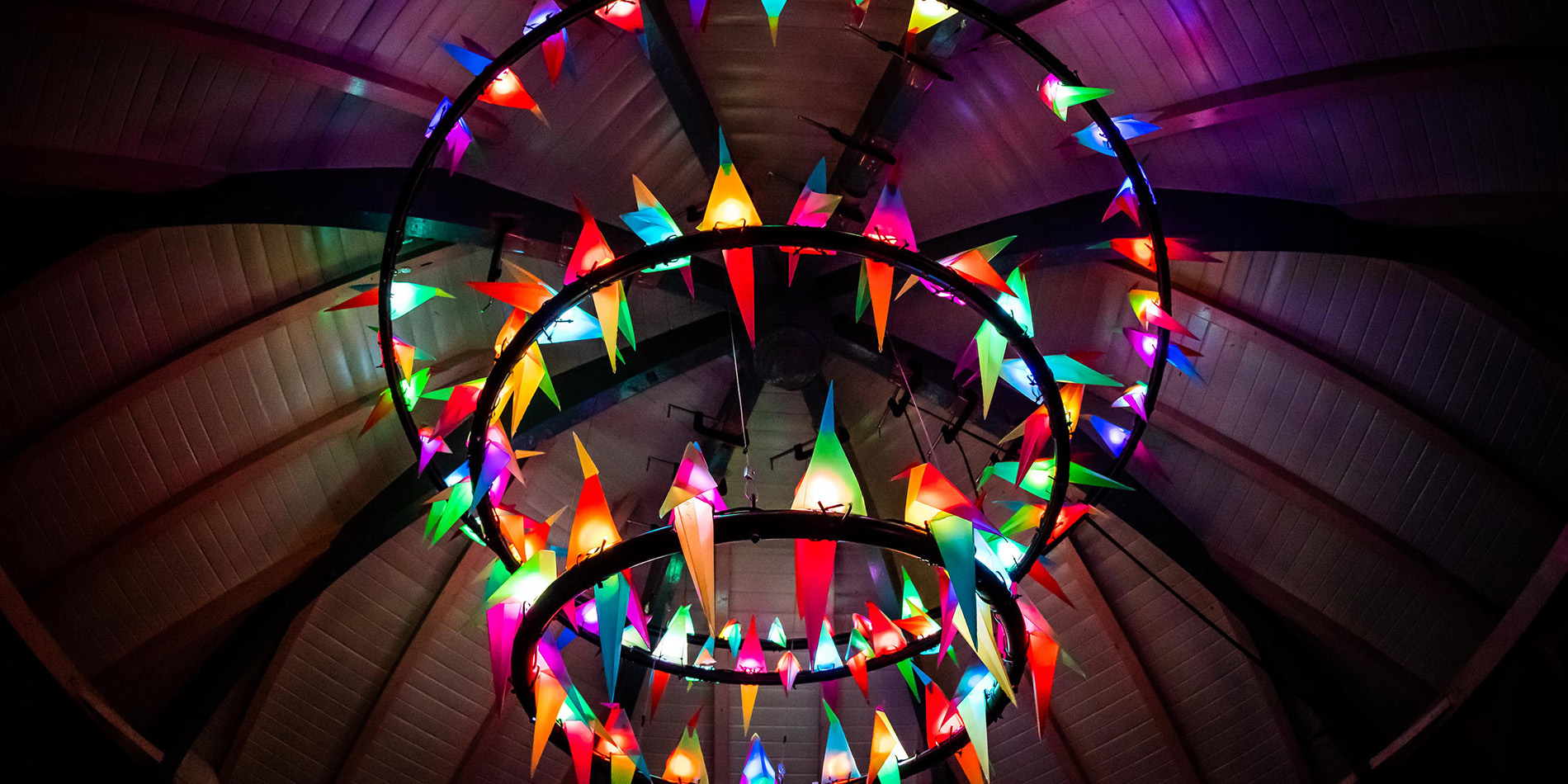 Parrot Party is here to splash a rainbow across your Instagram feed. Highlighting the similarities and friendship between Australian and New Zealand, these birds represent a blend between the kea parrot of New Zealand and the rainbow lorikeet of Australia. They'll chatter excitedly as guests step up to view them, inviting everyone to the party.
Grab a video to catch the majestic birds chirping and singing their warm melodies.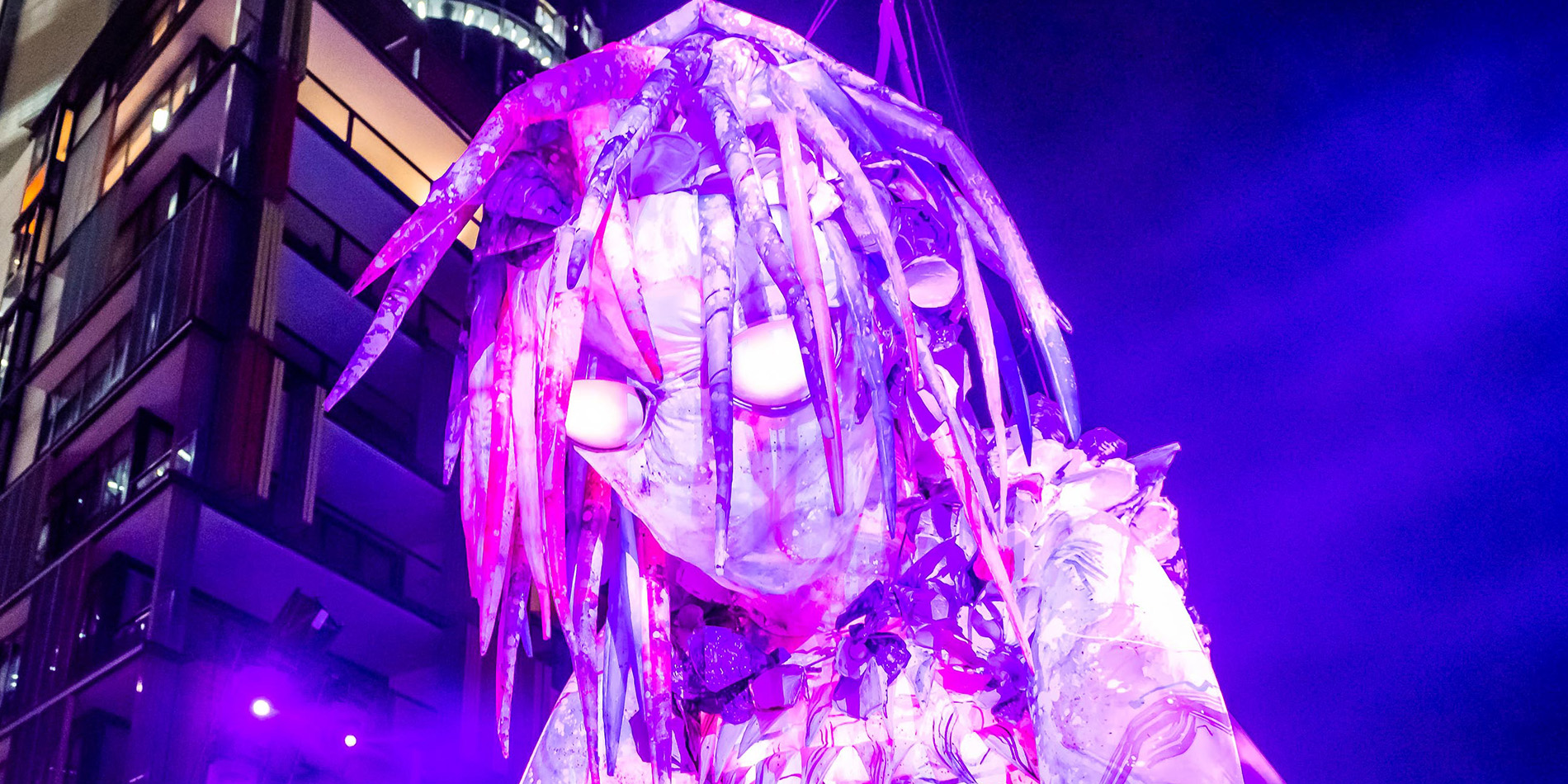 Vivid Sydney celebrates the creative, the artistic, and the surprising. Perhaps the most surprising sight of all is Marri Dyin, a mammoth puppet who wanders through Barangaroo's Wulugul Walk. Marri Dyin - meaning 'Great Woman' in the Eora language - will call on natural forces to transform peaceful bushland into violent storms, a cycle of regeneration which assures new life and prosperity for future generations.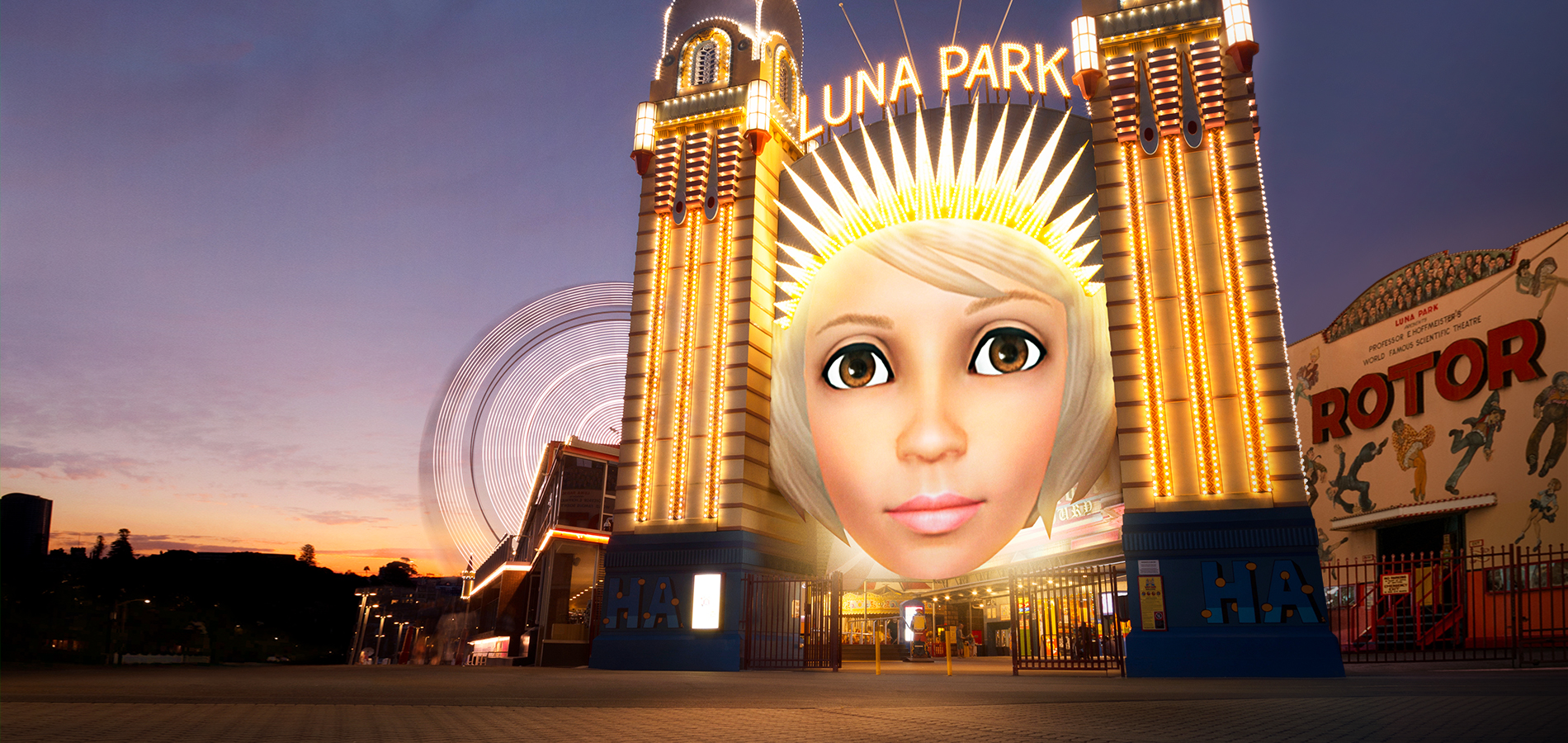 The Night. Reimagined will invite you to become the star of your own Vivid Sydney light installation, but perhaps not in the way that you imagine. The journey begins on the Sydney Opera House forecourt, where you'll find a giant, spiralling '9' powered by the Samsung Galaxy S9 and S9+. Visitors will be taken on an immersive walk-through light experience that will end with lucky guests personalised AR Emoji projected onto the iconic face of Sydney's Luna Park.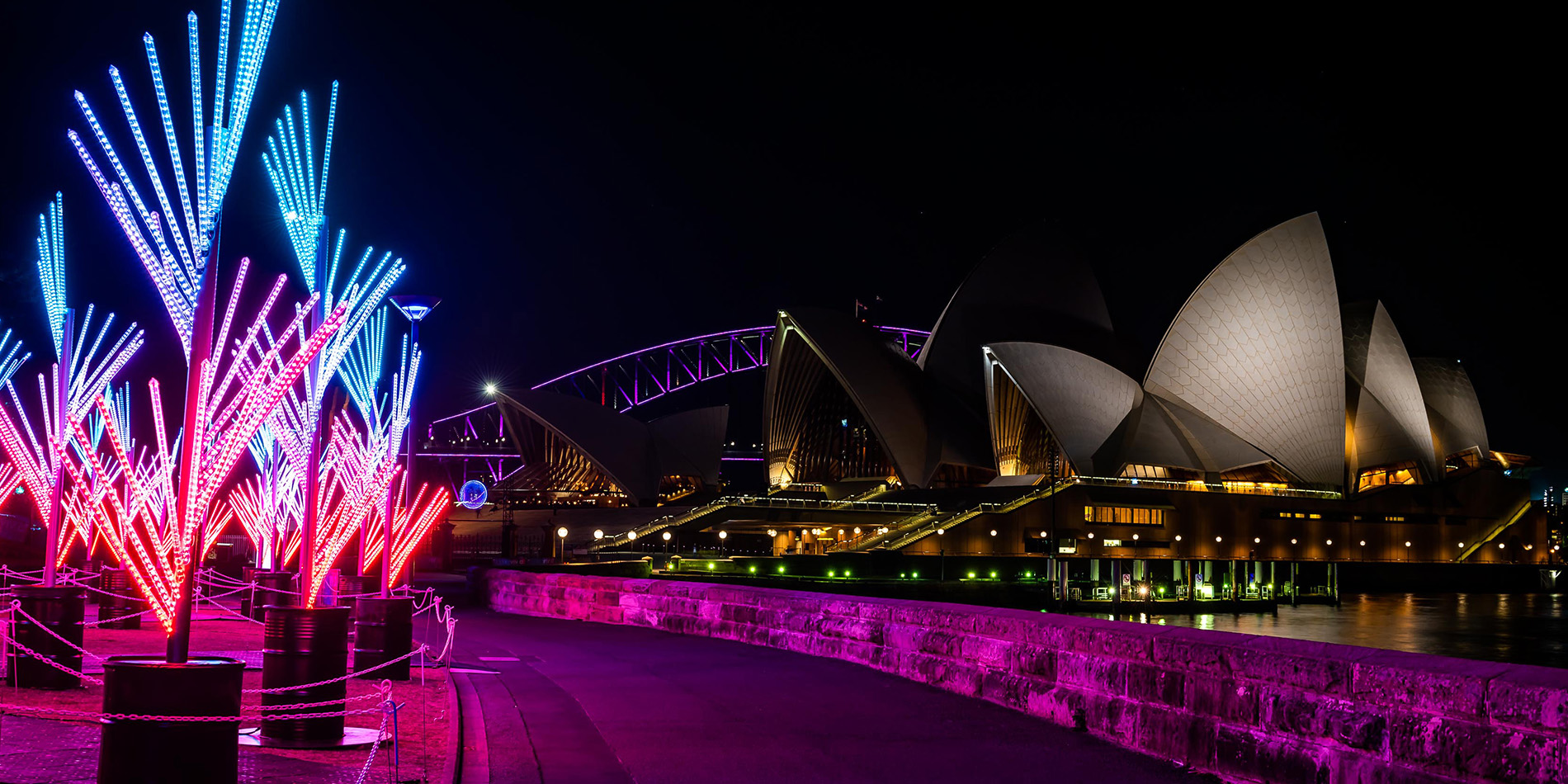 Get hypnotised by the spectacular spirals of the Nautilus Forest. This light installation by artist Mandylights draws from both nature and precise geometry to create a rainbow forest made of 24 spiralling trees. Visitors are welcome to enter the exhibit and get lost in the hypnotic mirage of colour.
Snap a photo of the magical frozen forest, or record a video to watch the branches ripple and pulse with colour.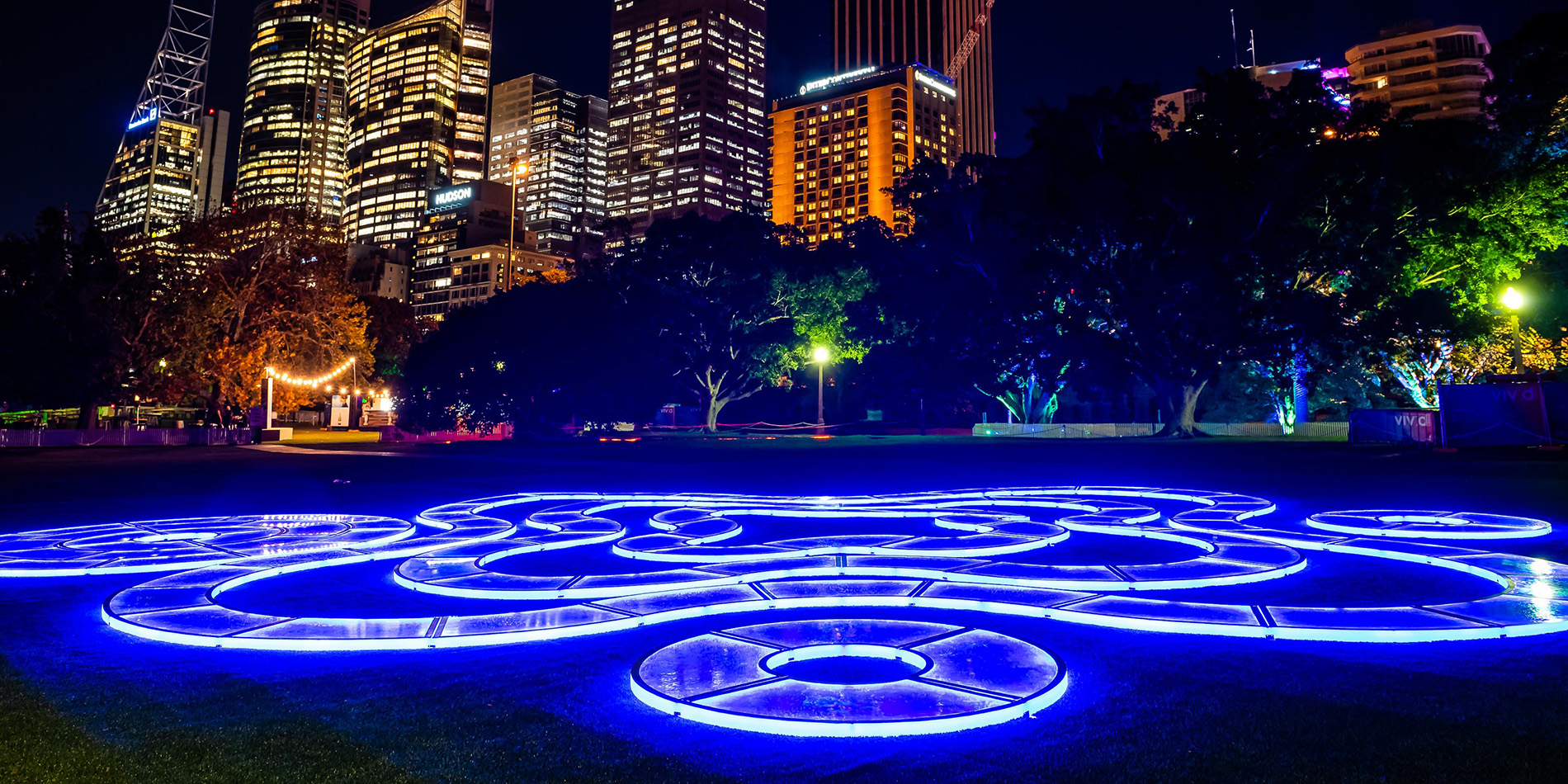 The last stop on your Instagram feed is Aqueous, a dynamic light inspiration transformed and changed by you. The pathways of light react as visitors step, jump, run, and dance across the platforms, causing a continuous kaleidoscope of light and colour. Get lost in the twirling paths of vibrant colour, but don't forget to take a snap for later.
Share your Vivid Sydney experiences by using #VividSydney, #VividIdeas and #VividMusic for a chance to be featured on our social pages
Check out some of the amazing Vivid Sydney content coming through:
Vivid Sydney 2018 is an endless trove of captivating installations and radiant displays. Visit any one of the enticing exhibits to find your Instagram inspiration. Sign up to My Vivid and download the app on iOS and Android now to start planning your instaworthy Vivid Sydney itinerary today.