2019: A First-Timer's Guide To Vivid Sydney
16 Apr 2019
From 24 May to 15 June, Australia's largest city will host an exciting program of light installations, exciting live music shows and ideas talks and workshops.
With a diverse line up of artists and experts from a number of creative and scientific backgrounds, Vivid Sydney will explore a wide range of thought-provoking topics, showcase where tech meets arts with mesmerising light shows and jam out with a plethora of exciting musical powerhouses and local underground talent. Launching in 2009, Vivid Sydney is now the largest festival in Australia and this year's event is set to be bigger than ever.
Read on to find out more and get ready for Vivid Sydney 2019.
LIGHTS ON! FROM 6PM EVERY NIGHT
Each night during the festival light installations and projections illuminate the world famous Sydney Harbour, Circular Quay, The Rocks, Royal Botanic Garden Sydney, Darling Harbour, Chatswood, Barangaroo, Luna Park and Taronga Zoo. Here's what to expect at each of the precincts:
Sydney Opera House The Sydney Opera House plays host to key events during Vivid Sydney. Not the least of these is the Lighting of the Sails. This year, LA-based Chinese-American artist and filmmaker Andrew Thomas Huang's Austral Flora Ballet transforms the Opera House Sails with a 'dance' of dazzling floral avatars that bloom with human movement. Bennelong Restaurant, The Opera Bar, Opera Kitchen, Portside and theatre bars form an eat street on the way to the Sydney Opera House and a perfect vantage point to survey the lights across the city and Circular Quay to the MCA.
Circular Quay
Circular Quay is full of major projections such as Eora: Broken Spear on the southern pylon of Sydney Harbour Bridge, Goo! slime-fest at Cadmans Cottage and Under the Harbour splashed across Customs House as well as a wealth of installations including Let It Snow, Rayuela, Ballerina, Regal Peacock and Bubble Magician. And on Sydney Harbour cruise ships and vessels light up to become part of the colourful cityscape with Harbour Lights.
The Rocks
Visit The Rocks to enjoy Claudia Nicholson's Let Me Down projected on the Museum of Contemporary Art Australia and dozens of light installations and an inspiring array of events and conferences in the Vivid Ideas program. Don't miss Pixar Animation's transformation of the Argyle Cut featuring a cast of much-loved characters from your favourite animated films. See light artists riff on natural phenomena with Torrent, Nostalgia Above and Watch Your Chips! Kids will love playing, Bug|Hunt and the Flip Flop thongophone.
Royal Botanic Garden Sydney
The Royal Botanic Garden Sydney has 15 illuminated installations that reflect and refract light and nature. Cruise by the River of Light, marvel at the Firefly Field and meander through Dancing Grass. Join fellow festival-goers in a Symphony of light and sound, and play Harmony, Torus and Jungle Boogie. Contemplate life beyond our planet with Empyrean, KA3323 and The Light Teleportal.
Darling Harbour
In Darling Harbour Robot SPACELand brings together a mind-boggling array of electro-automotive super-bots crusading for a brighter, greener future. Tumbalong Lights Inclusive playSPACE returns with intergalactic adventures in light and sound that celebrate the 50th anniversary of the lunar landing. Darling Quarter features Florescentia and anyone with a sweet-tooth should rush to Darling Square for the Blacklight Dessert Lab.
Barangaroo
Barangaroo offers a feast for the senses with a wondrous Winter Camp each night where the glowing six-metre tall spirit Marri Dyin visits Thursdays to Sundays. Continue along King Street Wharf to muse on the perfect geometry and universal patterns of Tetra and installations along the promenade. While there, enjoy light-inspired fare at all price-points from over 40 restaurants, bars and cafes.
Taronga Zoo
Taronga Zoo returns with its ever-popular Lights for the Wild showcase. Running on Wednesday to Sunday Nights from 5:30pm, you'll discover a host of supersized animal light sculptures of endangered species that inspire us with their important message about conservation.
Luna Park
Luna Park's grin looms brighter with nights dedicated to light play and roving light performers.
Chatswood
In Chatswood, local and international artists combine light and art into a cityscape radiating peace and harmony. Coexistence transforms The Concourse. Play the Cascading Harp at The Interchange and a field of Trumpet Flowers with fellow festival-goers. While you're there, be sure to catch Vivid Ideas sessions as well as the Girl Gamers eSports Tournament and Vivid Music performances by the likes of Vince Jones, Lisa Fischer and the Willoughby Symphony Orchestra.
QUICK TIPS AND TRICKS FOR SEEING ALL THE LIGHTS
Visit on multiple nights: With hundreds of light installations spread across nine precincts, it's worth planning multiple visits with plenty of pit stops to explore all the awe-inspiring displays in Vivid Sydney's vast outdoor gallery of light art. The famous Light Walk takes in The Rocks, Circular Quay and Royal Botanic Garden Sydney. Darling Harbour, Barangaroo and King St Wharf can be looped together with alfresco eats for a full evening of fun. Venture beyond the CBD to see Luna Park, Taronga Zoo and Chatswood in a whole new light.
Get in early: Vivid Sydney shines with Lights On! every night from 6pm to 11pm for three weeks. For better views and more hands-on opportunities, try visiting early in the evening and early in the week. Families will love the fact that some precincts turn their Lights On! early, Taronga Zoo and Chatswood shine from 5:30pm. These precincts offer a perfect way to start your evening or an easy way for families to enjoy the lights and a bite before the kids' bedtime.
Check travel arrangements: Leave the car at home and use public transport to bypass road closures. The closest train stations to this year's precincts are Circular Quay, Wynyard, Martin Place, Central, Town Hall and Chatswood, Taronga Zoo can be accessed by both ferry and bus services. Visitors with accessibility needs can visit this page to assist with planning their journey.
Keep children close: Vivid Sydney is very popular, so keep an eye on your little ones at all times. Free ID wristbands are available at Vivid Sydney Information Booths. Please make sure you grab one for each child in your care. They are very helpful if your child gets lost.
Plan your itinerary: View maps, find attractions, and stay up to date with the latest information at vividsydney.com
EXPLORE LOVE, LONELINESS AND BELONGING AT VIVID IDEAS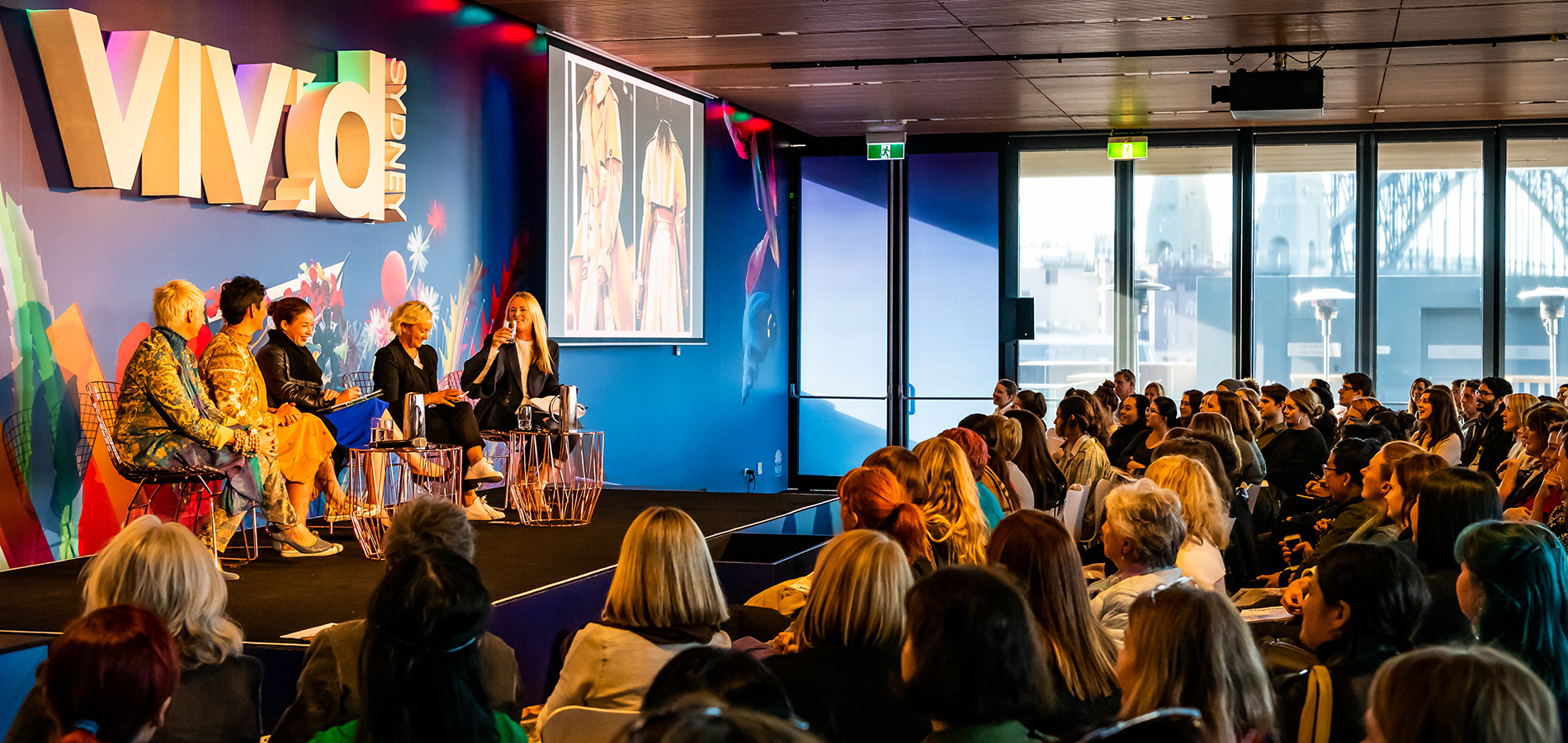 Vivid Sydney is also a place for creative minds to share ideas. Join the masterminds and creative catalysts at Vivid Ideas. Highlights include Game Changers Spike Lee and Esther Perel (sold out), the New Horizons series, Citizens of the World workshops and Vivid Art After Hours at the Art Gallery of NSW covering everything from love, loneliness and belonging to AI, sextech, the dark web and new frontiers in space exploration. Major festivals on the Vivid Ideas platform include Semi Permanent, Sydney Film Festival, Vogue Codes, World Business Forum, Freshflix Film Festival, Clipped Music Video Festival and the Audiocraft Podcast Festival.
Throughout Vivid Sydney, the Vivid Ideas Exchange at the Museum of Contemporary Art Australia hosts over 30 events with talks, panel discussions and workshops exploring a range of ideas such as ethical fashion, placemaking, inclusive cities, social impact storytelling, Next Gen research and kids' coding workshops. There really is something to inspire everyone at Vivid Ideas.  
CATCH OVER 100 LIVE MUSIC GIGS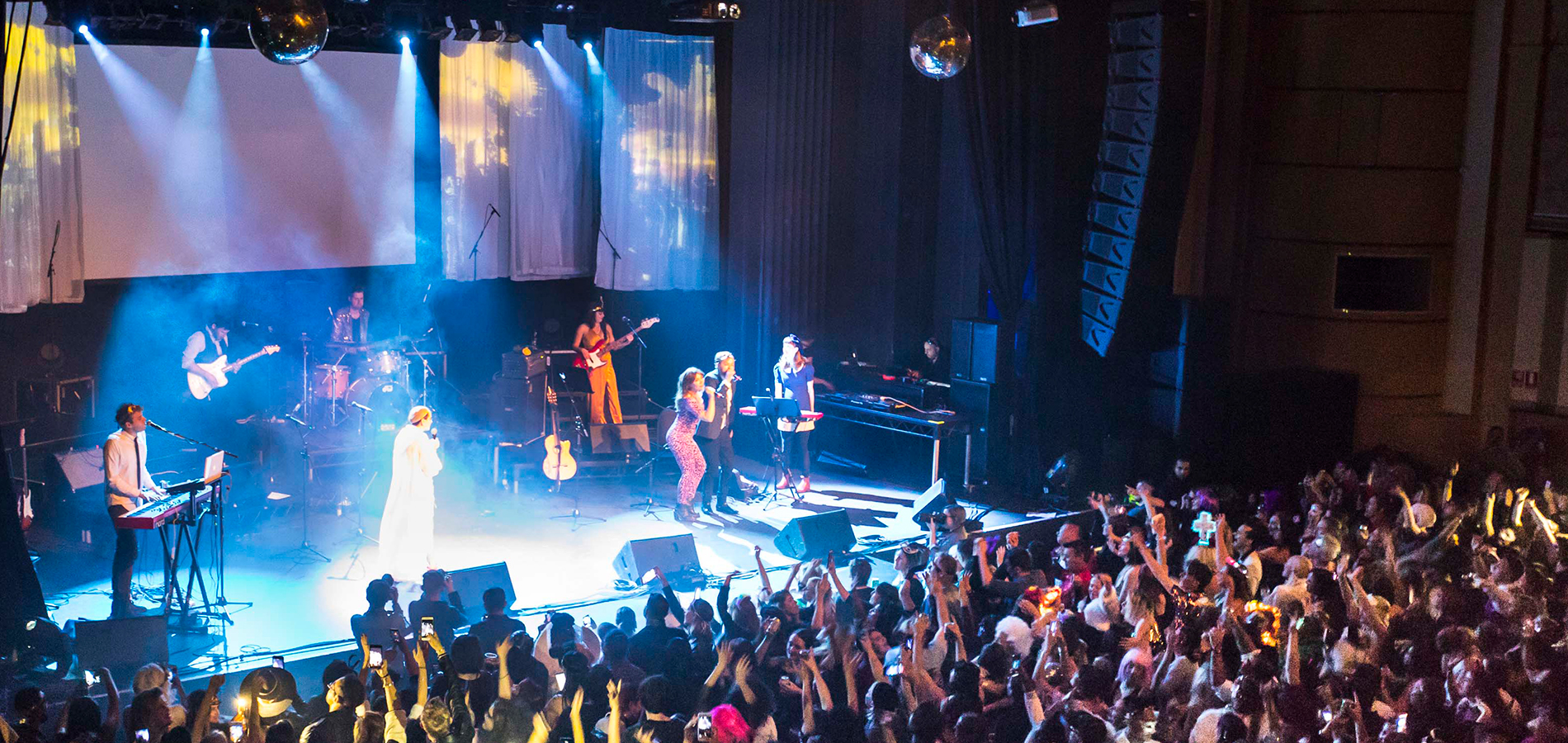 Check out the unforgettable events coming to Sydney as part of the Vivid Music program. This year, Vivid LIVE at Sydney Opera House brings together the ultimate sonic influencers The Cure (sold out), Underworld and Herbie Hancock as well as Maggie Rogers (sold out), Sharon Van Etten, Stella Donnelly (sold out) and Jónsi of Sigur Rós fame collaborating with Alex Somers. Rüfüs Du Sol (sold out), FKA twigs and Curve Ball lift the roof off Carriageworks.
On Wednesdays during Vivid Sydney, head to Vivid Art After Hours at the Art Gallery of NSW for a double dose of inspiring talks and live music with OKENYO, Andrew Bukenya's Do The Spike Thing and Jonathan Zwartz Lunar Module's An Astronaut's Playlist.
Discover amazing performances by the likes of Paul Kelly, Kate Miller-Heidke and ZOFO at City Recital Hall. Budding talent, future stars and famous faces lead the charge at 23 live music venues across the city and fringe for Vivid X|CELERATE, a partnership between Vivid Music and City of Sydney playing at a diverse array of music venues in Darlinghurst, Kings Cross, Newtown, Redfern, Surry Hills and more.