8 Illuminating Light Works To Open Your Mind At Vivid Sydney 2023
30 Mar 2023
With 60 light works at this year's Vivid Sydney, it can be hard to know where to start. We've already offered an itinerary for this year's 8.5km Light Walk, but here are eight works that really exemplify this year's Creative Direction, 'Vivid Sydney, Naturally'.
Beautiful and on an awe-inspiring scale, these works ask us to reconsider our relationship to nature and our surroundings, rendering our city anew while opening our eyes and minds alike. See them yourself from 26 May to 17 June!
Between You and Me
Location: Sydney Harbour Bridge Pylons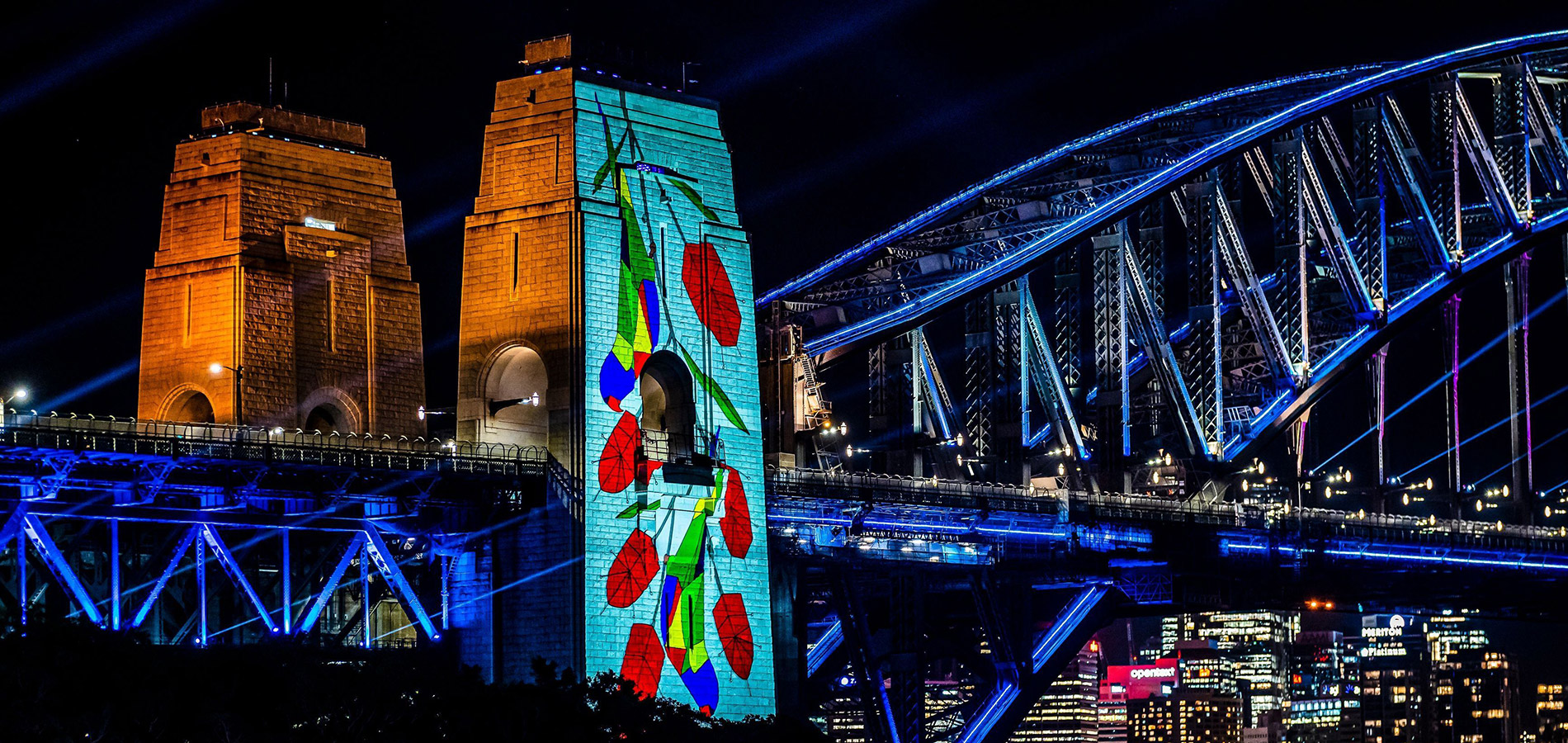 Created by Eggpicnic, the Canberra design studio behind the beloved idiosyncratic illustrations of native birds seen across many Sydney's streets. Now, they transform one of our most iconic landmarks, the Sydney Harbour Bridge. High up on the Pylons, native Australian birds take us on a journey across the skies and to their homes, from the Centennial Parklands to Australia's deserts and Alpine forests.
A bright and colourful adventure, Between You and Me follows native animals, some endangered, across the country. Will you recognise the Princess Parrot, Gouldian Finches, Spotted-tail Quoll and Flying Fox as they traverse this landmark?
And be sure to flip out your phone for an AR experience, as more native creatures frolic and explore in front of the landmark, inspiring us to help protect this country's unique fauna.
Dark Spectrum
Location: Wynyard Station's tunnels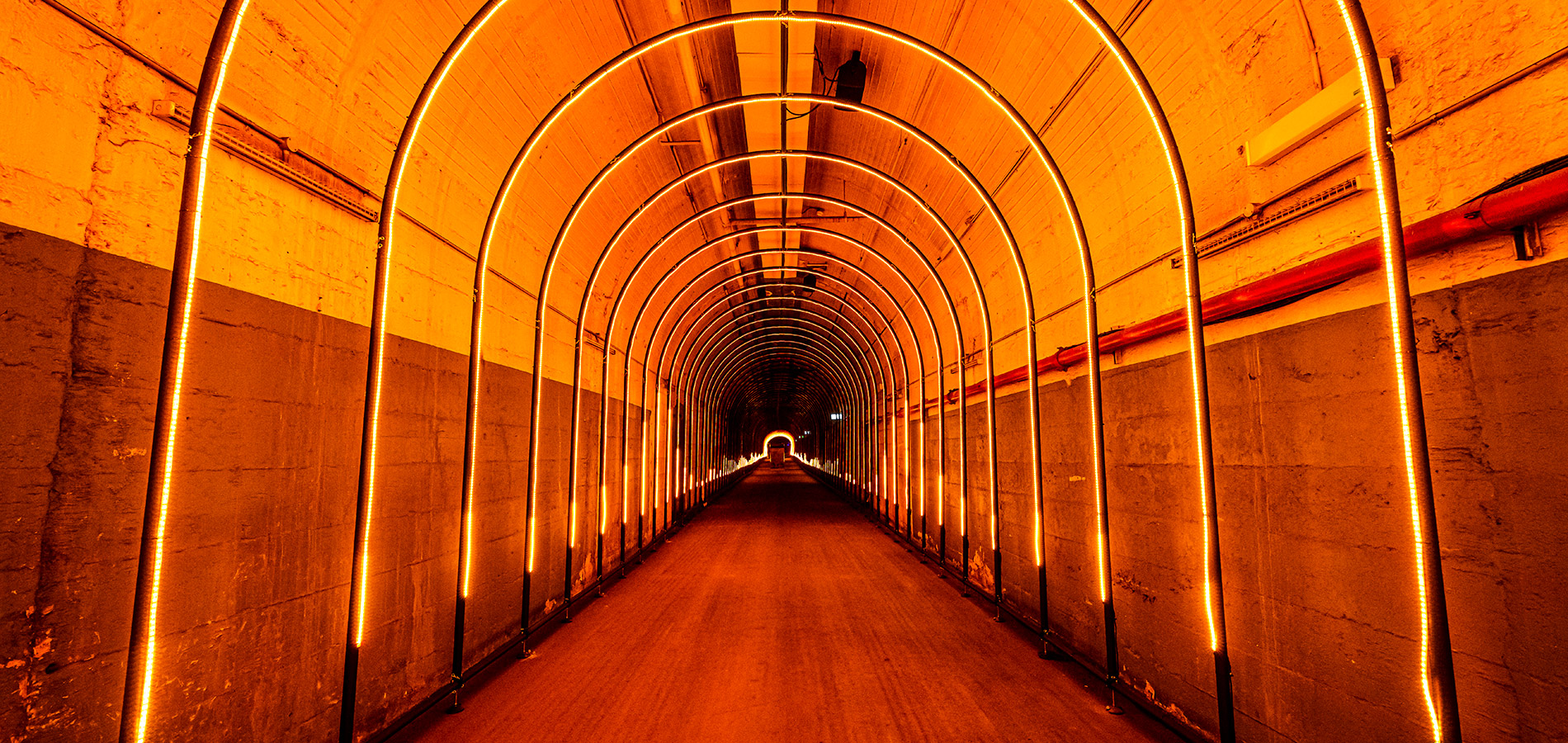 Hidden beneath the city, an electronic labyrinth awaits in the abandoned railway tunnels below Wynyard Station, open to the public for the very first time with Dark Spectrum.
Lose yourself across eight monochromatic rooms, in a transportive multi-sensory experience inspired by the euphoria found on underground dancefloors. Guided through a progression of colour, each room is also associated with a new mood – begin in the exciting state of construction, before making your way to a sense of reflection and revelation.
Unlike anything seen before at Vivid Sydney, Dark Spectrum is a portal into another world, one that needs your movements and body to come alive. Fun, energetic and unforgettable, it's a reminder of the hidden secrets and experiences always awaiting us in the city – sometimes, even happening underneath not just our noses, but our feet.
Don't miss out on this world premiere, created in partnership with Sony Music, Mandylights and Culture Creative, before it tours the world.
Elemental
Location: Cockle Bay, Darling Harbour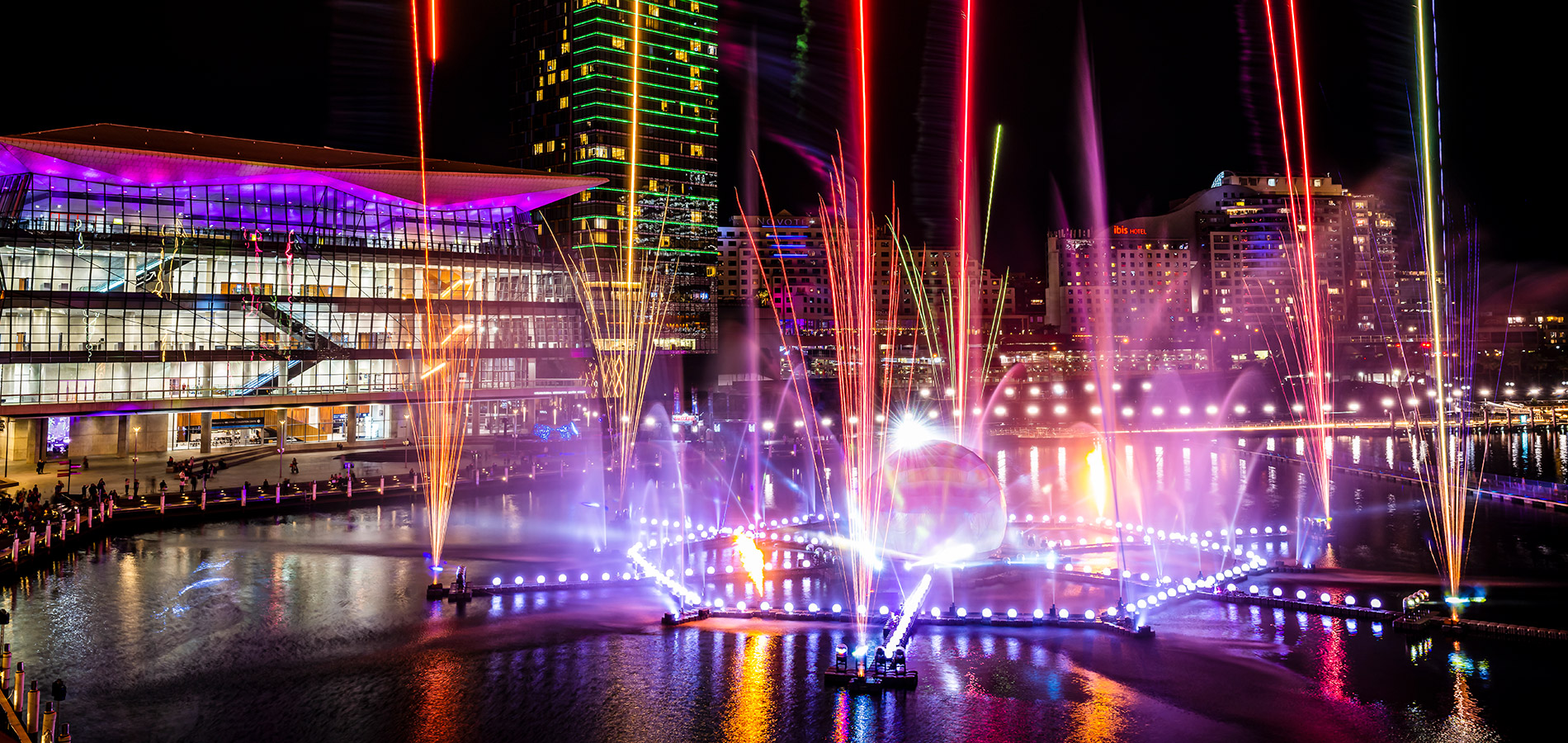 Australians know the power of the elements first-hand, with fire and water causing havoc across the country in recent years. Unbalanced, these forces can be destructive, but when in harmony, they are essential to the world's cycles of renewal. But it's not just the environment that craves this balance, as recent years have proved, our individual connection to nature is intrinsic to our wellbeing: a fact that First Nations people have lived by for 60,000 years.
Elemental takes us on a journey from the origins of our planet, through the ages that have defined our land and waterways and delivers us to the world we call home. From the big bang to the natural world as we know it, this breathtaking show celebrates these elements – fire, air, water and earth – combining spectacular 80 metre water shooters, flames, projection and pyro technics – making it more than an essential stop on the Light Walk: it's elemental.
Created by Vivid Sydney Festival Director and Light Curator Gill Minervini in collaboration with Oracle Liquid, Foti's International, Adam Farrow-Palmer and Technical Direction Company. And with an original soundtrack by Peewee Ferris, it's set to be a highlight.
The Last Ocean
Location: Stargazer Lawn, Barangaroo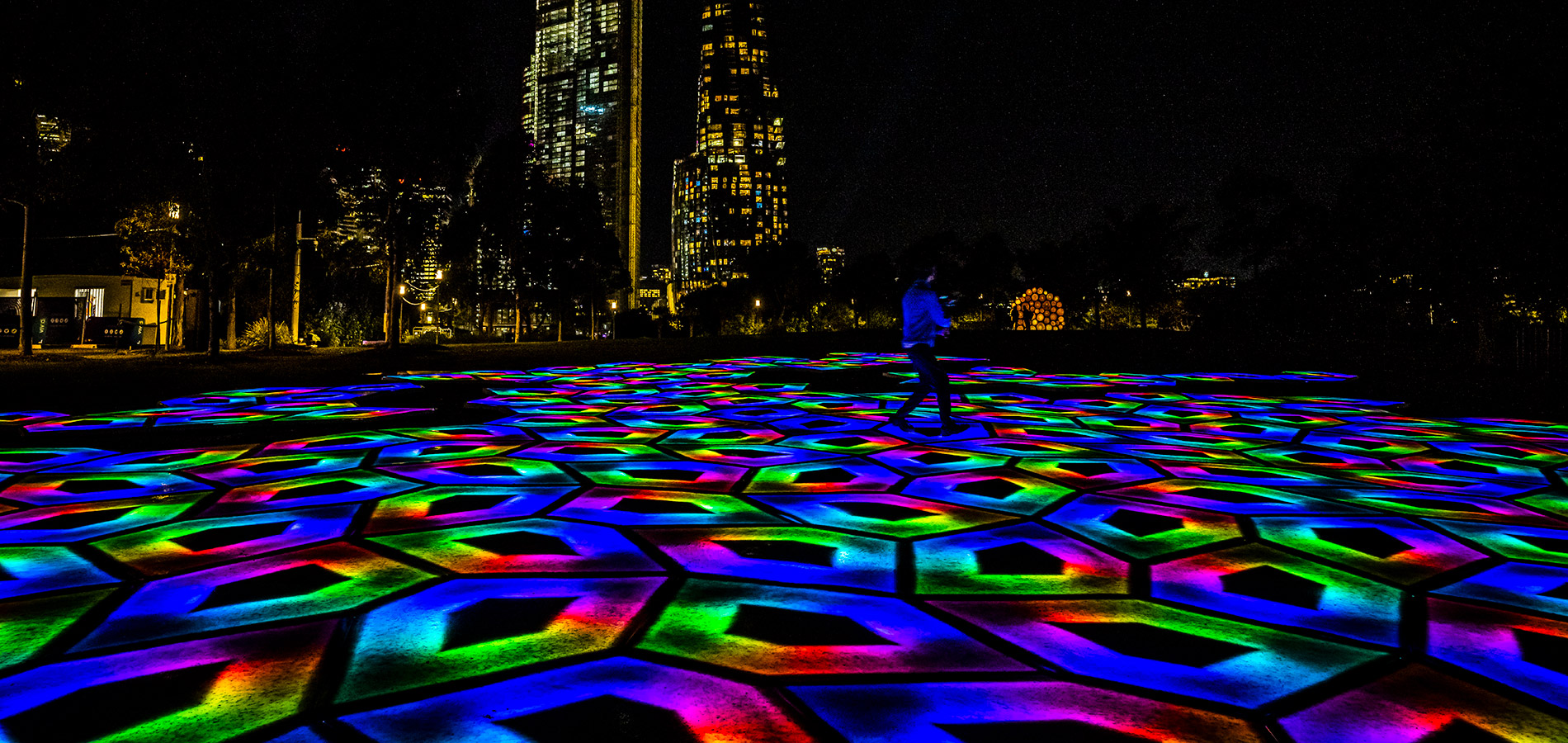 The Last Ocean is rubbish. No, really: this massive tessellated 'ice sheet' by American artist Jen Lewin is made of reclaimed ocean plastic. Taking its name from photographer John Weller's organisation that works to protect one of the most unique ecosystems on Earth, Antarctica's Ross Sea, The Last Ocean is a chance to step onto the continent's icy wonderland without harming it.
After swirling between captivating blue and whites during the day, at nightfall, your movements upon the expansive artwork stir the seas, causing them to splash up and shift the ice's shape and colour under your feet. Capturing the sublime beauty of Antarctica even as it melts and shifts due to warming waters, The Last Ocean is an ode to what we risk losing if we don't limit our impact on this Earth.
Lightscape
Location: The Royal Botanic Garden Sydney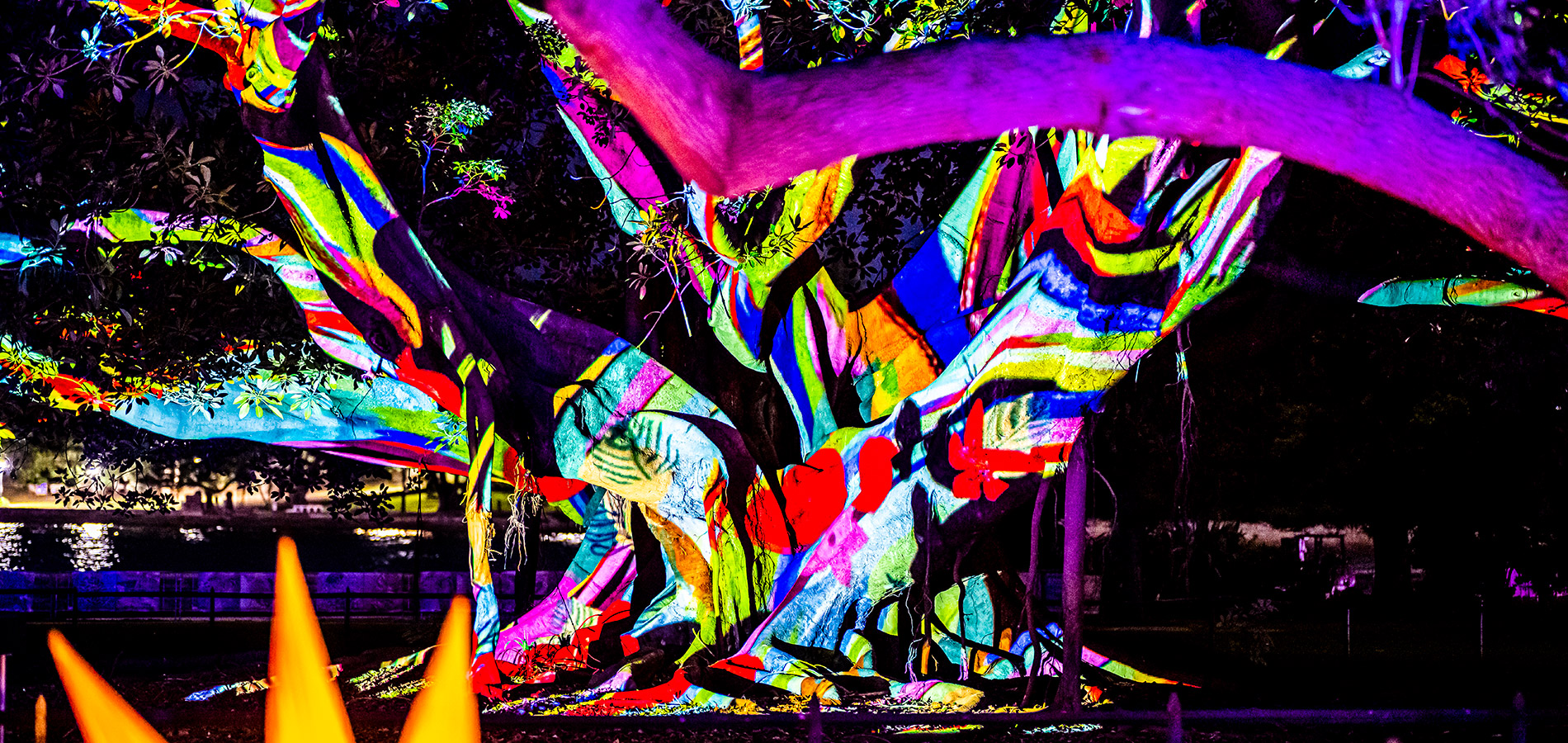 After wowing audiences across the US, UK and Melbourne, Lightscape is coming to Sydney for the very first time. Transforming the already stunning The Royal Botanic Garden Sydney, Lightscape is a 2.1km journey through a spellbinding and multi-sensory world.
Stroll beneath towering tree canopies illuminated in mesmerising colour, be awestruck by larger-than-life flowers and travel through gorgeous glowing tunnels. Secure your spot – tickets are on sale now. Don't miss this world-acclaimed event, created in collaboration between Sony Music, Culture Creative and the Garden.
Losting
Location: Alfred Street, Circular Quay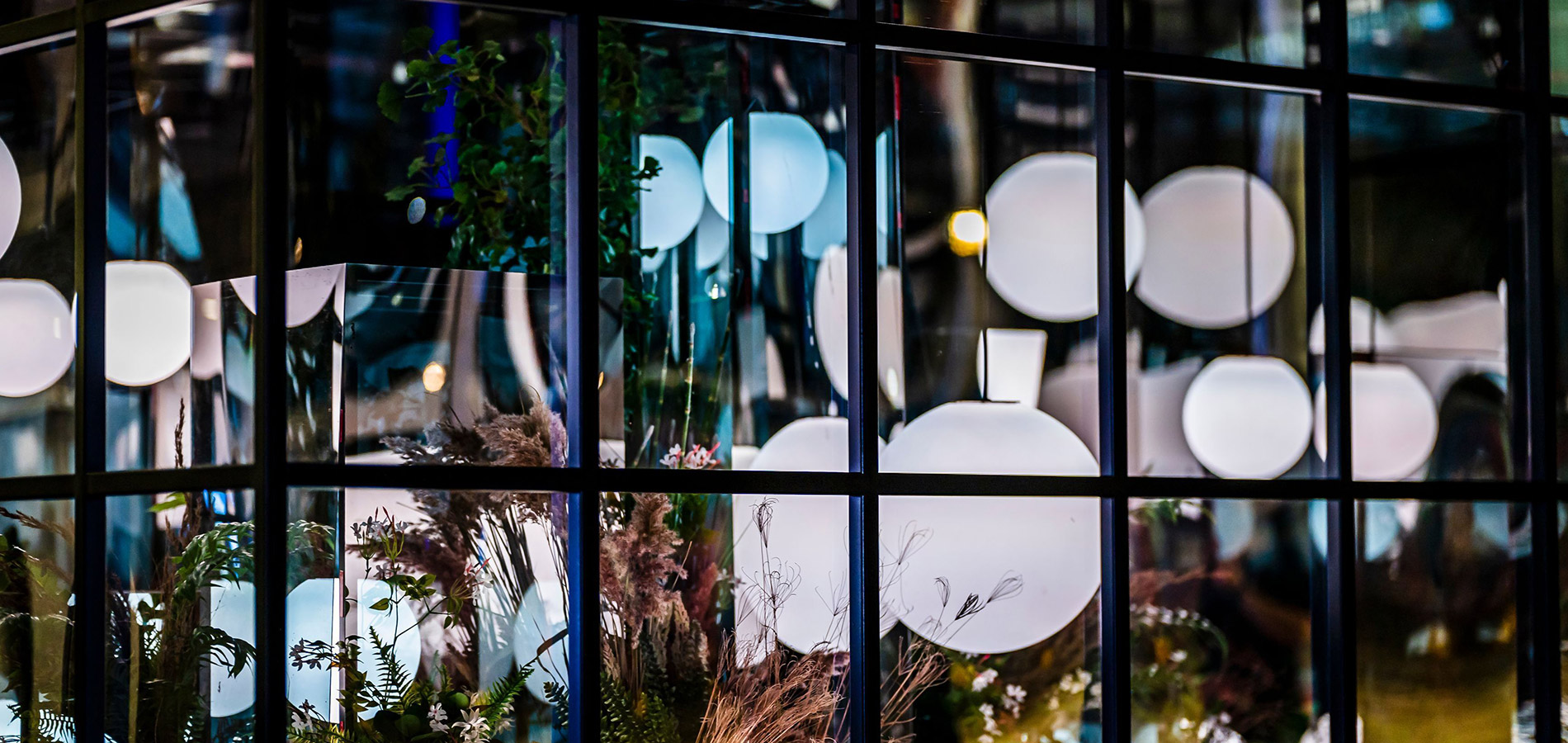 'Losting' is an invented word, describing that deliberate act of losing yourself in nature without any bearings or ties to our tech. A jungle contained in a cube of double-mirrors created by Sydney artist James Dive, Losting is a portal into a strange, ever-shifting world as its mirrors oscillate between transparent and reflective, illuminated and dark.
Lose yourself in this otherworldly landscape, as it contracts, expands and changes constantly in front of our own eyes. Confusing and mesmerising in equal measure, Losting has no ending and no beginning, a mirage in the middle of Vivid Sydney. Are you ready to be lost – and, more pivotally, to see what you might find?
Superorganism
Location: Campbells Cove, Circular Quay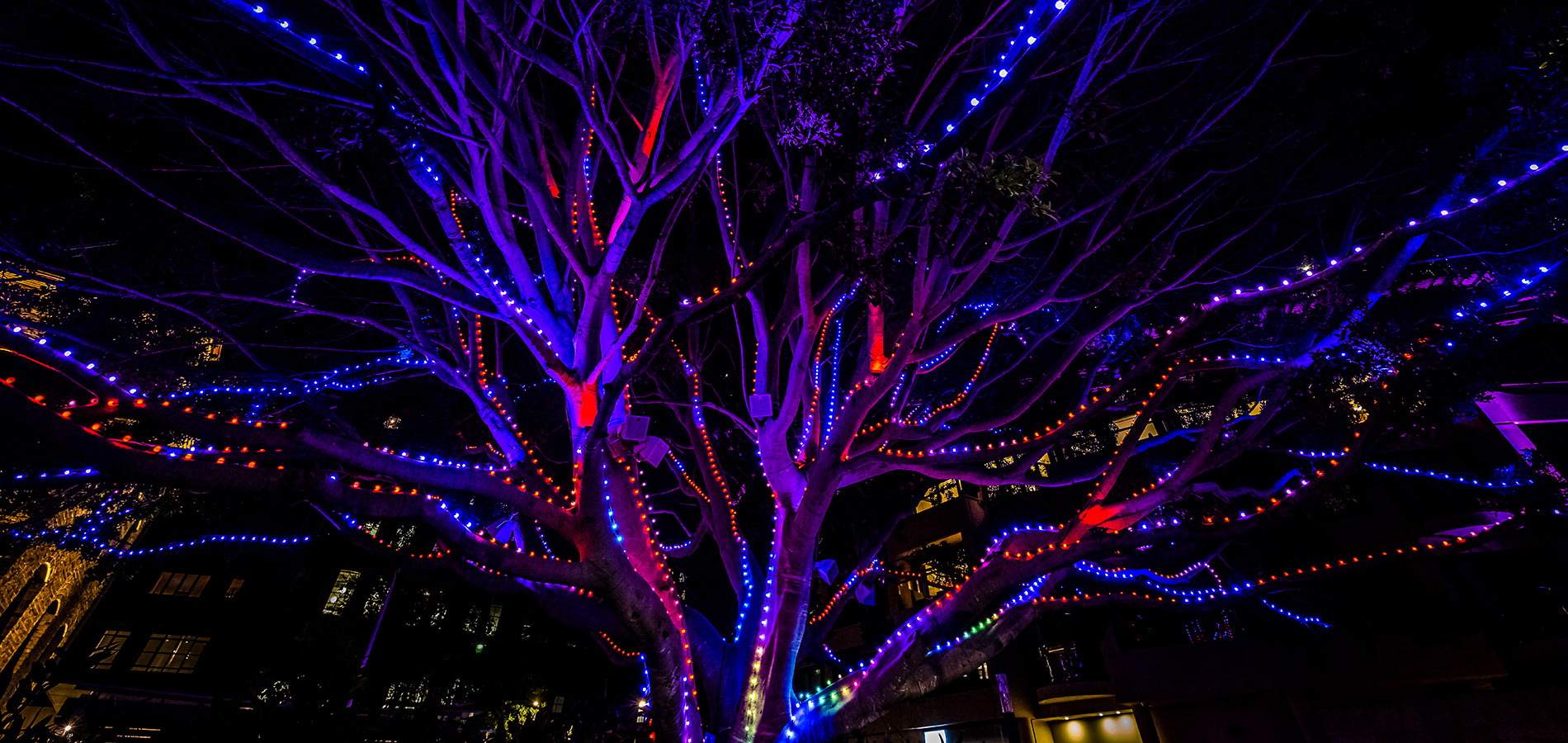 If you know how to listen, trees have a lot to say – especially one as large and storied as this. Enter the world of the Superorganism and discover its complex inner life, translated into a soundscape spanning the past, present and future, created by Sydney art and design collective Esem Projects. Bask in the majesty of the illuminated, spindly canopy where digital and natural meld, as technology works alongside, not against, nature. Imagine an earth where humans view themselves as one small part of a living, breathing superorganism.
Vivid House
Location: The Cutaway, Barangaroo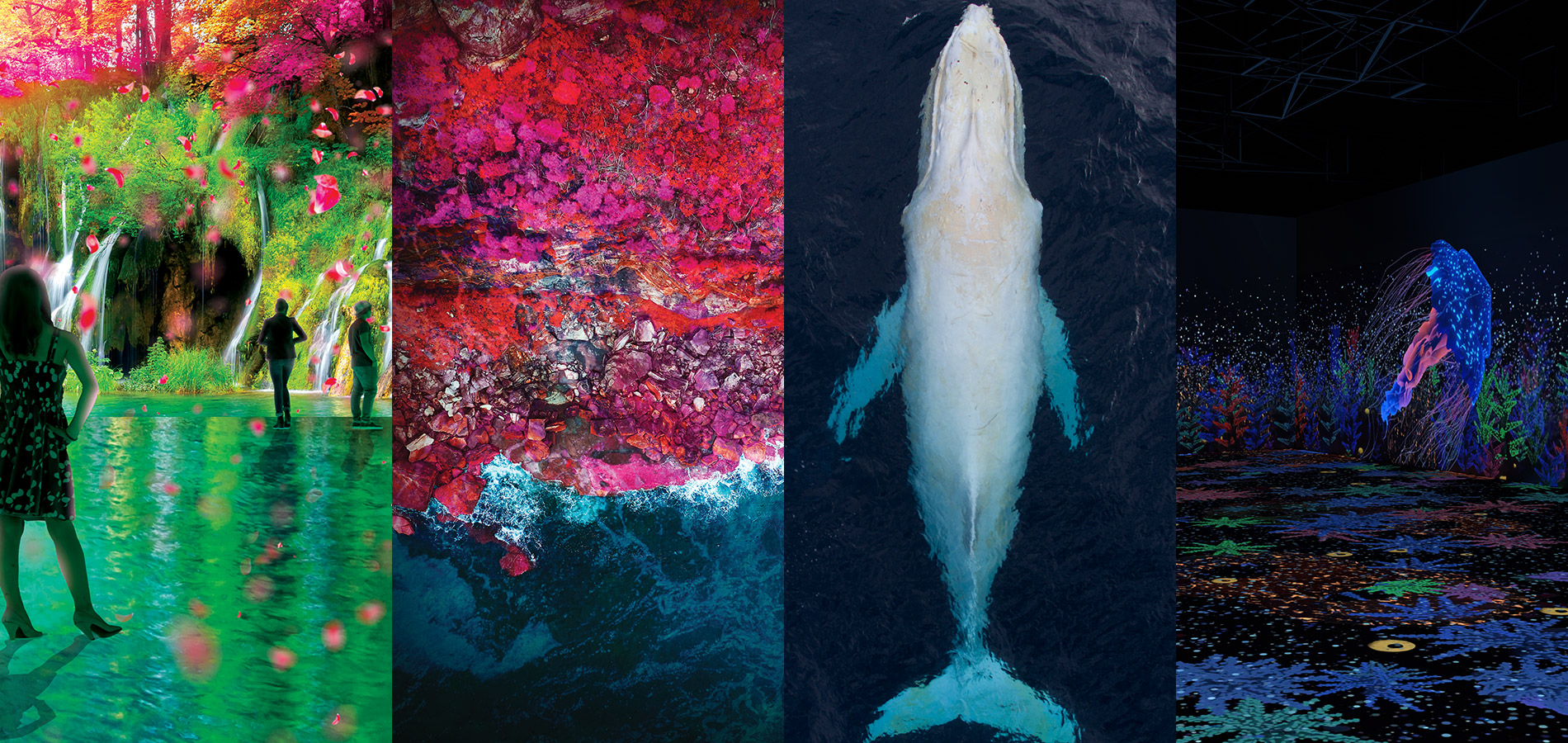 Welcome to Vivid House: an immersive 360° experience through four awe-inspiring artworks all about nature's beauty and power, right next to Vivid Fire Kitchen, a perfect pit-stop of flame-fuelled festivities.
Head on a hyper-real journey across Australia's mountain peaks, verdant valleys and more with Infinity, from Spinifex Group. Marvel at the beautiful resilience of corals, with Singapore artist Henry Hu's Invincible Corals. Experience award-winning photographer Craig Parry's work like never before with Australian Oceans. Take a psychedelic trip through Sydney's hidden coves with Ama, created by Sydney collective Babekühl set to a dreamy ambient track by local producer Phondupe.
That's just the beginning, though. With 59 light installations this year, Vivid Sydney is transforming our city into a site of constant wonder. Explore the full Light Walk line-up, and be sure to favourite your must-visits while logged into MyVivid, as well as use our customisable Light Walk map.