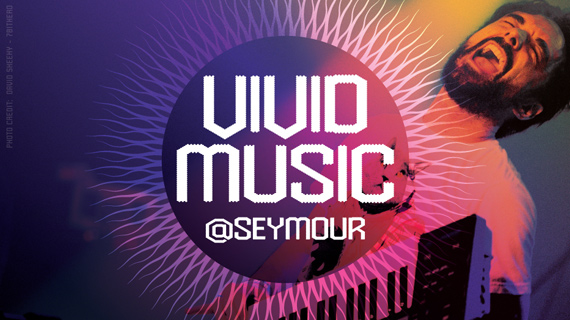 Location:
Seymour Centre, City Road, Chippendale, NSW 2008
Vivid Music @ Seymour
Now in its third year, the Seymour Centre once again becomes the home for the most innovative new ideas in Australian Music.
The 2015 program includes a focus on the interface between music and gaming with an interactive foyer exhibition (see details below) and main stage performances including Robbie Avenaim and Chris Abrahams (The Necks) and Ensemble Offspring. Musify + Gamify is curated by Ollie Brown and Lian Loke.
The Seymour Program also features intimate concerts by some of Australia's leading new music artisits including; Alana Blackburn, Daniel Blinkhorn (frostbYte), Robert Evans and a major performance event from composer Andrée Greenwell, Gothic.
An international series of musifications and gamifications, videogames, generative music and contemporary immersive and interactive experiences throughout the foyer of the Seymour Centre. Includes works by Lucas Abela, David Kanaga, Michaela Davies and The Futile Research Lab.
Vivid Ideas @ Seymour
We can foresee a world in which the format of the record/tape/CD is consigned to a moment in history, not because we don't need physical media any more, but because in the digital age everything is interactive, evolving, personalisable — and not least music. This debate brings together practitioners and thinkers from different worlds of music and digital design to reimagine what music is and discuss where its future may lie.
Ticket prices:
NEW WAVE SOUND:
Gothic – Reginald Theatre, Adult $36, Concession $24
Double Bass – Sound Lounge, Adult $25, Concession $15
Senex et Sonis, Sound Lounge, Adult $25, Concession $15
Bridge; electroacoustic review, Sound Lounge, Adult $25, Concession $15
MUSIFY+GAMIFY
Musify+Gamify Concert #1, Everest Theatre, Adult $34, Concession $26
Musify+Gamify Concert #2, Reginald Theatre, Adult $34, Concession $26
Phone or Box Office Counter Sales only:
Multi-Tix 20% DISCOUNT
Multi-Tix are available when you purchase tickets to more than one Vivid Music @ Seymour event in a single transaction. Available by phone 02 9351 7940 or in person at the Box Office.