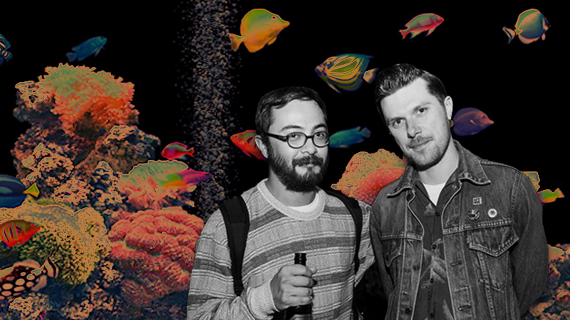 Location:
53-55 Liverpool Street, Sydney NSW 2000
FBi RADIO, VIVID MUSIC & GOODGOD PRESENT:
Two of FBi's most loved crate-diggers, Dusty Fingers and Loose Joints, are throwing a Queen's Birthday weekend party of royal calibre.
When two become one it's time to bang a gong, so get ready for FINGER JOINTS!!
Tyson Koh from Loose Joints and Marty Doyle from Dusty Fingers have been DJing around Sydney regularly for the last 10 years. Before they took up the mic at FBi, they cut their teeth hosting legendary parties such as Health Club, Dynamite and Clambake. Their love of left-field music has kept them close and connected. With Loose Joints now in its 7th year on air and Dusty Fingers recently celebrating its 5th birthday, it seemed a party was long overdue.
Together this dynamic duo have reunited and hand-picked some of the finest talent to take over Goodgod for one ultra special night!
Performing live is the super sleek cosmic boogie duo GL.
Their shimmering VHS grooves, glowing synths, gritty drum-machines, and stratospheric vocals have caused quite a stir around the country. Their songs were strong enough to get them signed on first listen to the newly-minted Sydney label Plastic World + an invitation from Chet Faker to join him on his colossal national tour. GL have also been announced to perform at Splendour In The Grass 2015.
Also performing live will be the wild, frenzied, hip-shaking global-funk ensemble Broadway Sounds.
Known for their high energy shows that blend Afro disco, electro boogie and neon tropical mayhem, Broadway Sounds are unquestionably a party band! If you've turned on your radio in the last 6 months, there's a sporting chance you've heard their hit singles "Booby Trap" or "Sing It Again". Incredibly infectious, insanely fun, this promises to be a special performance. It will also be the group's debut show in Sydney!
Cultivating the club and keeping the dance floor in full swing to the early hours will be some of Sydney's most respected DJ's.
Noise In My Head, Steele Bonus, Jimmy Sing, Marcus King, Lady Shave DJ's as well as your trusted hosts Loose Joints and Dusty Fingers + some very special secret guests.
If ultimate satisfaction is what you're after, you've just found it.
FINGER JOINTS
SUNDAY JUNE 7
GOODGOD SMALL CLUB
55 LIVERPOOL ST, SYDNEY CBD
9PM - LATE
$15
GL (LIVE)
BROADWAY SOUNDS (LIVE)
DUSTY FINGERS (FBi)
LOOSE JOINTS (FBi)
NOISE IN MY HEAD (NTS)
STEELE BONUS (ODD WAVES)
JIMMY SING (GOODGOD)
MARCUS KING (HEARTBEAT)
LADY SHAVE DJ'S