Top 9 Events by First Nations Artists and Creators at Vivid Sydney 2022
18 May 2022
With 25 events involving First Nations artists and thinkers, there's plenty of ways to engage with Aboriginal and Torres Strait Islander culture at this year's Vivid Sydney, which will take over the city from 27 May to 18 June. From seeing the hottest artists debut on the hallowed stages of Sydney Opera House to thought-provoking debates on racism, storytelling and more, here are nine experiences not to be missed at this year's festival.
 

VIVID MUSIC

Miiesha has the kind of voice that immediately draws you into her world – vulnerable, soulful, with wisdom beyond her years. She's a serious rising star – her first album won an ARIA award, among other major accolades. A strong Anangu/Torres Strait Islander woman, her powerful lyrics are deeply personal, telling the stories of her family and culture. Hear her smooth sound of neo-soul, gospel and RnB at a special one-night only performance at Sydney Opera House on 3 June.

 

You may have seen We Are Warriors' (WAW) striking portraits that stopped your scroll on social media. A platform that launched on 26 January this year by Yuin rapper and radio host Nooky, it's dedicated to representing First Nations role models in differing industries in order to connect them to and inspire the younger generation. Nooky has brought together an all-star cast to represent his vision for WAW Fest, including rappers and DJs Dallas Woods, Kobie Dee, Triple One, The Terrys, Latifa Tee, Jade Le Flay, Roman Jody and Scraps on 11 June.

 

Mo'ju has been busy, and there are no signs of slowing down for this Filipino-Wiradjuri singer-songwriter. With three releases under their belt, it was multi award-winning album Native Tongue that saw them delve headfirst into their culture, colonialism, identity — a story that has been continued on two subsequent releases. Now a queer indie icon, they've been touring up a storm around the world and have a heavy-hitting set of electronica to play covering family, identity and healing on 27 May for Tumbalong Nights.

 

 
VIVID LIGHT
Celebrate the launch of the festival at First Light, a special ceremony held at 5:40pm on 27 May with a Welcome to Country, Smoking Ceremony and performance by NAISDA dancers, choreographed by Deon Hastie. A powerful celebration of our First Nations culture shaped by Creative Advisor Rhoda Roberts AO, it is inspired by the first harnessable source of light – fire – before moving to the first Lights On moment at Vivid Sydney.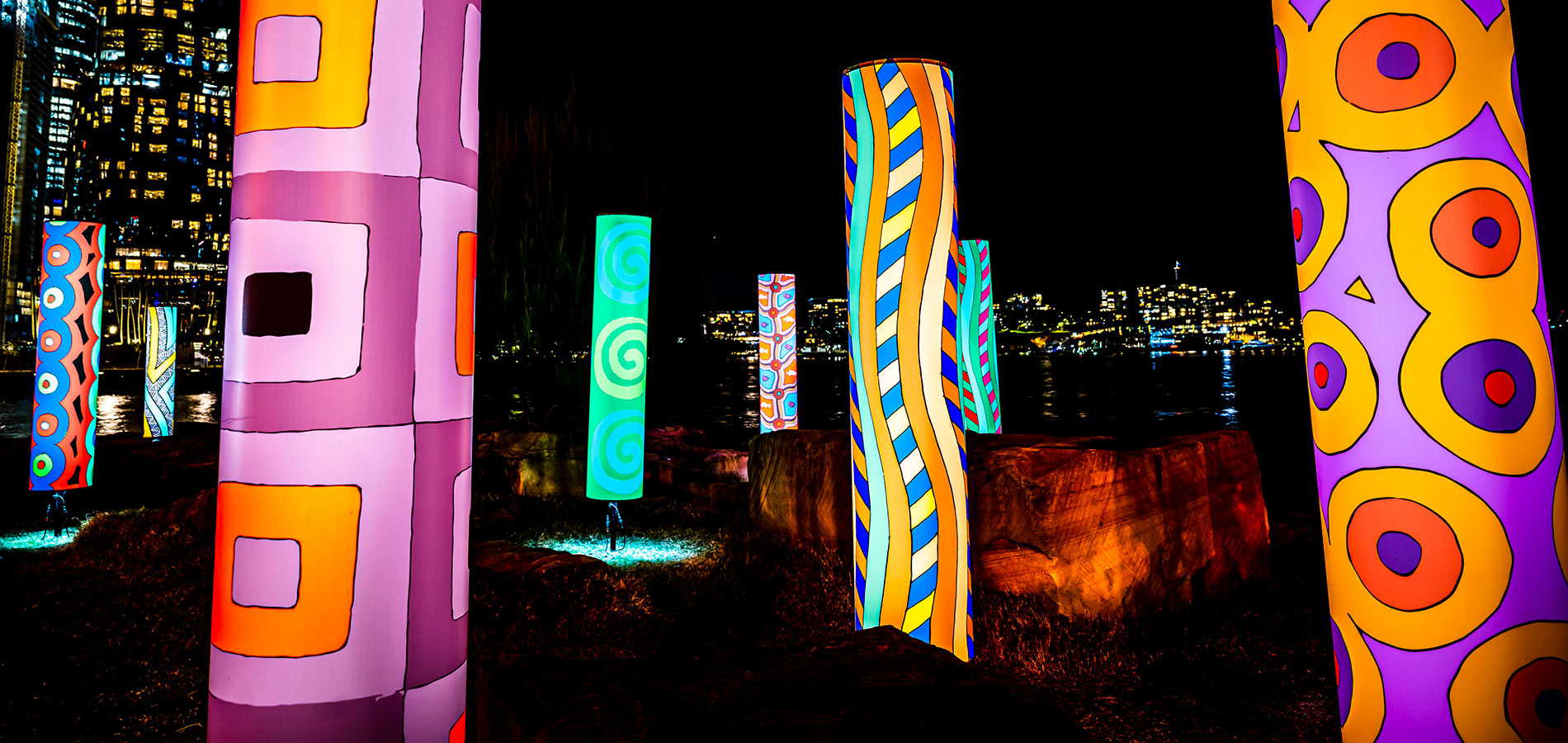 Nura is a mesmerising installation by Warwick Keen at Barangaroo Reserve, consisting of 150 colour-changing panels that are contemporary representations of dendroglyphs, designs carved in the bark of a tree. Shown for the first time all together, it builds on Keen's long interest in dendroglyphs, reviving the lost practice that NSW Aboriginal clans used to mark burial spots or during ceremonies. Each panel in the work represents a First Nations memory.

Shown on the four pylons on Sydney Harbour Bridge every night of the festival before Lights On, this mesmerising projection celebrates the Gadigal People through the photographs of Wayne Quilliam. It celebrates the story of creation, with the Rainbow Serpent forming the Country, and the many Totems of sea, land and sky that came from it. It reminds us that everything living is connected, and of the thousands of years of First Nations knowledge and respect of the land that is passed on and understood.
VIVID IDEAS
This fascinating discussion between some of Australia's leading architects will delve into how First Nations thinking can be an inspiration in shaping the built environment in Australia. The Aboriginal meaning of Country can be imbued within meeting places, creating a sense of belonging that may be missing from Australian society. Leading the discussion will be Wadi Wadi and Walbanga woman Alison Page – an award-winning designer and filmmaker – along with architects Kevin O'Brien, Craig Kerslake and Jefa Greenaway. The conversation on 11 June will be of interest for practitioners in different creative industries who are interested in blending Indigenous and non-Indigenous understandings of land to form harmonious projects.
Who controls the narrative is an important part of writing history and sharing truths. Hear from three First Nations documentary makers, including acclaimed director and Arrernte/Kalkadoon woman Rachel Perkins, director of Jasper Jones and Bran Nue Dae; Worimi woman, creator and leading practitioner in community engagement Genevieve Grieves; and Joshua Trevorrow, a passionate storyteller of Ngarrindjeri descent and advocate for more First Nations characters on screen. They'll be discussing how documentary can be a powerful catalyst for social change through learning and empathy on 6 June.
What do racists look like? You may think you know, but this event aims to show us that the answer is not so simple. Part game show, part comedic debate with some music and poetry thrown in, expect to be challenged by difficult conversations albeit in a safe space with lots of laughs. Hosted by Reconciliation NSW, the panel on 11 June consists of highly regarded First Nations comedians and creative leaders.