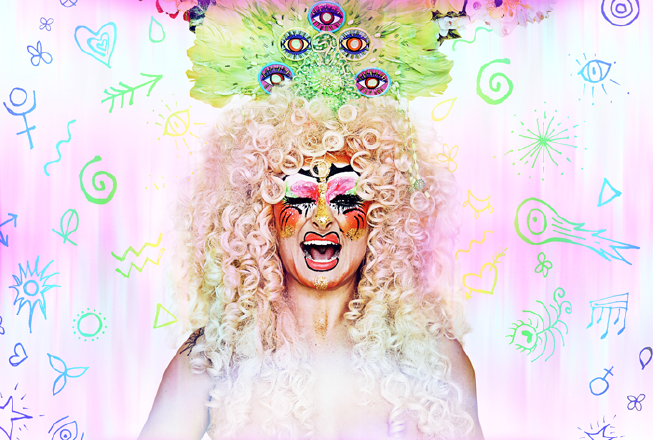 Location:
Kings Cross Hotel, 244-248 William St Potts Point 2011
"Grotesque and gorgeous" (Great Scott) surreal showgirl and world-famous performer Betty Grumble brings her new one woman show to her Sydney home. Experience the Queen of the Obscene in an odyssey of deep disco dissent. Witness her rage and desire in a shamanic striptease that is "part theatre, part comedy, part dance, part sordid burlesque and a whole lot of social commentary." (Great Scott) 
WINNER Adelaide Fringe Underbelly Award 2016 
Saba Saliba  
Saba Saliba is Sydney's most exciting, flamboyant recording-artist who writes and performs catchy pop rock electronic dance music songs. Check out The Saba Saliba Show, a flamboyant, camp and quirky depiction of emotions through interactive-cabaret, audience participation and connections through sons and stories.
Born in Sydney Australia from Lebanese parents, androgynous and enigmatic, Saba has been writing and singing catchy pop songs since childhood. Saba studied the music business and performance with a flair for fashion plus an interest in film, art and photography. Saba is passionately inspired by 80s dance floor fillers, the 12" vinyl records of Michael Jackson, Boy George, Madonna and favourite song writers including Giorgio Moroder, Nile Rodgers and Stock Aitken Waterman.
Saba's first independent album release Missing Time is an alternative-pop-glam-rock album full of grungy guitars and electro loops, performed live around Sydney as the band Missing Time.
Saba's second independent album release Feeling Feminine is a Eurocentric hi-energy, synth-pop album inspired by classic 80s dance anthems and modern electro dance music. The latest independent release is the hypnotic club-house hit City Lights.
Saba's songs are available via digital download stores. 
Website: sabasaliba.com
Itunes: //itunes.apple.com/au/artist/saba-saliba/id1002481922
GooglePlay: //play.google.com/store/search?q=SABA+SALIBA
YouTube: //www.youtube.com/channel/UCm15lTOiAFc7WksbC_a4hrQ
Instagram: https://instagram.com/sabasaliba/
FaceBook: https://www.facebook.com/SabaSalibaEntertainment?pnref=lhc