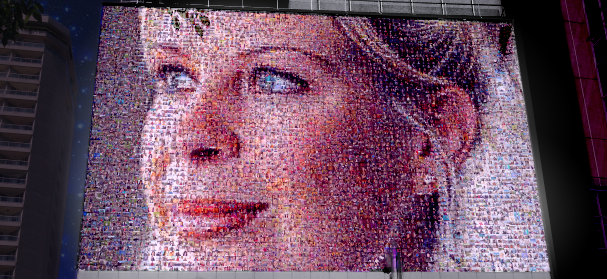 When:
27 May
-
18 Jun 2016
18:00 - 23:00
Artists: Picture Mosaics (USA) / McGrath Foundation (Australia)
Jane and Glenn McGrath's much-publicised experience with breast cancer led to the formation of what is now one of Australia's most respected and recognised charities, the McGrath Foundation.
We raise money to place McGrath Breast Care Nurses in communities across Australia as well as to increase breast awareness in young people, with a particular emphasis on young women through our national breast education initiative 'Curve Lurve'.
Today, over 44,000 Australian families have been supported by 110 McGrath Breast Care Nurses nationally. This service is provided free of charge and can be accessed by self-referral.
Every day, we work towards realising Jane's vision: for every family experiencing breast cancer to have access to the support of a breast care nurse, no matter where they live or financial situation.
The McGrath Foundation Mosaic is a truly collaborative work: one by one, people from across the country and from all walks of life have joined together to upload their stories, photographs and messages of support, reflecting the many faces and stories of those touched by breast cancer in Australia.
This innovative installation transitions through a mosaic of light and colour, literally shining a light on the prevalence of breast cancer and the evolving work of the McGrath Foundation. 
Breast cancer is the most common cancer in women in Australia with 43 people diagnosed every day. To help the Foundation make a difference, please visit our website www.mcgrathfoundation.com.au or join us on Facebook (mcgrathfoundation), Twitter (mcgrathfdn) or Instagram (mcgrathfoundation) and encourage your friends and family to do the same. To donate go to www.mcgrathfoundation.com.au/donate.
Country represented by installation: Australia