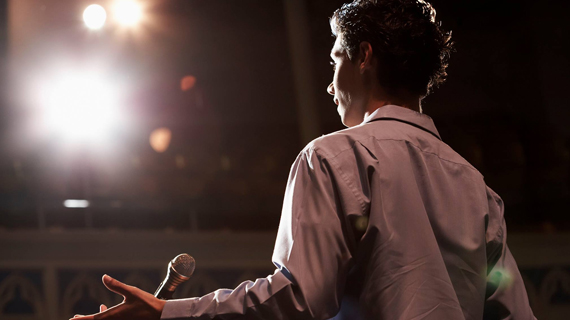 Location:
Google Australia, Level 5, 48 Pirrama Road Pyrmont NSW 2009
The Funding Network is a live crowd-funding experience unlike anything you've ever seen before. Started in the UK in 2002 these events have been attracting some of the most inspiring presenters and unique audiences across the globe from Singapore and London to New York and Sydney. Imagine TED crossed with a friendly Dragon's Den and all in support of incredible individuals who are helping some of the most disadvantaged and marginalized people in the community.
The evening starts with refreshments so you can meet other interesting guests and talk to the presenters yourself. Then, four social entrepreneurs with projects that use creativity or the arts in new, innovative ways will pitch to the crowd of 150 people for six minutes and then answer your questions. The presenters will leave the room and then the audience is invited to publicly pledge their support to whichever projects inspire you, from as little as $100 but there's no pressure. Our target is to reach at least $10,000 for each project. All pledges will be matched by the fabulous Creative Partnerships Australia up to $10,000 per project and the whole evening is facilitated by a charming MC. The feeling of doing something worthwhile as a group is truly exhilarating.
Creative Partnerships Australia works to increase investment in Australia's arts sector; bringing donors, businesses, artists and arts organisations together to foster a more sustainable and vibrant arts sector for the benefit of all Australians. Creative Partnerships Australia is supported by the Australian Government through the Cultural Development Program of the Ministry for the Arts, Attorney-General's Department.
The four organisations selected to pitch at this event are I-Manifest, Treehouse Theatre, Dirty Feet and Sharing Stories.
The evening is being sponsored by PwC and hosted by Google in Pyrmont. It's fun, it's really exciting and you leave sensing that something very special just happened. For anyone that is interested in how groundbreaking ideas and innovative creativity can improve society for the better this is a must-see event. You won't regret it.
This event is presented by The Funding Network in collaboration with Creative Partnerships Australia, sponsored by PwC and hosted by Google Australia.
*********************************************************
*$4 Booking fee and 2.25% transaction fee applies.
POWERED BY THE TICKET GROUP.
*********************************************************