Vivid Sydney Supporting Partner
Sydney Opera House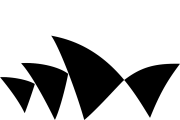 Vivid LIVE returns to the Opera House from 6 – 28 August, inviting uncompromising voices to the nation's most famous stages and its iconic sails in a celebratory contemporary music takeover - as part of Vivid Sydney, the festival transforming the Sydney CBD each winter through a celebration of creativity and innovation.
Vivid LIVE is the annual centrepiece of the Opera House's year-round Contemporary Music program and features Australian exclusives, world premieres, one-off projects and unmissable performances from emerging Australian voices and world-class icons to Sydney's vibrant local communities who reflect the city's inimitable contemporary culture.
In 2021, the Vivid LIVE program is about local communities, Australian acts and energising the community and industry. Vivid LIVE is curated for the sixth time over seven years by the Head of Contemporary Music, Ben Marshall.
The Lighting of the Sails is co-curated by the Sydney Opera House and Destination NSW and is both Vivid Sydney and the Opera House's most significant free event.
To book tickets and for more information on Vivid LIVE events visit sydneyoperahouse.com/vivid-live.