Vivid Sydney Collaborators
Event Engineering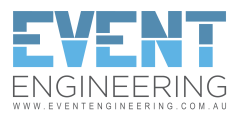 As engineering consultants liaising with both national and international artists, the team at Event Engineering ensures all installations can light up the city in a safe and sustainable way, and we are proud to be a Vivid Sydney Contributing Partner for 2022.
We are a team of professionals that have been providing expert advice to the creative industries for more than 30 years. Providing structural engineering, engineering design, detailed design documentation, modelling, testing, project management, fabrication and WHS documentation; the team works with an unrivalled passion.
We collaborate across all creative industries to push the boundaries of what is possible.
We offer support through all stages of the project – from initial feasibility studies, concept design and renders, workshop drawings, modelling and prototypes through to all aspects of final fabrication, construction and installation. Our scope of works includes meeting all state-specific requirements such as engineering certification and documentation, risk management and site inspections.
We have taken our diverse knowledge of unique design and fabrication and applied it to bespoke structures and artworks across Australia and the world. Some of our major projects include Omnia by artist James Angus; Brendan Van Hek's City Lights, suspended above Little Hay Street in Sydney; and Cloud Nation by artists Claire Healy and Sean Cordeiro.
To find out more about Event Engineering, please visit eventengineering.com.au