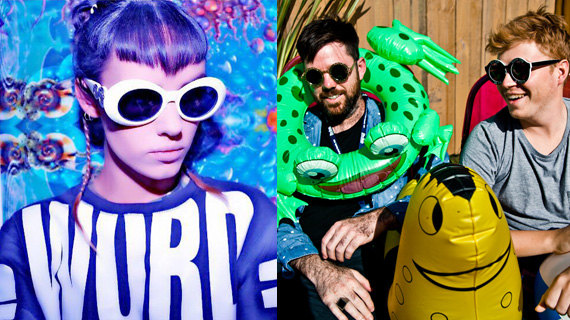 Location:
Vivid Ideas Exchange, Museum of Contemporary Art, Australia, Level 6 Terrace Entrance (Circular Quay West Side), Sydney NSW 2000.
Live performance by Zuri Akoko at 7.30pm at the Vivid Ideas Exchange Lounge with DJ Le Fruit from 6pm-midnigt!
Network with your colleagues and peers at the Vivid Ideas Exchange at the MCA: meet and chat with industry experts across the creative sector, from architecture to marketing to sustainability and film. Everyone's invited however please register for the door list to join us this Saturday from 6pm for networking, music and the best views in town. Entry is free.
Zuri Akoko
Music is a means to explore the undetermined. With an eclectic dreamy blend of atmospheric pads and vocals, Zuri Akoko draws attention to the delicate details of life. Her intrinsic style of drum programming commands attention as she entices you into the unknown with her decorative pallet of sound.  Her production influences take a left turn into Glitch, Trip-Hop, Down-Tempo and Experimental while hints of Jazz and R&B vocal style beckon you to follow. Unconventional and zephyrean yet commanding.  Zuri's blissfully intoxicating production is an odyssey into the faraway. A girl with the vision and skills to draw her own map.
DJ Le Fruit
The new project of tropical cyclones Le Shaw and Le White, the pair have already nabbed a residency at Oxford Art Factory, closed Secret Garden Festival, supported Kaytranada and Yacht Club DJs at sold out shows and been called up to command the Falls Festival Lorne into a fruity new year. With Le Fruit at the helm, your forecast is partly tropical with a chance of rave.