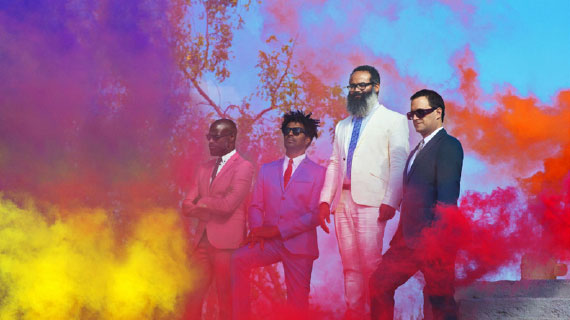 Location:
Sydney Opera House, Concert Hall, Sydney NSW 2000
Emerging from New York's millennial shift that casted the Yeah Yeah Yeahs, Interpol and The Strokes into indie-rock heavyweights, TV on the Radio make their revitalised return bringing their monumental catalogue from 'Staring at the Sun' to fifth album Seeds for a heaving close to Vivid LIVE.
Drawing on post-punk's vitality and the emotional core of gospel, TV on the Radio's instant-classic Return to Cookie Mountain reaffirmed early critical praise and support from the inimitable David Bowie. Surrounding the singular wails of Tunde Adebimpe and co-vocalist Kyp Malone with a wider electronic palette from producer-guitarist Dave Sitek and Jaleel Bunton, the band have returned as a powerful live entity with the hunger of reinvention.
Now set to take on their largest standalone Sydney appearance yet, TV on the Radio will mark their triumphant return with a set drawing on one of the past decade's most inventive indie rock catalogues at Sydney Opera House.