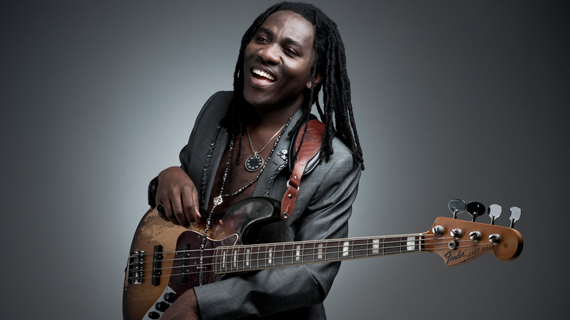 Location:
The Basement, 29 Reiby Place, Circular Quay NSW 2000
Gaynor Crawford Presents direct from the Melbourne Jazz Festival in association with Vivid Sydney Cameroon born Multi-instrumentalist Richard Bona at The Basement Saturday May 30.
"Few bassists are in Bona's league for dexterity... dishing up Weather Report-style fusion or Parliament-type funk the grooves sizzled with energy and dazzling flourishes" Sydney Morning Herald.
"Intricate flights of solo brilliance .... Spellbinding" The AGE
Richard Bona has been recognized as one of the planet's five revelations of the past decade. A complete artist, an absolute master of his art, and a melodist of rare elegance and sensuality, he's also a poignant singer, and a member of that exclusive club, "the world's best bassists." Bona is an absolute master with a distinctive and unique style, a mix of jazz, afro-beat, bossa nova, pop music, and funk.
Richard Bona, dubbed "The African Sting," has been displaying his smile, humour, serenity and grace wherever he's travelled. His first two albums revealed a wonderful storyteller, a surprising musician, and a spellbinding vocalist. His unique style is situated at the crossroads of a horde of influences - jazz, bossa nova, pop music, afro-beat, traditional song, and funk.
*Price does not include booking fees.