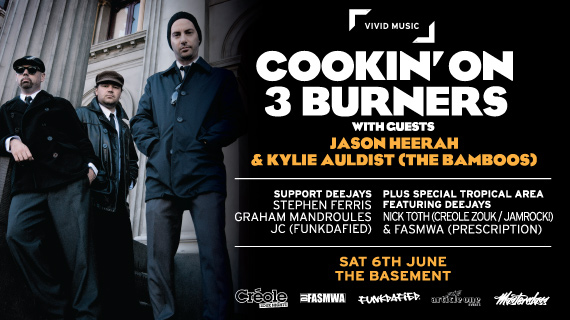 Location:
The Basement, 7 Macquarie Place, Circular Quay NSW 2000
Cookin on 3 Burners are returning to the Basement on 6th June 2015. This will be their first appearance back in Sydney since their sold out show at the Basement last June and this time they have two very special guests joining them on stage.
Jason Heerah one of the former members of Electric Empire and also a finalist on the recent X Factor TV Series will be performing with the band. Also joining them on stage will be Kylie Auldist who also performs with the Bamboos and has her new album being released through Tru Thoughts later this year.
Having recently played at the Tokyo Jazz Festival and also winning the best Soul, Funk, R'nB and Gospel album 2014 @ The Age Music Awards for their Blind Bet Album the band are reaching new heights at the moment. This promises to be a very special show on 6th June with a big line up of local DJs in support playing Soul & Funk including;
Stephen Ferris, Graham Mandroules & JC, (Funkdafied)
Plus there will be a seperate 'Tropical area' where DJs Nick Toth, (Creole Zouk, Jamrock!) and DJ Fasmwa, (Precription) will be playing the best in Carribean music including Reggae, Dancehall, Soca, Calypso, Zouk and more...
Formed in 1997, Cookin' On 3 Burners was always meant to be an experiment in sound. Drenched in the bluesy soulful influence of the late 60s and early 70s output of labels such as Prestige, Bluenote & Groove Merchant, these Melbourne music stalwarts began serving up a feast of tasty funk on a bed of Hammond soul, creating a flavour that gets better with every lick of the spoon.
In 2002 they released their first 7" single (Gravel Rash / Pie Warmer) under the Bamboo Shack label and by the summer of 2009, the band was number 1 on the UK iTunes RnB charts with the track This Girl (featuring Kylie Auldist). In between, Cookin' On 3 Burners, made their home at esteemed U.K label Freestyle Records, rocked the B-Boy and B-Girl championships, had songs featured on a string of hit TV shows and played alongside acts such as Quantic, Alice Russell, Sharon Jones & the Dap Kings and Fat Freddie's Drop.
And the heat just keeps on rising. This is a joint event co-ordinated for Vivid by Funkdafied, Article One Events, DJ Fasmwa and Masterclass. Tickets are available via Moshtix, The Basement and Vivid Live.