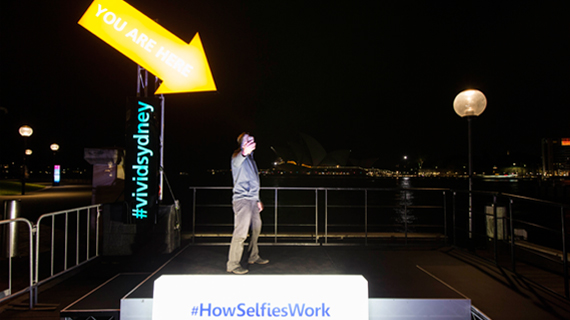 When:
22 May
-
08 Jun 2015
18:00 - Midnight
Location:
Campbells Cove, Sydney NSW 2000
Artists: Hammer Lighting (Mark Hammer)
Collaborator: Andre Kecskes
Country: Australia
You Are Here is a well-known phrase brought to life as a Light Art installation. Interact with this 4m-tall sculpture to capture your perfect Vivid Sydney moment, upload and share at #vividsydney – and show us your best selfie using #HowSelfiesWork.
Indeed.com is proud to sponsor 'You Are Here' as a Vivid Supporter in 2015. As the world's #1 job site, Indeed helps job hunters and employers alike find the right careers and teams, offering millions of jobs in countless fields across the globe. You are here right now, but with our suite of job search tools and ever expanding list of opportunities, Indeed can help you get to where you want to be.
How Do Selfies Work?
Vivid Sydney continues to grow with more music, bigger ideas, brighter lights and new precincts, and its success is based on bringing together a remarkable collection of artists, technicians and digital wizards. But none of this would be possible without you – so let's celebrate the amazing things that can be achieved when we all work together by taking the perfect selfie.