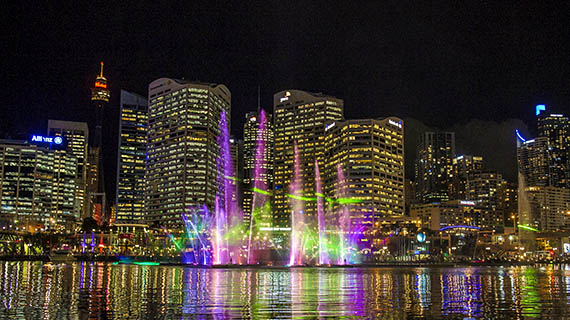 When:
22 May
-
08 Jun 2015
18:00 - 23:00
Location:
Darling Harbour, Sydney NSW 2000
Artist: Oracle-Liquid (Glenn Turner) Country: Australia
Vivid Laser-Fountain Water Theatre at Darling Harbour presents a spectacular liquid-light show featuring dynamic jets and spirals of water, full-colour lighting, rainbow-coloured lasers and dancing flame effects choreographed like an audiovisual symphony.
The centrepiece is a flower-like array of fountains and lasers, which shoots jets of water 100m across the harbour and more than 30m into the night sky, sweeping and twisting, and interspersed with blasts of flames, laser and light effects that seem to dance with the music. The display is the result of decades of technical research and development, along with innovative engineering by Oracle-Liquid director, Glenn Turner.
Vivid 2015 provides an opportunity to use the technology and present many of Turner's highly creative ideas in new liquid art forms, animations and integrated laser and lighting approaches.
The display launches and recycles over 30,000 litres of seawater per minute; it required 15 crew to install and took over six months to develop.
The staging equipment is mostly submersed below the water and uses 100 tonnes of buoyancy and more than 20 km of high-power cabling as well as wireless communications.
Beginning every half an hour, the entire show is run from a single control tower and is time-coded to musical sound tracks created by Sydney electronic music gurus, the Presets.