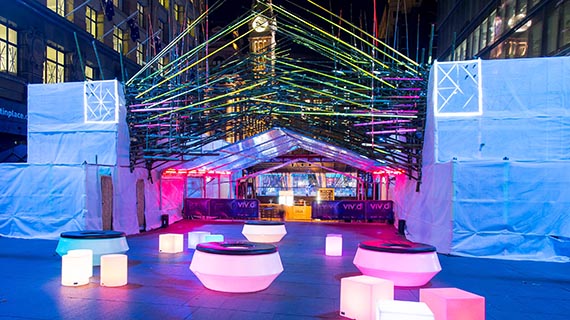 When:
22 May
-
08 Jun 2015
18:00 - Midnight
Location:
Martin Place, Sydney NSW 2000
Artist: Joseph Crossley (Finely Tuned)
Country: UK
Designed by leading new media artist Joseph Crossley, using the latest in Intel technology, Transcendence brings together a variety of new media art, from projection mapping to computer mapping to computer-code driven light shows, casting light where there has recently been darkness.
Each night during Vivid, the exquisite light shows will feature a hand-picked collection of artists working alongside Joseph to create an ever-changing visual feast, matched only by divine fare from a collection of Sydney's hippest purveyors.
Transcendence brings together the best in class New South Wales food and beverage offerings. Here are a few of the things you can expect to find:
Porteño - One of Sydney's most celebrated purveyors of meat, offering a street food equivalent of their Surry Hills restaurant.
Cow & The Moon - Want to try the world's best gelato? Look no further for they are holding this award. Be sure to try their awesome affogatos.
Thievery - Eat Art Trucks new restaurant serving Lebanese with a twist. Their fried chicken with Squid Ink dip is hot !
Agape Organic - From field to table this restaurant is meticulous for its clean organic fair and their NSW grown Wagu Pulled Beef is something else.
Woofys Hotdogs - Need we say more, Classic well-made and served with a smile.
Transcendence Bar - Here you can drink a variety of beverages made right here in New South Wales. From the rare cellar door wines sourced from across the state to the beer and spirits made right here in Sydney.