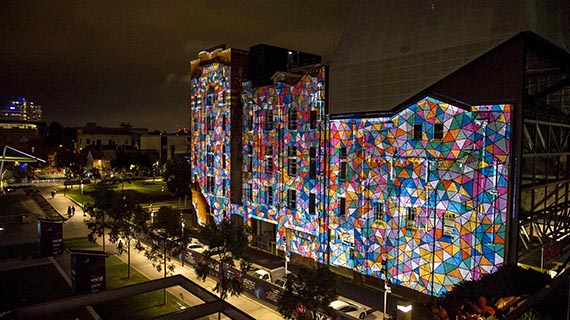 When:
22 May
-
08 Jun 2015
18:00 - Midnight
Location:
28 Broadway, Chippendale NSW 2008
Vivid Sydney brings a unique beat to the new heart of 'downtown' Sydney with Streets Ahead, a spectacular light show accompanied by an original music score.
Witness the animated street art of renowned contemporary artists that is projected onto the impressive heritage-listed brewery facade, drawing inspiration from the site's design aesthetics and rich history.
Celebrated indigenous artist, Reko Rennie, combines the iconography of his Aboriginal heritage with stylistic elements of graffiti to pay respect to Aboriginal culture in a modern context, while the distinctive works of multidisciplinary artist Beastman breathe movement and growth into a futuristic world of new life, hope and survival.