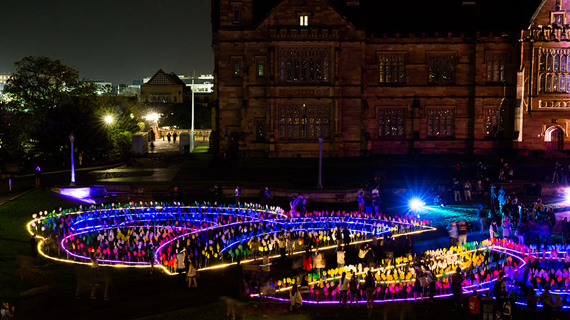 When:
25 May
-
31 May 2015
18:00 - 23:00
Location:
The University of Sydney, NSW 2006
Artist: Elissa Hughes
Sea of Hands, one of Australia's largest public artworks, now transforms into a beautiful illuminated installation. Designed by  University of Sydney student Elissa Hughes using the largest collection of hands in the world, this light installation aims to bring greater awareness to issues of reconciliation and social justice in our country.
The Sea of Hands is an interactive installation that will be brought to life by members of the public, as they 'plant' colourful hands with personal messages written on them, creating a beautiful image you can appreciate on the ground and from far above.
Explore the University of Sydney's Vivid precinct light program including the Quadrangle light show and installations along Eastern Avenue promenade.