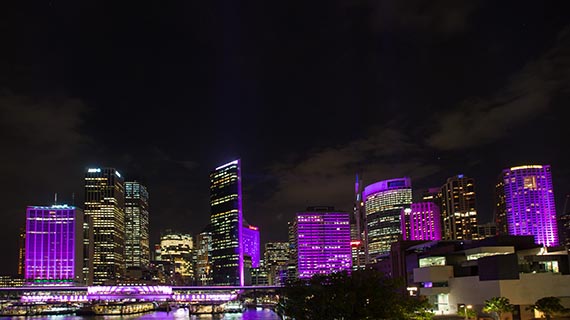 When:
22 May
-
08 Jun 2015
18:00 - Midnight
Location:
Circular Quay, Sydney NSW 2000.
Artist: 32 Hundred Lighting (Iain Reed & Martin Bevz)
Country: Australia
Paint the Town is a cutting-edge, interactive illumination of the Sydney skyline. Participants of any age 'paint' with light by using a special touch screen to control the choice and sequences of colour illuminating iconic buildings around Circular Quay. It is a rare experience to be able to express creativity on this scale and to help redefine and represent how Sydney appears on the world stage.
The installation is controlled from a interactive touch screen located at the Overseas Passenger Terminal in Circular Quay, and uses custom-designed state-of-the-art software and low-energy LED lights. It was created by the highly innovative Australian event production company 32 Hundred Lighting–the same creative team that delivered Vivid Sydney's Light the Bridge (2013-2015).