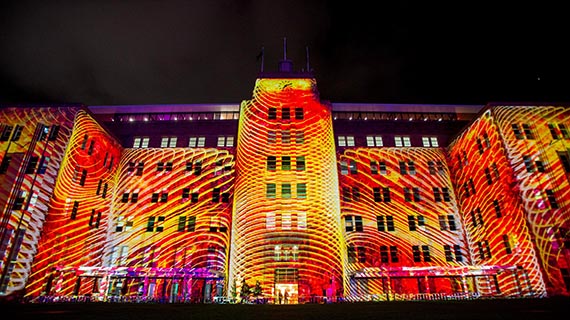 When:
22 May
-
08 Jun 2015
18:00 - Midnight
Location:
140 George Street, The Rocks, NSW 2000
Artists: Rebecca Baumann (Australia)/ Danny Rose (Sergio Carrubba (France)/ Paola Ciucci (France)/ Lucia Frigola (France)/
Cédric Péri (France)/ Emanuele De Raymondi (Italy)
Country: Australia/France/Italy
Mechanised Colour Assemblage (2015) transforms the MCA façade into a series of sound and colour 'machines' that create a continuously morphing listening and viewing experience. The audience is plunged into a universe where voices and colours blend together to become a single element.
The machines change colour and shape, drawing on a variety of phenomena entering the space around the MCA. In response to sound they form new surfaces – sometimes soft, sometimes hard.
Australian artist Rebecca Baumann developed the installation in collaboration with Paris-based art and design team Danny Rose. Rebecca works in kinetic sculpture, installation and performance, often bringing paper, smoke, confetti, and tinsel to life using mechanisms such as flip-clocks, fans, and detonators. Her interest in colour and its perceptual relationship with emotion inspired and informed this work. Its intent is to take each audience member on a journey through their own emotions as they participate in a synaesthetic experience, in which two senses, hearing and vision, are experienced simultaneously.
The installation uses 3D-mapping to project the machine images onto the MCA façade. This lends 'spatiality' to the experience – delivering single, mobile and multiple sources of sound, which can move within the location. The speakers are positioned in the MCA courtyard, forming a large rectangle that surrounds the audience and defines the listening space.
The sounds move in the spatial environment following different trajectories, which in turn correspond to the chromatic movements of the visuals. The soundtrack is an original composition by Emanuele de Raymondi.
Danny Rose is a multidisciplinary art and design team based in Paris that specializes in creating and realising super-sized audio-visual shows, multimedia experiences, architectural art mapping and interactive installations including events, theatre, music, museum design, opera and light festivals. They recently received the Judges Choice Award at the Digi Award 2015 for their innovative use of technology and mass audience engagement at Vivid Sydney 2014, a fitting token of international recognition.
Projection Technology and Mapping Design by TDC