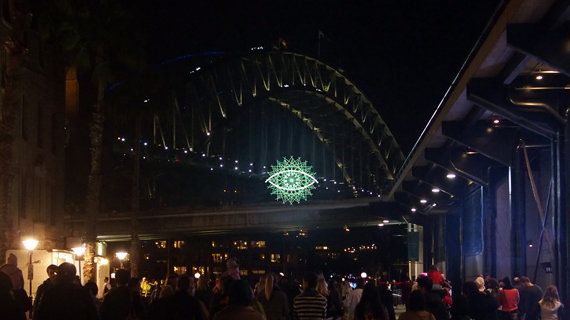 When:
22 May
-
08 Jun 2015
18:00 - Midnight
Location:
Overseas Passenger Terminal, Circular Quay, NSW 2000
Artist: Liam Filson
Country: Australia
Geometric Eye is a large, ornate 'eye' that regards the city from its perch on the overpass leading to the Overseas Passenger Terminal. Participants interact with the installation, controlling the look and expression of the Eye so that it mirrors the feelings and excitement of the night.
The work is made from simple coloured LED strip-lights cleverly assembled to achieve the abstracted curve of the Eye and its intricate decorative surface. By changing different elements in the geometric patterns, the viewer decides what mood the Eye projects – sparkling, happy, alert, mellow, excited – it's all in the control of the beholder.