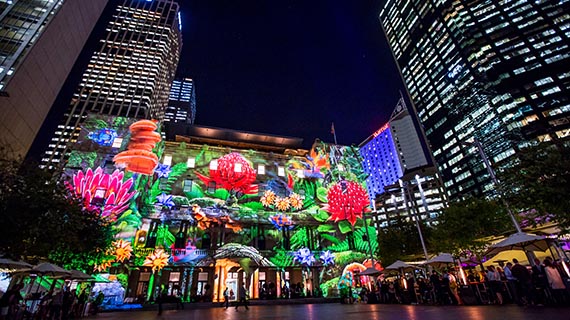 When:
22 May
-
08 Jun 2015
18:00 - Midnight
Location:
Customs House, 31 Alfred Street, Sydney, NSW 2000
Artists: Spinifex Group
Country: Australia
Enchanted Sydney projects free-flowing images of Sydney's flora and fauna onto the iconic facade of Customs House. The artwork mixes familiar (and not so familiar) aspects of Sydney's natural environment to create a continually evolving and blossoming world.
The projections are fitted specifically to the architectural form of the building, using graphics that integrate natural imagery with textures and colours that are reflective of the city in all its moods and seasons.
The artists' intent is to remind audiences of the organic nature of the city and the enchantment of natural design.
Projection Technology and Mapping Design by TDC