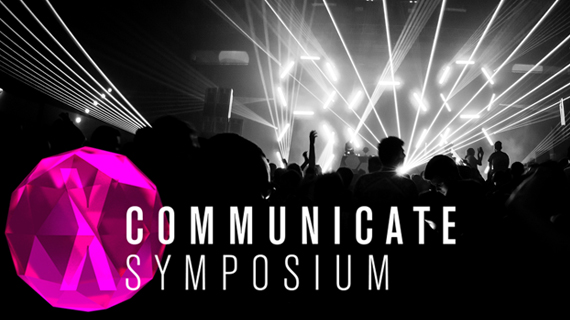 Location:
UNSW Art & Design, Greens Road, Paddington, NSW
✗COMMUNICATE – COMMUNITY ENGAGEMENT & PLACEMAKING IN THE DIGITAL AGE
UTV and UNSW Art & Design proudly present the ✗Communicate (Cross Communicate) Symposium and Exhibition as part of the Vivid Ideas program 2015. Curated by Lubi Thomas ✗Communicate will take place at UNSW's Paddington Campus on Friday 5th June 2015. More detailed information about ✗Communicate and registration links can be found at www.x-communicate.net.
PROJECT SYNOPSIS
✗Communicate is a symposium of shared experiences and aspirations presented by a network of individuals, organisations and research institutes working in an evolving field of community engagement, urban screens and placemaking in the digital age. ✗Communicate will bring together a spectrum of voices from across the local, national and international digital/new media, community engagement and media architecture sectors.
Through a structure of interrelated sessions, ✗Communicate proposes to take participants on a journey of conversations that thread together an emerging community, founded on a culture of experimentation, innovation and reflective evaluation.
This symposium discussion is a prelude to a major International Media Architecture Conference on Digital Placemaking and Smart Cities being organised by the Media Architecture Institute and UTV for Vivid 2016 to be hosted at The Concourse in Chatswood. www.mab16.mediaarchitecture.org
SYMPOSIUM FORMAT
The symposium format includes an opening keynote and morning session before breaking for a networking lunch. There are two shorter afternoon sessions followed by a panel discussion. Following the closing session a VIP networking evening event will be held in the UNSW Art & Design courtyard and will include a live VJ performance from our international VJ artist, Christine Coulange, brought to you by Videospread, France.
✗Communicate will also launch the prototype of 'Discussions in Space (DiS)', a platform that has been developed for public screens by UTV in collaboration with University of Sydney, UNSW and QUT and funded by The Henry Halloran Trust. The platform offers an interactive, fast-paced social media channel for local governments, organisations or institutions to engage with local residents or visitors in public spaces.
✗Communicate will close with a range of video art works through until 9pm, including a program by French Curator Céline Jouenne from Videospread, student works curated by UNSW TV and a video artwork by Glen Henderson titled "The Lightness Matrix 3 Grande Search".
WORKSHOPS
As part of the ✗Communicate program UTV and Audience are presenting two hands-on workshops on Saturday 6th June at UNSW Art & Design. The workshops are aimed at kids and families and framed around 'littleBits' – simple electronic circuits that snap together to create prototypes. Workshop information and registration can be found at www.x-communicate.net.
This event is presented by UTV; UTV are world leading experts in the specialised field of Urban Screens offering a comprehensive end to end solution from concept development and feasibility studies through to commissioning and subsequently offering world class creative production and ultimately operational management.