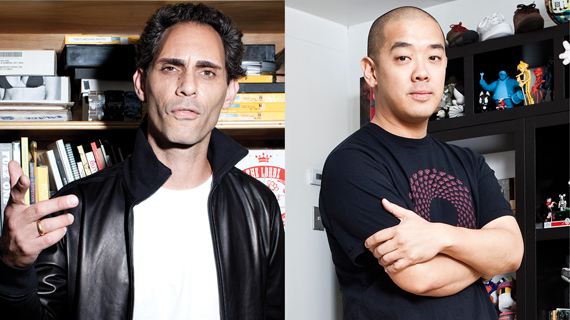 Location:
aMBUSH Project Space Level 3, Central Park, 28 Broadway, Chippendale NSW 2008
Don't miss your chance to hear two of the biggest influencers on the streetwear scene discuss how they forged a path from passion to full-scale production.
For the first time, Tony Arcabascio – the legendary straight-talking New Yorker who co-founded US label ALIFE and is now an acclaimed Art Director – is coming to Australia to give us an earful of his renowned 'Tony talk'. jeffstaple is another industry mainstay who has run his own clothing label (STPL), retail store (Reed Space), and creative agency (Staple Design) for almost two decades in New York City.
With personal anecdotes and solid advice, they'll help you discover how to hit the right balance between commercial, cool and credible in your work.
If you're a creative, the owner of an emerging brand, a graphic designer, a student of design and fashion, a retailer, or simply a fan of Tony and jeffstaple's work, come and discover how they found success and get tips on how to create your own.
Wednesday, 27 May, 7-9pm at aMBUSH Gallery Project Space, Level 3, Central Park. Tickets $60.
For further sales enquiries, bulk-buy discounts for companies, education or other, please contact John Wiltshire at aMBUSH Gallery on 02 8399 0707 or email john@ambushgallery.com
Presented by aMBUSH Gallery, T-world, Central Park and Vivid Sydney 
*********************************************************
*$4 Booking fee and 2.25% transaction fee applies.
POWERED BY THE TICKET GROUP.
*********************************************************