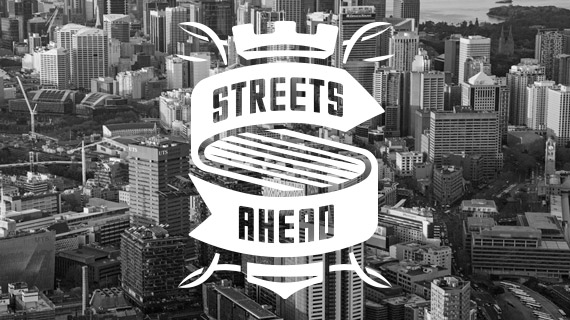 Location:
aMBUSH Gallery at Central Park, 28 Broadway, Chippendale NSW 2008
STREETS AHEAD is a fresh and innovative entry onto the Australian creative scene: an event that brings together the world's premier artists, brands and designers from the realms of street art and streetwear, to showcase the connection and magic that exists between art and commerce.
Presented by aMBUSH Gallery and T-world, in partnership with Central Park, the inaugural event during Vivid Sydney in 2015 will feature a day-long conference, an exhibition, special events, and talks with Q&A sessions.
STREETS AHEAD will provide a unique experience for both street culture aficionados and followers, as well as businesses involved in the creative sphere, to learn firsthand from icons of the industry, some of whom are gracing our shores for the first time to present at STREETS AHEAD.
The internationally renowned guests from the world of street culture include Tony Arcabascio (Tony Arcabascio Inc.), jeffstaple (Staple Design), Greg Rivera (co-owner of Mishka), L'Amour Supreme (artist for Mishka) and Scien and Klor from 123KLAN. 
PROGRAM:
Wednesday 27 May -Sunday 8th June- STREETS AHEAD: Exhibition Featuring 123Klan, Mishka, Tony Arcabascio and jeffstaple 12pm-8pm  (FREE PUBLIC EVENT)
Wednesday 27 May - STREETS AHEAD: Day 1 - Tony Acabascio and jeffstaple: 7pm - 9pm ($60*)
Thursday 28 May - How To Get STREETS AHEAD: 10am -5pm  ($250*)
Thursday 28 May - STREETS AHEAD: Day 2 -  Mishka and123KLAN: 7pm - 9pm ($60*)