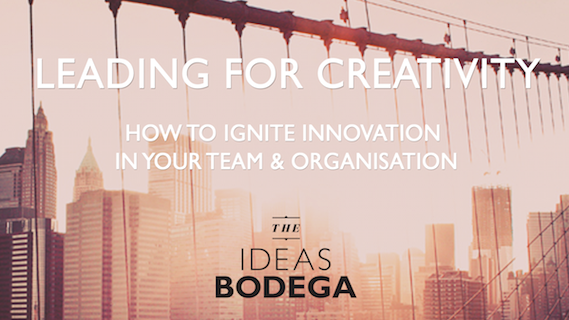 Location:
Vivid Ideas Exchange, Museum of Contemporary Art, Australia, Level 6 Terrace Entrance (Circular Quay West Side), Sydney NSW 2000
This event empowers individual leaders, managers and future leaders with the tools, initiatives and tangible actions they can take in order to turn their team into a creative powerhouse.
You will learn simple ways to inject creativity into the workplace by gaining insight into what some of the most innovative organisations around the world are doing. You will learn techniques that can be easily implemented in your workplace and see how one person has the ability to create an inspiring Ideas Culture.
This event is for leaders, managers and aspiring future leaders.
It will be educational, inspiring, stimulating and highly interactive.
Topics covered include:
- How to build an environment where audacious ideas can live and breathe
- How to give feedback for ideas and creativity
- How to make idea generation and creativity a part of everyone's job
- How to get staff pro-actively coming up with ideas for clients
- How to manage collaboration across departments
*Wanting to shake things up in your organisation is a very likely side effect after this masterclass
**Please bring a paper & pen for our interactive exercises
This event is presented by The Ideas Bodegas: The Ideas Bodega is a creativity & innovation training company. We work with agencies, corporates, organisations and individuals, teaching them the skills and techniques to generate transformative ideas for any business challenge - from new product development, to answering briefs and winning pitches. Our toolkit of creative thinking strategies ensures your team can successfully brainstorm on demand - producing innovative solutions every time.
**********************************************************
*$4 Booking fee and 2.25% transaction fee applies.
POWERED BY THE TICKET GROUP.
**********************************************************