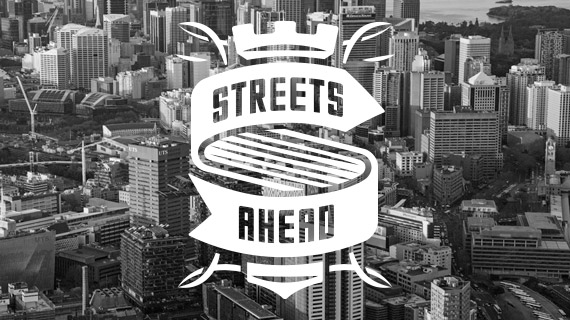 Location:
aMBUSH Project Space, Level 3, Central Park Sydney, 28 Broadway Chippendale
Imagine having direct access to the best minds in the world of streetwear – business leaders, boat rockers and radical thinkers who are in-demand the world over. For the first time in Australia, six of the most prominent voices will gather in one venue to share valuable insights at HOW TO GET STREETS AHEAD, as part of Vivid Sydney.
These are no ordinary operators – they are people whose work and businesses are held up globally as models of creativity, originality, and massive success. T-shirt connoisseur and streetwear expert Eddie Zammit from T-world will moderate discussions about their careers, goals, influences and plans, plus how these thriving brands have conducted their marketing, grown huge audiences, kept consumer loyalty and maintained credibility.
This all-day conference is perfect for anyone involved in creative industries, marketing, retail or sales. It's an in-depth and exclusive behind-the-scenes look at the intersection of art and commerce, recent retail innovation and trends, plus the new age of urban precincts and consumer habits. Whether you're a Brand Owner or Distributor needing to understand streetwear brands and buyers, a Creative Director or Project Manager wanting to appeal to the demographic, a Marketing Manager whose centre has an urban precinct, or a Salesperson wishing to promote streetwear, then this is a must-attend event.
When you attend HOW TO GET STREETS AHEAD, you will learn from industry leaders including;
- Tony Arcabascio – STREETS AHEAD in credibility
- jeffstaple – STREETS AHEAD in negotiating
- Mishka (co-founder Greg Rivera and artist L'Amour Supreme) – STREETS AHEAD in originality
- 123KLAN (Scien and Klor) – STREETS AHEAD in client engagement
Thursday, 28 May, 10am-5pm at aMBUSH Gallery Project Space, Level 3, Central Park. Tickets $250.
For further sales enquiries, bulk-buy discounts for companies, education or other, please contact John Wiltshire at aMBUSH Gallery on 02 8399 0707 or email john@ambushgallery.com
Presented by aMBUSH Gallery, T-world, Central Park and Vivid Sydney
 
*********************************************************
Adult: $250
Group: $225 (Groups of 5 or more)
*$4 Booking fee and 2.25% transaction fee applies.
POWERED BY THE TICKET GROUP.
*********************************************************