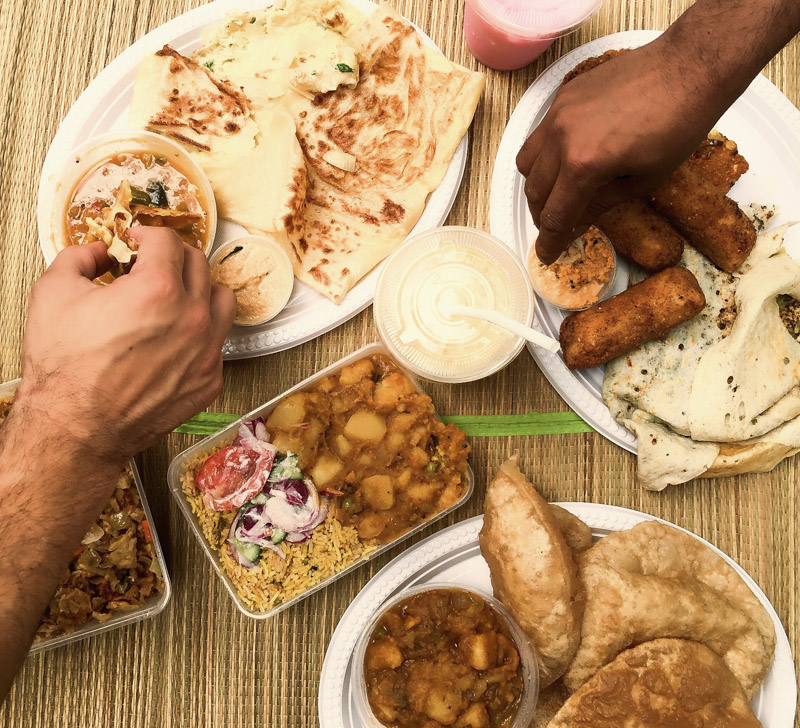 Location:
Museum of Contemporary Art Sculpture Terrace & Cafe, Level 4, 140 George St, The Rocks NSW 2000
Venue:
Museum of Contemporary Art, Australia
Why should one eat with one's hands? The tastiest way to eat that you've probably never tried.
"Eating with your hands is one of the most intimate relationships you will have with your food" – Jiva Parthipan
As part of its exciting new program of art and ideas, Conversation Starters, the MCA invites you to participate in a mouth-watering, three-course South Indian vegetarian breakfast that will fire up your taste buds as much as your brain cells.
Join our communal table on the MCA Cafe rooftop terrace for a one-of-a-kind cultural journey as we explore the sensual, intimate and cultural relationships between our hands and our food. Mixing different dishes with your fingers makes each mouthful a unique culinary experience, courtesy of Fresh Catering.
Today, the Western world is more accepting of eating different kinds of food with our hands – such as burgers, chips and pizza. The use of cutlery has reduced dramatically and chopsticks have gained popularity. However, why is it still rare to see people eating curries, dosas, and other foods with their hands in public spaces? Come to find out more during this performance-breakfast experience and take part in a handfed revolution!
Handfed, a Hands-on Sunday Brunch includes a three-course meal South Indian vegetarian menu, hot drink on arrival, live performances by artists Radha La Bia and Rakini Devi.
For any dietary restrictions, please contact us prior to booking your ticket.
Handfed – Curated and concept by Jiva Parthipan
Presented as part of Conservation Starters: A new program of art and ideas
Information on Access and Inclusion
The MCA welcomes all visitors and is committed to making its programs and services accessible to everyone. All public areas of the Museum, including the MCA Store, MCA Cafe and Restaurant and galleries are accessible via lifts. Companion Card bookings are available for the event. To book, please contact MCA Reception on 02 9245 2400 or email reception@mca.com.au and notify us of your requirements. If you require any other information on these accessible services or have additional requirements, please let us know how we can assist you.
Ticket Conditions
*Concession: Tertiary/TAFE/ESL Students with photo ID, Senior's Card holders, Unemployed/Concession Card holders, Nava card holders