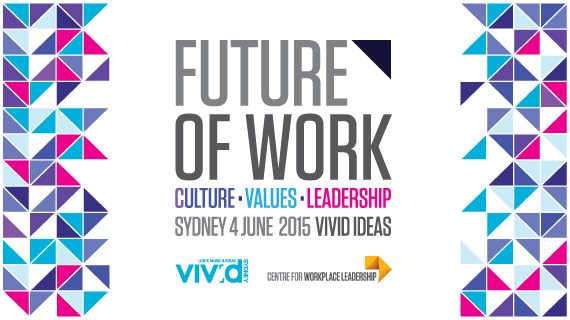 Location:
Google Sydney, 48 Pirrama Road Pyrmont NSW 2009
***NEW*** FUTURE OF WORK AGENDA NOW AVAILABLE. CLICK HERE
CLICK HERE TO VIEW THE FUTURE OF WORK OFFICIAL MEDIA RELEASE
How is work changing in Australia, and how do we compare to the world? How do you create an authentic company culture at any scale, secure engagement from your talent, and improve productivity and performance?
Cut through the buzzwords, and gain insights into future-focused leadership; how to attract, support and develop talent, manage distributed workforces, use data and technology to drive collaboration, and adopt the city as your campus.
Presented in partnership with the Centre for Workplace Leadership, at Google HQ in Sydney, this exclusive one-day event offers human resources professionals, business leaders and managers with tools to shape their workforces for the future.
SESSIONS INCLUDE:
How is work changing in Australia, and how do we compare to the world?
Purposeful organisation: new models
Becoming a values-led organisation: how to estabish a framework and dialogue around company culture.
The city as a campus: amenity, precincts and smarter buildings and better workplaces.
What does C21 leadership look lie? Exploring the role of ethics, emotional intelligence and risk.
Managing invisible employees: out of sight, out of mind?
Getting the best from your team: looking inwards and harnessing your potential.
Lifelong learning: supporting professional and personal development.
What does C21 talent look like? T-Shapes, Pi-Shapes, Passionistas, Uberslashies and XYZ Combinations.
Levers for collaboration: using technology, policy and culture to drive engagement.
Co-designing the Future of Work
********************************
*Transaction fees apply.
POWERED BY THE TICKET GROUP
********************************