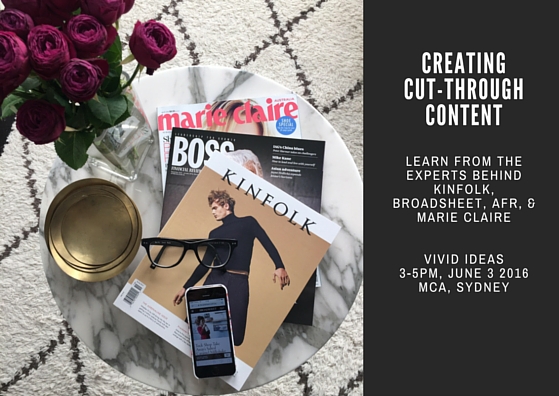 Location:
Museum of Contemporary Art, Australia, Level 6 Terrace Entrance (Circular Quay West Side), Sydney NSW 2000
The average person consumes more than 10,000 pieces of content per day. With every brand out there becoming a publisher, how does one create content that cuts through the noise, pulls in its audience and creates an ongoing dialogue?
Hear from the original content creators - the publishers who have grown their own loyal and engaged audience with consistent and creative content. Learn from media experts including the editors and publishers behind some of Australia's most popular publications including Georgia Frances King (Editor, Kinfolk Magazine), Nick Shelton (Founder, Broadsheet), Melissa Gaudron (Deputy Editor, Marie Claire) and Joanne Gray (Editor, Australian Financial Review's BOSS Magazine). 
This event is presented by FK/KD (Fiona Killackey & Kate Dinon).  
*Booking and transaction fees may apply