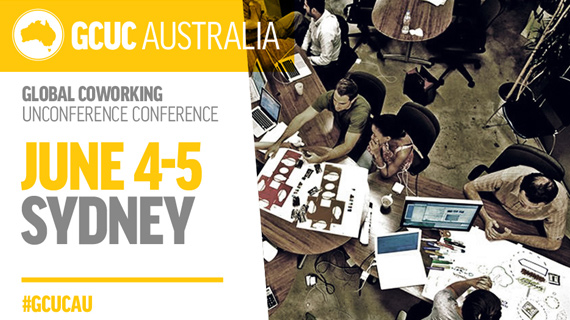 Location:
Customs House, Circular Quay, Sydney NSW 2000
The Coworking Event of the year is happening in Sydney! Almost 200 local and international leaders from the Coworking, Collaborative Work Spaces and related industries are joining forces on June 4-5 in Sydney to discuss, learn and take the Sharing Economy to the next level together.
This will be a "best of" both local and international coworking knowledge share invaluable for startups, freelancers, small business, government, corporate, education, real estate, architecture, space design and furniture design businesses, in diverse locations spanning CBDs, suburban and regional.
Be inspired by our 40 innovative and pioneering speakers including:
- Jeff Johnson, VP Sales & Business Development Liquidspace, San Francisco
- Liz Elam, Executive Producer/Founder GCUCUSA, Austin Texas
- Bob Zheng, Founder People Squared, Shanghai China
- Nick Shewring, Founder BizDojo, Auckland New Zealand
- Brad Krauskopf, CEO/Founder Hub Australia, Sydney
- Caroline McLaren, Principal CoActiv8, Sydney
- Balder Tol, General Manager Tank Stream Labs, Sydney
- Murray Hurps, General Manager, Fishburners, Sydney
- Carl Sullivan, Cofounder Yourdesk, Sydney
- Darcy Naunton, Founder York Butter Factory, Melbourne
- Nathan Sampimon, Founder Inspire9, Melbourne
- Brodie McCulloch, Founder Spacecubed, Perth
- Peta Ellis, General Manager River City Labs, Brisbane
- Paul Migliorini, CEO Regus, Australia and New Zealand
- Kate Murray, General Manager Creative City, City of Sydney
- Adrian Lim, Managing Director, Cubikai Smart Spaces, Melbourne
- Dr Tim Butcher, Senior Lecturer and Researcher, RMIT, Melbourne
- Kerryn Wilmot, Senior Researcher, Institute for Sustainable Futures, UTS, Sydney
We have an action packed agenda, including:
- Future of Work
- How to Design the Right Space for Accelerated Serendipity
- Creating Dynamic Community
- Latest Research on Australian Coworking, including suburban and regional
- Activating and Optimising Spaces with Technology
- Growing the Community AND Making Money
- Coworking and our Neighbours, New Zealand and Asia
- Coworking in the Corporate Sphere
- Coworking and Government, Scalable Economic Impact
- Commercial Real Estate and the Growing Coworking Trend
GCUCAU partners/sponsors include City of Sydney, CoActiv8, Liquidspace, Regus, Braintree, Cubikai, Smart Work Hubs Association, Amplify Festival, AirBnb, Clearpoint Counsel, HotelTonight, Uber, many of the awesome champions of the sharing economy. 
GLOBAL COWORKING UNCONFERENCE CONFERENCE AUSTRALIA
Sydney, June 4-5, 2015 
DAY ONE Customs House Barnet Long Room, Sydney
DAY TWO Fishburners, Ultimo
We look forward to collaborating with you in June.
This event is presented by  http://au.gcuc.co/
*$4 Booking fee and 2.25% transaction fee applies. POWERED BY THE TICKET GROUP.