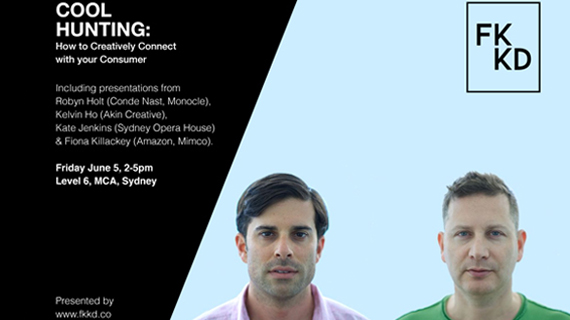 Location:
Vivid Ideas Exchange, Museum of Contemporary Art, Australia, Level 6 Terrace Entrance (Circular Quay West Side), Sydney NSW 2000
What makes one brand flourish while its direct competitor fails? Josh Rubin, the New York-based co-founder of online publication Cool Hunting and brand content studio, Largetail, discusses the need for creativity in cultivating consumer connection, alongside experts from Australia's most successful global brands.
Josh will be joined by Robyn Holt (former CEO of Conde Nast, Yves Saint Laurent and Head of Monocle Magazine), Kate Jenkins (Brand & Loyalty Marketing Manager, Sydney Opera House), Kelvin Ho (Akin Creative), and Fiona Killackey (content and brand strategist, MIMCO).
Since its inception in 2003 by co-founders Josh Rubin and Evan Orensten, Cool Hunting has been at the forefront of tracking creativity and consumer connection in the fields of design, technology, art, fashion and culture. Updated daily by a team of global contributors, the Webby Award-winning online publication has become synonymous with seeking inspiration. In 2007 Josh and Evan launched Largetail, a studio that creates original content for brands and distributes it through niche publishers. Their client list includes Virgin, Nike, Gap, H&M, MasterCard, British Airways, Jeep and Levi's.
Drawing upon  a wealth of experience, Josh will discuss the levers required for cultivating creative connections with consumers and how Australian brands can utilise these to drive meaningful relationships with current and potential audiences.
This event is aimed at people who are looking to grow their brand to become one people truly connect with.
Presented by fkkd.co as part of Vivid Ideas.