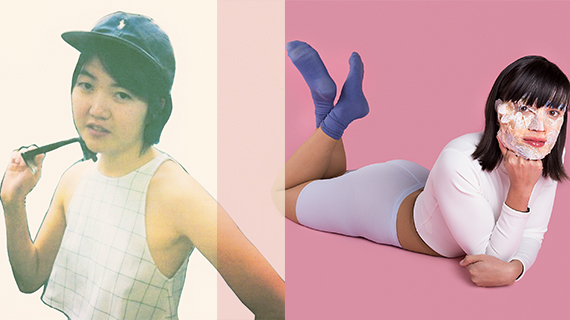 Location:
Vivid Ideas Exchange, Museum of Contemporary Art, Australia, Level 6 Terrace Entrance (Circular Quay West Side), Sydney NSW 2000.
Live performances from Sui Zhen at 7.00pm & Rainbow Chan at 8.15pm in the Vivid Ideas Exchange Lounge!
Network with your colleagues and peers at the Vivid Ideas Exchange at the MCA: meet and chat with industry experts across the creative sector, from architecture to marketing to sustainability and film. Everyone's invited however please register for the door list to join us this Saturday from 6pm for networking, music and the best views in town. Entry is free.
SUI ZHEN
Sui Zhen is the alias of Melbourne-based artist Becky Sui Zhen. Since releasing two complimentary EPs on Tokyo labels in 2014, Female Basic and Body Reset, Becky has been preparing for the release of her upcoming album Secretly Susan.  Following her recent electronic experimentation with ethereal techno-pop and minimal down-tempo 808-lead tracks, the new LP marks a return to more traditional vocal-led pop songs.
With over ten years experience performing in various lineups, Becky has found a special synergy in her current live band Sui et Sui, comprising former fellow NSW residents, Alec Marshall (Hot Palms, Why Don't You Believe Me Records) and Ashley Bundang (Totally Mild, Zone Out). The trio captivated audiences at recent festivals including Outside In, White Night and will soon perform at the Sydney Opera House for Vivid. Becky also provides vocals and percussion to Melbourne's well-loved 'heat beat' band, NO ZU.
RAINBOW CHAN
Rainbow Chan is a Sydney singer/producer with a love for story-telling. Whether she is stitching together childhood dreams, rummaging through antique fairs or sampling odd sounds, Rainbow is constantly collecting bits and pieces for her music. 
An eclectic mix of vintage tones, sweet textural landscapes and layers of glitchy sounds, Rainbow Chan's music is forward-thinking pop, embedded in the nostalgic imagination.
DJ McInnes