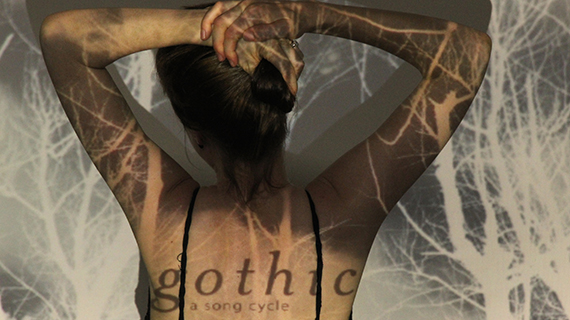 Location:
Seymour Centre, City Road, Chippendale, NSW 2008
Gothic is the latest work by award-winning Sydney composer and performance maker, Andrée Greenwell (Dreaming Transportation, The Hanging of Jean Lee, Venus and Adonis) who inventively merges contemporary classical and post-punk music styles.
Her latest venture is Gothic - a unique song cycle experience that brings to life ideas of 'gothic' in song, from times new and old. Traditional folk and popular songs are reimagined; 19th century texts are originally scored; alongside a bunch of new songs which Greenwell has composed to lyrics by Australian writers Alison Croggon, Felicity Plunkett, Hilary Bell, Maryanne Lynch and Hugo Race (founding member of the Bad Seeds with Nick Cave). Award winning Sydney writer Hilary Bell has written a lyric inspired by Du Maurier's 'The Birds'; while Hugo Race has delivered a chilling lyric about the death of painter Brett Whitely, in a seaside motel.
Greenwell's score merges her new songs with creative arrangements of the likes of Angelo Baddalamenti (David Lynch), Schubert and the Cure. The styles reach across folktronica, post-minimalist, post-punk and the cinematic to form an eerie and thought-provoking music experience, which will be accompanied by an evocative motion-graphics scenography by London-based motion graphics artist, Michaela French (Chunky Move, Lucy Guerin, Circa).
As is the case for her projects, Andrée is bringing together a group of talented musicians who would not ordinarily perform together: soprano Julia County, with Greenwell on vocals; violinists Stephanie Zarka and Ewan Foster; James Eccles on viola and fx pedals, and cellist Geoffrey Gartner. Greenwell is collaborating on a cinematic/electro sound design with sought after music producer David Trumpmanis, whose credits include with composer Mark Bradshaw on Jane Campion's screen productions Bright Star and Top of the Lake, the score for the film Ruben Guthrie with Sarah Blasko, and the recent album release by The Church.
Gothic is generously supported by the Australia Council for the Arts, Arts NSW and new music network.
A Green Room Music production.
*20% OFF Multi-Tix are available when you purchase tickets to more than one Vivid Music At Seymour event in a single transaction. Available by phone or in person at the Box Office.