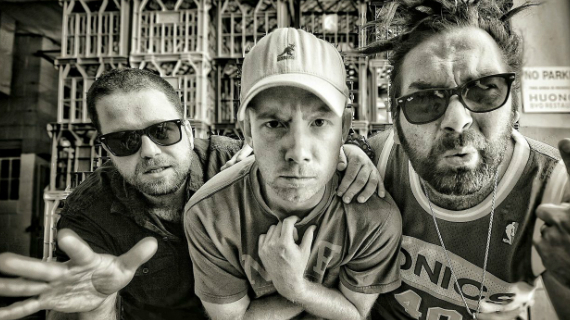 Location:
The Basement, 29 Reiby Place, Circular Quay NSW 2000
The Funkoars are an unconventional unit of universal friendship hailing from Adelaide, South Australia and taking the physical form of Trials, Sesta & Hons. From sold out tours, off the wall collaborations, flattening festivals, 4 albums, 1 EP and a DVD that documented their early madness it's obvious that the distinct sound and feel that the 'Oars ooze is (for better or worse) theirs and theirs alone.
Known for having a top tier world class live performance, The Funkoars deliver clever, witty, relevant and often satirical lyrics complimented by the award winning production of Trials and Sesta (Hilltop Hoods, Drapht, Seth Sentry). With the group having maintained a firm fatherly grip on the Australian music industry and never being one's to shy away from sometimes controversial content it is clear to see why over 10 years later they still remain some of the most respected and requested to do it.
In 2015 Australia's favourite hanger-oners have announced their ominous return from the smoke and mirrors, bringing hard 80s street justice back into fashion in the form of their forthcoming fifth full length album "In Case of Emergency". The first offering is the brand new single "Below Average", an above average song where the 'Oars remind themselves and the listener that it's not only ok to be a failure at everything you attempt, but it's encouraged.
In support of this new single the squad take the road back into their cold, sweaty palms this coming May and will be bringing a taste of the new record to life on stages across the country. With live shows known for their sweaty, MOOSTY and most of all deafening energy, testing out some brand new material and some older classics, these in your face shows are not to be missed. Sealing the deal of danger and joining the gents behind the 1's & 2's is none other than the almighty Dj Total Eclipse of the Xecutioners/Living Legend status. To round out the evenings experience phenomenal Perth MC Mathas will be joining the squad as well as Melbourne up and comer Eloji as national support.
IN CASE OF EMERGENCY - What do YOU do!?