Location:
280 Cleveland Street Surry Hills 2010
Iconic and unique Cumbia Orchestra. Unstoppable dance floor! Contagious, joyful rhythm from Latin America and the Caribbean. The project has the vision of introducing the purest sounds of traditional Cumbia to Australian audiences.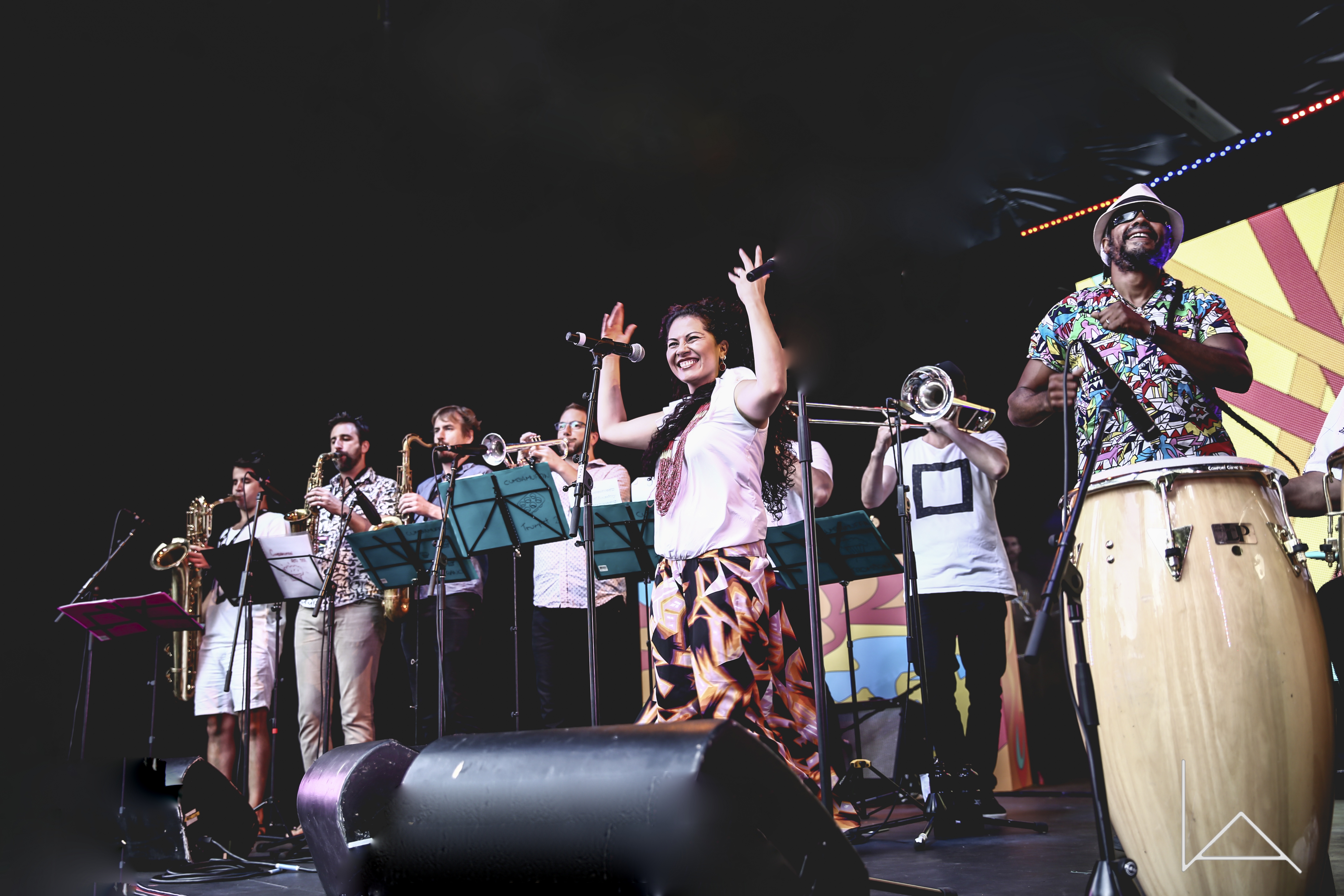 CUMBIAMUFFIN
Cumbiamuffin's wall of sound is unstoppable on the dance floor and with the collective energy of authentic Colombian singers, this orchestra is conquering the local music scene. Put together by Colombian and Australian musicians, this project has the common vision of introducing the purest sounds of traditional Cumbia to the Australian audiences, blended with contemporary Caribbean rhythms like ragga and reggae, playing the classics that made this genre the most popular rhythm in Latin America during the '80s, and that now is taking over the world. Since its inception in December 2010, Cumbiamuffin has sold out many well known Sydney venues – including Club 505; The Metro; Paddington Eastside Arts and Club Marconi. Cumbiamuffin has also stretched its considerable musical talents to share stages with Sidestepper (Colombia), Mucho Mambo (AUS), and Watussi (AUS) amongst others.
A BIT ABOUT THE MUSICIANS
Cumbiamuffin musicians are drawn from a diverse pool of Sydney and Colombian elite professional musicians with a great array of qualifications between them, who have devoted their lives to play the best music possible and bring together a fusion of different and unique sounds. It's impossible at the moment to show the biographies of the 15-member orchestra due to its rich content. But we will give you an insight of some of them.
Trombonist Michael Raper musically leads Cumbiamuffin. Mike has spent his professional career playing between Australia, Europe, Asia and the Americas with such acts as Son Veneno (AUS), Osvaldo Chacon (Bamboleo), Wilson Saoko (CLO), Enrique Pla (Irakere), Watussi (AUS), Mucho Mambo (AUS), Batucada Sound Machine (NZL) and Kenny Wheeler (ENG) amongst many others. Mike Studied a Bachelor of Music at the Sydney Conservatorium of Music.
Cumbiamuffin was put together by Mike Raper and Colombian born guitarist Carlos Arango, who graduated from the Australian Institute of Music with a Bachelor of Music majoring in Audio Technology and currently works as a sound engineer for the Sydney Opera House.
Carlo's original Idea was to join forces with musicians from both countries to introduce in Australia one of the most addictive and fast growing rhythms from Latin America. Since its first concert, Cumbiamuffin has gained lots of interest in the local scene due to its originality and big brass orchestra feel.
The Colombian contingency consists of:
Angela Rosero, (born in Bogota, Colombia) is a passionate performer who arrived in Australia four years ago. She has been delighting her audience around the country not only with her soulful voice but also with her acting. She has performed in different music festivals, such as Darling Harbour Fiesta in Sydney and Blues Fest in Byron Bay. Angela also manages a performance space in Rozelle (La Sala) with regular theatre performances, music and dance lessons. In 2009, Angela received the Viva Fiesta award, due to her contribution to the festival as a new emerging talent. With her powerful presence on stage, she will take you to live the authentic Latin American party with the rhythm of Cumbia. 
MC Altafari, (born in Cali, Colombia) specializes in Afro-Caribbean rhythms, reggae and dancehall. He has collaborated with bands like Third World, Luciano Lee's Scratch, Perry, O- Yaba, Arrested Development, Bo Jah, Jay Ja, Roberts, Ras Rony, Jah Baya Jah Baya Sound of Revolution, Basslines Crew, Bump Crew DJ Johna, 4:20 productions, Rebel Soul Sistem and more local acts.
Francisco Castillo, (born in Bogota, Colombia) is a passionate percussionist who graduated from the Faculty of Arts with a Diploma in Music with an emphasis on folkloric music. He has spent a great deal of his musical career studying the native Colombian rhythms and other traditional styles with the objective of interpreting and representing them to different audiences. He currently plays a combination of tambora (big drum mic), alegre (jembe similar a drum with animal skin) and maracones (large shakers).
Ticket Conditions
*Booking and transaction fees may apply.
Bookings close at venue doors opening 6pm on the day. Tickets may be purchased at the door subject to availability.
NO REFUNDS OR EXCHANGES
PLEASE DOUBLE CHECK TICKET NUMBERS BEFORE CHECK OUT
Unreserved seating (80% seated, 20% standing)
SHOW STARTS (approximately) 830pm.
Two sets until 1130pm (approximately)