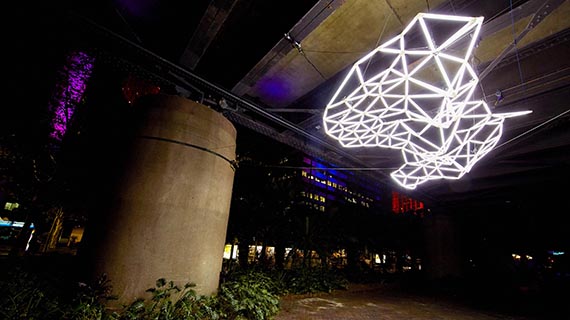 When:
22 May
-
08 Jun 2015
18:00 - Midnight
Location:
Circular Quay Station, Circular Quay, Sydney NSW 2000
Artists: Meng (Joshua) Hng Ho & Mitchell Page
Country: Australia
Water's Edge is a striking, jagged installation suspended above the ground and illuminated by neon lines. It was inspired by the rock formations along Sydney's coastline and highlights the juxtaposition of the urban environment and the ocean with its 'threshold' of sandstone rock shelves.
Artists Meng Hng Ho and Mitchell Page worked with 3D mappings of the coast's topography to develop the abstracted design of the installation. Despite its weighty inspiration of oceanic rocks and boulders, the structure appears to be weightless. This was achieved through the engineering and construction approaches, which employed a complex series of computer-aided design processes, including 3D printing of customised plastic joints to hold the neon strips in place, and parametric modelling to address the relationship between design, the manufacture of its components and the assembly of the structure.