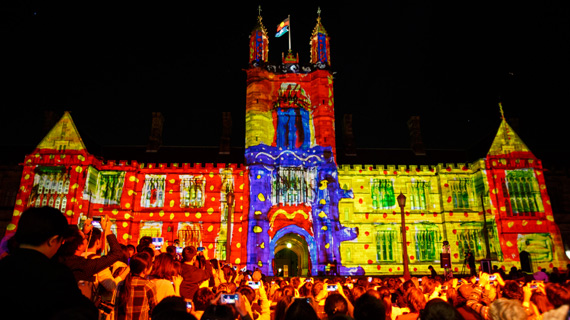 When:
25 May
-
31 May 2015
18:00 - 23:00
Location:
The University of Sydney, NSW 2006
From 25 – 31 May, the University of Sydney will once again be transformed into a glittering canvas of light, live performance and inspiring ideas during Vivid Path to the Future, an expanded week-long creative program at Australia's oldest university. Highlights of this year's light program include spectacular 3D-mapped projections on the University's Quadrangle facade, light art along the main promenade, and Sea of Hands, an interactive installation which will grow throughout the festival.
The International Year of Light is a key theme of the ideas program, while a series of cross-disciplinary events will address social challenges such as obesity. Vivid Path to the Future inspires young people and students to make their mark in the creative industries, and will run a variety of activities and programs designed to ignite their interest and engage in Australia's fastest-growing career sector.
At the Seymour Centre, the interface between music and gaming is explored through exhibitions and performances, as part of New Wave Sound.