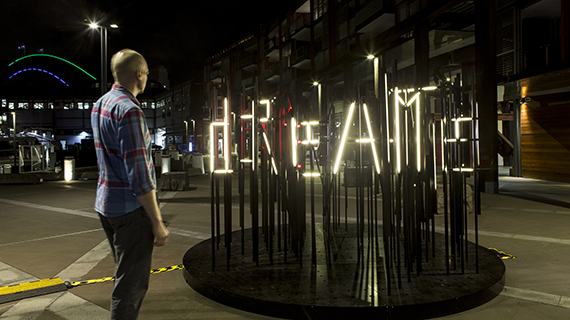 When:
22 May
-
08 Jun 2015
18:00 - Midnight
Location:
Pier 7, Walsh Bay, Sydney NSW 2000
Artist: Light Atelier (Lucka Slatner Smrkolj)
Collaborator: Shaun Dudley
Country: Australia
Tumbleweed explores the myriad emotions involved in the design process. The artist uses the abstracted form of tumbleweed to symbolise the emotional tumult that designers experience as they undertake their work.
The structure comprises a circular base hosting a cacophony of linear extrusions which when viewed from different perspectives reveal words that were previously concealed. Each word is associated with the emotions and obsessions of the design process; 'imagine', 'inspire', dream', 'achieve', 'hope', 'fear' and many other words make an appearance. The words are coloured white for positive and red for negative emotions. Most are projected in the bright, white light of positivism.