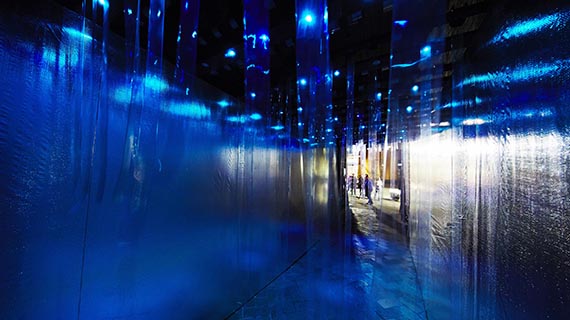 When:
22 May
-
08 Jun 2015
18:00 - Midnight
Location:
Surgeons Court, The Rocks, Sydney NSW 2000
Artist: Patrick Girdler and James Lauman
Country: Australia
Tide is designed to recreate the experience of diving under a breaking wave. The aim of this intense visceral and sensory experience is to leave participants refreshed, rejuvenated and renewed.
The installation takes place in the Surgeons Court laneway, creating an experiential pathway between its entrance and exit. As participants approach, they first hear a beach soundscape – children playing, flies buzzing, waves breaking – the familiar sounds of summer. A vast and gleaming wall of light fills the space in front of them. As they move towards the installation it begins to lift and fall with the sounds of the waves, inviting them forward.
Participants then 'dive' under the waves; the sounds suddenly become more muted, the light dims, and they can enjoy a moment of quiet and solitude. As they 'break the surface', the light becomes dappled and once more gently moves to the sounds of the waves, guiding them towards the exit.