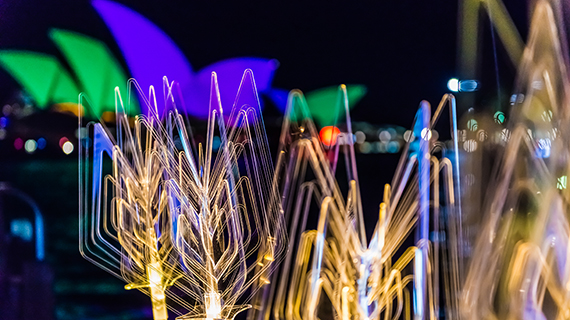 When:
22 May
-
08 Jun 2015
18:00 - Midnight
Location:
Campbells Cove, Sydney NSW 2000
Artist: Aura (Gioia Murray and Louise Jarvis)
Country: Australia
Tidal Reed Garden is a bed of artificially produced reeds that float along the line of a harbour wharf. At night the reeds become glowing, sculptural illuminations that cast dancing reflections on the water.
Each reed is shaped to mimic a natural water reed and are animated by the swell of the water, movements in the tide and wash from passing ferries.
Tidal Reed Garden celebrates the beauty and power of elements in nature. Artists Gioia Murray and Louise Jarvis' approach to the work was developed through their ongoing interest in biomimicry – design that seeks to be sustainable by emulating nature's time-tested patterns and strategies.