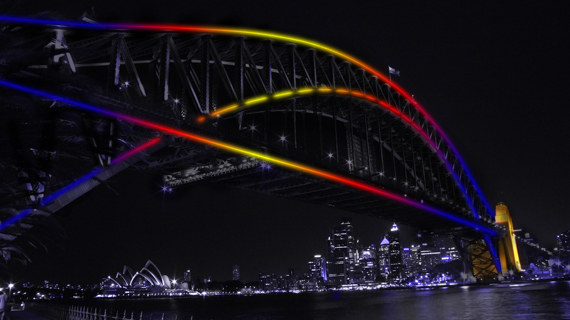 When:
22 May
-
08 Jun 2015
18:00 - Midnight
Location:
Sydney Harbour Bridge, NSW 2000
Artists: 32 Hundred Lighting (Iain Reed)
Collaborator: Martin Bevz
Country: Australia
The lighting of the Sydney Harbour Bridge accentuates the intrinsic architectural elements of one of Australia's most famous icons. The interactive installation uses state-of-the-art software and 100,000 individually programmed low-energy LED lights in 1,600 LED tubes to paint the Bridge in a fantastic array of colours, movements and effects.
The work is the brainchild of lighting innovator Iain Reed, who has been one of Australia's top lighting designers for the last 25 years and is the founder and director of renowned Australian event production company 32 Hundred Lighting. This is the third successive year that Reed and his team have transformed the Bridge for Vivid.