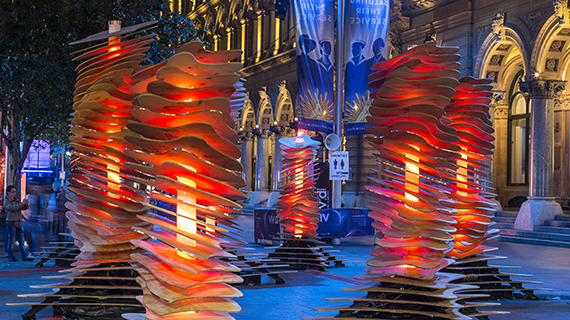 When:
22 May
-
08 Jun 2015
18:00 - Midnight
Location:
Martin Pl, Sydney NSW 2000
Artists: thomas+sebastian (Thomas Martin / Sebastian Barkoczy)
Collaborators: Jonathon Bolitho / Mark Bolitho / Felix Sheppard / Harry Hock / Richard Klein
Country: Australia
Robotanic reminds us that in a world dominated by technology we should still take the time to tune our senses to nature. The interactive installation replicates the experience of a botanical garden and invites the audience to wander through and reconnect with the essence of the natural world.
The garden contains a series of organically shaped nodes with plant-like characteristics; they vary in height and shape and, anchored at their bases, appear to grow from the ground. When touched, the nodes produce an erratic display of light, and motion-sensors trigger sounds associated with nature, as if the environment is coming to life.
Artists Thomas Martin and Sebastian Barkoczy created the installation using advanced technology to make a statement about balance; whilst we can never return to a life without technology, it should not become all-consuming. 'Switching off' actually connects the senses to the simple enjoyments found in nature.