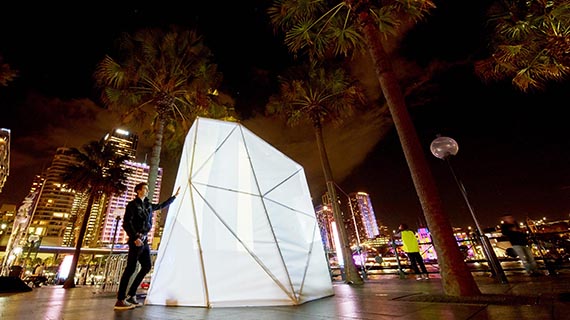 When:
22 May
-
08 Jun 2015
18:00 - Midnight
Location:
East Circular Quay, Sydney NSW 2000
Artist: FMGrande (Miguel Felipe Valenzuela)
Collaborators: Dillon MacEwan / Nicholas Wishart / Teigan Kollosche / Anna Madeleine
Country: Australia
Rhizome Prism is an interactive sculpture that uses sound, colour, animation, the moving image, interactivity and light to explore themes of multiplicity.
The freestanding hybrid 'electro-sculpture' resembles an assemblage of stacked prisms. Interactive imagery, video and animations are projected from the interior and respond to audience movement. A complex array of sounds and atmospheric audio further enhances the interactive experience.
Rhizome Prism is a collaborative work between principal artist FMGrande, sound designer Nicholas Wishart, sculptor and roboticist Dillon MacEwan and media artists Teigan Kollosche and Anna Madeleine.